Talking All Things Star Wars Resistance With Writer Brandon Auman
Star Wars Resistance premieres this weekend on the Disney Channel, and we recently got to chat to one of the writers and producer Brandon Auman about writing for the show, creating a new corner of the Star Wars universe, and more!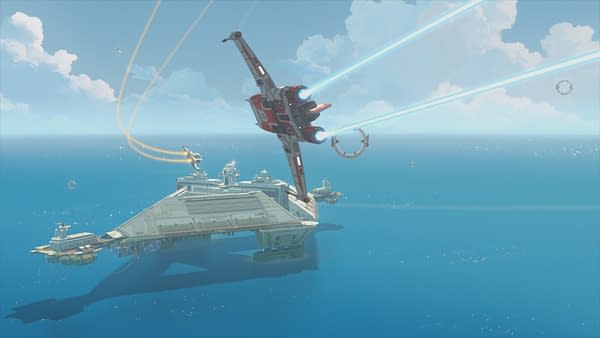 Whats it like to work at Lucasfilm?
Oh man. Its super exciting. Every day is incredibly fun and exciting. Getting to work with amazing people like Dave Filoni, Justin Rich, and the entire crew is awesome. An honor and a privilege.
I have seen the show, at least the first two episodes (no spoilers people don't worry) and I really felt that your voice as a writer came through while watching. It gave the characters a real sense of camaraderie. Do you feel like that is something you specifically bring to the show?
I always just try and dive in thinking about, obviously who they are and what their appeal and perspective would be. Every time I do a pass on a script I do it from a different characters POV, if that makes sense. For instance: if I start writing from Kaz's perspective, next pass I will sit down and say "Ok, now this one will be from Neeku's point of view." What does he think of Kaz, that sort of thing. I really just dive in and have fun. I feel like the humor has a certain humanity, because of the camaraderie between them. There is a sweetness to it, and that is important in these cynical days. It's important for kids to see that bonding and friendship. They really respond to that. Hopefully adults do too.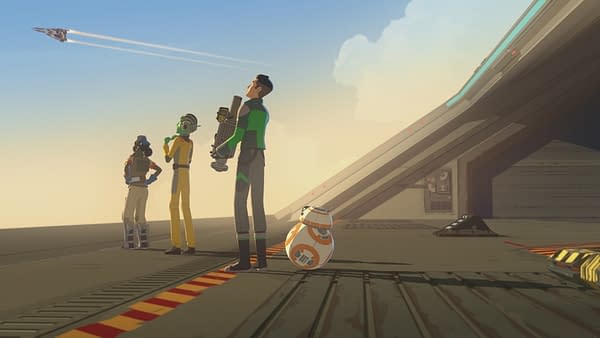 I did! What is it like to bring a whole new part of Star Wars to life? Did you feel a lot of responsibility that comes with that?
Oh jeez yeah. It kept me up at night. Dave had a lot of it already envisioned, it has been in his head for years. When he brought me into it he talked to me a lot about the relationships between characters and carving out a new piece of the Star Wars galaxy, which is extremely fun. Sometimes I think fans only want to see the same things over and over again, like if it's the new trilogy they just want to see Poe and the characters established in the movies. But you can't do that, you have to create new characters. I don't think we can get Oscar Isasac for every episode as much as we want to (laughs), he is a busy man. Having someone like him blew our minds though. I got to read him in a couple times. He's in here, he's acting, he's already got the lines memorized, its kind of intimidating, but tremendous fun. But it has been really great adding to the Star Wars galaxy. That's the best part.
Who has been your favorite character to write?
There's so many. I love Team Fireball: Kaz, Neeku, etc. All of them. There is not really one character that I don't like. They all brings something to the table that makes it a blast.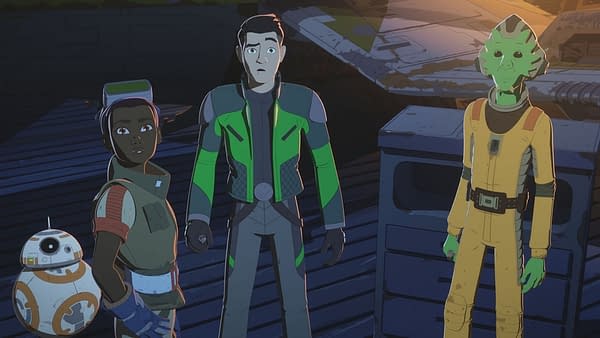 Are you more a First Order guy or a Resistance guy? Which side is easier to write?
I like both, but I would say Resistance. The thing about First Order guys is that they are fun to write yes, but they are all these dark characters that we play completely straight. There is no comedy there. On the Resistance side however there is because they are all fish out of water characters that lend themselves to humor. Kaz grew up wealthy on Hosnian Prime, so now he is in this situation where he is working in this blue collar Colossus station that is dangerous. I liken him to a bird: he's great in the air, but put him on the ground and he's is just completely out of his element and clumsy. Or Neeku, he takes everything so literally. He would give you the shirt off his back, and he has this sweetness about him. To me that makes him a great role model for kids teaching them to be selfless. And Yeager, he is so old school. Hes been around since the original trilogy, so he brings that toughness from then with him. Tam is also very awesome to write as well. She is fiery and no-nonsense, and she is kind of a serious character. She has her own aspirations and desires, and you will see those play out as we keep going. She is very complicated. Just seeing them interact with each other and classic characters is so awesome, it makes it all so much fun.
Have you always been a Star Wars fan?
Absolutely. Star Wars is my first love. It was just perfect storytelling. Expertly crafted from every aspect.
The animation is a bit of a departure. Everything about this show feels different than what we have gotten before.
I was really excited from the time I saw the first character designs. As it progresses it is so gorgeous. Dave said the other day that this is the prettiest show we have ever made. The planets, the ships, there are just so many gorgeous things that will blow you away coming up. I remember when Rebels was coming out, people were like "this should be like Clone Wars" and when Clone Wars was coming out they were like "Clone Wars, I don't like the way it looks". It grows on them over time with every show, and it will take some time for fans to get used to this. Once they do though, they will all be onboard. The Lucasfilm animation team is beyond amazing at what they do.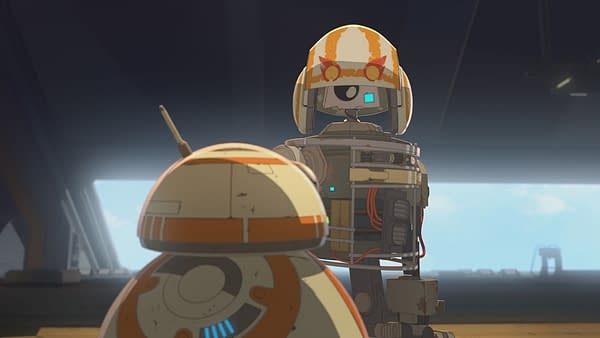 It has a real cinematic feel.
Yeah, and it just gets better.
Lastly: What's your favorite star wars ship and why?
My favorite ship? Oh man, that is so tough. Everyone will say the Falcon right? Because it's the FALCON. But I love the Y-wing…its so tough. As a kid I loved the TIE fighters. I had the TIE fighter and I played with it endlessly. I had Darth Vader's TIE too. I was obsessed with the shape. It was completely unique, something we had never seen before. I will say that.
Star Wars Resistance premieres this Sunday, October 7th at 10PM on the Disney Channel.