'Supergirl' Season 4 Finale "The Quest for Peace": Lex Has "Bigger Plans" for Red Daughter [NEW PREVIEW]
Remember what we were saying earlier about the season 4 finale of CW's Supergirl "The Quest for Peace"? That Kara's running out of options because Lex (Jon Cryer) continues playing three-dimensional chess in their checkers world?
Well, we need to personally thank the CW for making our point for us – as you're about to see in this recently-released preview for Sunday night's finale. Remember that "unexpected things" comment from the last preview? Well, we were half-right: Red Daugher still being alive counts in the "unexpected" column – but we hoped something was going to come up in the "win" column for Kara (Melissa Benoist, pulling double-duty this season).
This isn't it…
https://youtu.be/3l4e59n0q3k
Supergirl season 4, episode 22 "The Quest for Peace": LEX LUTHOR RETURNS — Lex Luthor (guest star Jon Cryer) descends upon Washington, DC and summons Lena (Katie McGrath) and Lillian Luthor (guest star Brenda Strong) to the White House. Supergirl (Melissa Benoist) realizes she has one last chance to stop Lex and turns to the power of the press to help her. Jesse Warn directed the episode with story by Robert Rovner & Jessica Queller and teleplay by Rob Wright & Derek Simon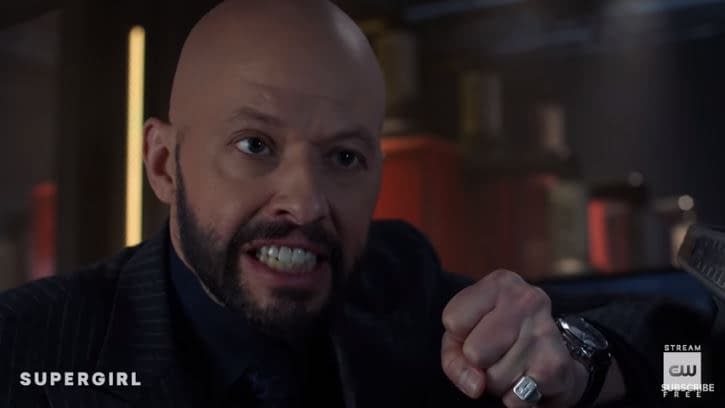 If a season's worth of drama and intrigue and now a promo and aren't enough of a fix for you, here's a look at some very interesting and revealing images from this week's fourth-season finale "The Quest for Peace." Looks like we might be getting a resolution to the Lockwood/Agent Liberty (Sam Witwer) storyline (though he's definitely a character worth keep around, possibly for a redemption arc. We also have James (Mehcad Brooks) literally getting in on the action, a Luthor family reunion in The White House, and a fateful standoff between The Woman of Steel and Mankind's Self-Professed "Savior":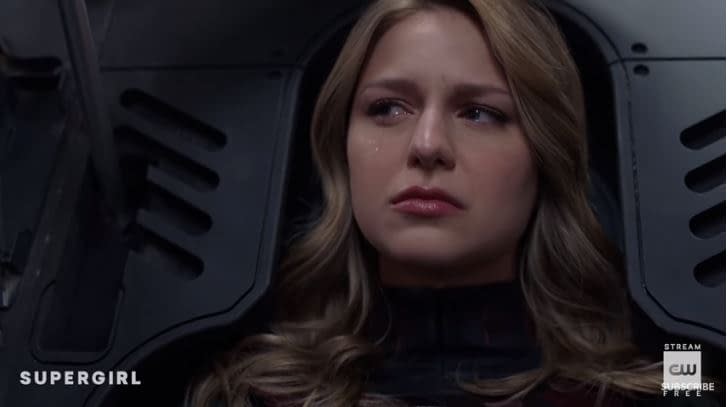 CW's Supergirl stars Melissa Benoist as Kara Danvers/Supergirl, Chyler Leigh as Alex Danvers, Mehcad Brooks as James Olsen/Guardian, David Harewood as Hank Henshaw/J'onn J'onzz, Katie McGrath as Lena Luthor, Jesse Rath as Brainiac-5, Sam Witwer as Ben Lockwood/Agent Liberty, Nicole Maines as Nia Nal/Dreamer, and April Parker Jones as Colonel Lauren Haley. Greg Berlanti, Jessica Queller, Robert Rovner, and Sarah Schecter serve as executive producers.