The Flash, Ghosts, Always Sunny, Roiland & More: BCTV Daily Dispatch
In today's BCTV Daily Dispatch: The Flash, Justin Roiland, Always Sunny, Chrissy Teigen/Donald Trump, Disney+, Ghosts, Perry Mason & more!
---
With today's BCTV DD "Long-Distance Dedication" bringing us ELO with "Can't Get It Out of My Head," welcome back to the BCTV Daily Dispatch! Here's where we look back at what we've been doing for the past 24 hours that you might've missed or might want to check out again. We're talking about everything from news and reviews to interviews and opinion pieces- all for your television-obsessed enjoyment. Our line-up for this morning includes The CW's The Flash kicking off its final run, a Rick and Morty Season 4 staff writer confirming that co-creator Justin Roiland was MIA, It's Always Sunny in Philadelphia star, writer & EP David Hornsby taking up behind the scenes of how he becomes "Rickety Cricket," Chrissy Teigen getting her tweet calling Donald Trump a "p***y a** b***h" read into the U.S. Congressional Record, Disney CEO Bob Iger confirming a Disney+ subscriber drop during the final quarter of 2022 while announcing a combination of restructuring, layoffs & budget cuts are on the way, and CBS' Ghosts previewing a visit by Trevor's (Asher Grodman) parents with a disturbing reveal.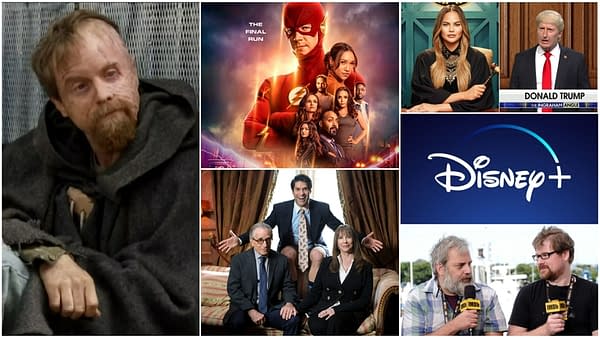 BCTV Daily Dispatch: The Flash, Ghosts, Always Sunny, Roiland & More!
Plus, check out our additional coverage: Jerry Lawler, AEW, Amazon's "Kay Scarpetta" series, Amazon's Wytches, HBO's Perry Mason, Paramount+'s 1923, Disney+'s Daredevil: Born Again, HBO Max/Discovery+, "Star Trek" Universe, Amazon's Butterfly, Tencent's The Three-Body Problem, and more!
Now, here's a look at your Bleeding Cool TV Coverage for Thursday, February 9, 2023:
The Three-Body Problem Ep. 15 Review: Goofy Human Computer Sim Game
The Gunns Win Tag Team Championships in AEW Dynamite Main Event
Ghosts Season 2 Ep. 14 Sneak Previews: Disturbing News For Trevor?
Always Sunny Season 16: Watch David Hornsby Become "Rickety Cricket"
The Flash: A Look Back at The Road to Season 9; S09E01 Sneak Preview
Disney Eyeing $5.5B in Savings; Restructuring, Layoffs, Budget Cuts
Disney+ Down 2.4M Subs; "Significant Transformation" Coming: Bob Iger
Tony Khan Expects Big Increases in AEW Rights Deals This Year
Jerry "The King" Lawler Twitter Account Updates Wrestler's Recovery
Kay Scarpetta: Amazon, Blumhouse, Kidman, Curtis Eyeing Series Adapt
AEW Dynamite Preview: Titles on the Line in Championship Fight Night
Chrissy Teigen's Donald Trump Tweet Now Part of Congressional Record
Wytches: Amazon Adapting Scott Snyder & Jock's Image Comics Series
The Flash Season 9 "The Final Run" Key Art Honors Arrowverse Series
Perry Mason Faces The Murder Trial of the Century in Season 2 Trailer
1923 Star Harrison Ford Not Exactly Your Best Source For Season 2 News
The Flash Season 9 Ep. 3 "Rogues of War" Preview Images Released
Daredevil: Born Again "Brand New and Really Smart": Vincent D'Onofrio
HBO Max, Discovery+ Merging But D+ Wants to See Other People: Report
Star Trek: Paramount, Amazon Set Global "Picard," "Lower Decks" Deal
Justin Roiland MIA in Rick and Morty Writers' Room "Absolutely True"
Butterfly: Amazon, Daniel Dae Kim Teaming on BOOM! Studios Adapt
The Flash, Justin Roiland Reax, @Midnight & Bosch: BCTV Daily Dispatch
The Three-Body Problem Episode 14: Dead Birds & Cold War Science

Bleeding Cool TV on Instagram: For all of the stuff too random and bizarre to make the site, make sure to follow us on Instagram: Bleeding Cool TV (@bleedingcooltv).
BCTV Daily Dispatch: For a look at what's going on across the television and streaming landscape, sign up for Bleeding Cool's daily email round-up of the news you need to know here.