Barring any last-minute changes that wouldn't be too surprising at this point, The CW's The Flash is racing towards an abbreviated season with "Liberation," "Pay The Piper," and "Success is Assured" still to come. With fewer episodes and a mountain of questions to be answered and mysteries to be solved, fans are a little nervous that the season might end feeling more incomplete than "cliffhanger." One dangling plot thread that will definitely be addressed is Godspeed, the future speedster with the high frequency-emitting clones who we haven't heard much about since the sixth season opener. Series star Grant Gustin (Barry Allen aka The Flash) confirmed that Godspeed will be back, alongside a "Crisis"-impacted returning villain in "Pay the Piper," the season's 18th episode: "It's an episode where we're going to see some changes because of 'Crisis,' and Hartley Rathaway, [a.k.a.] Pied Piper, is going to be back. In that episode, Godspeed is back."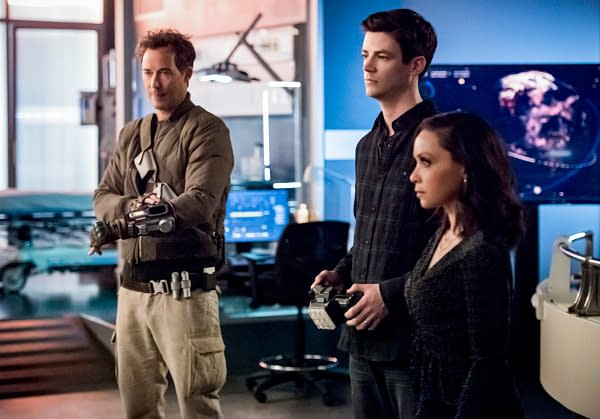 As for the reformed villain who's no longer reformed thanks to the mega-crossover event? Gustin reveals that Barry has a lot to do with that, and the only person who can make things right: "Barry kind of did Hartley dirty. Hartley really isn't a friend when he comes back, but Barry's going to need to find a way to reconnect with Hartley and try to fix what 'Crisis' changed and stop Godspeed, and try to save the city." But before we get there, we still have next episode "Liberation" ahead of us. With a description that promises "huge changes) for Barry and Iris (Candice Patton), Eva (Efrat Dor) makes a bold move as the series' status quo changes dramatically, and possibly permanently.
Starting with season seven, Kayla Compton's (Making Moves, Mistresses) Allegra Garcia and Brandon McKnight's (The Shape of Water, Akilla's Escape) tech genius Chester P. Runk will be promoted to series regulars. An up-and-coming journalist, Allegra fell in with a bad crowd and was incarcerated at a young age. But since her release, she's refused to let her rocky start in life define her future. Now she helps Barry Allen as a new member of Team Flash, thanks to her metahuman ability to manipulate the electromagnetic spectrum. That is, when she's not helping Iris chase down headlines for CCC Media.
McKnight's Runk is a scientific wonder who works out of his grandmother's cluttered garage. Not only can he design and build almost any gadget, but he does so without the expensive backing and resources of S.T.A.R. Labs. Chester is a "DIY" kinda guy, forsaking high-tech labs for junkyard finds and other folks' discarded tech to create his own one-of-a-kind gadgets that bend the laws of physics – and beyond. Fun-loving and a great dancer, Chester is a down-to-earth guy who lights up any room he enters. Oh, and boy is he obsessed with aliens, science fiction movies, and other pop culture interests – and don't forget Jitters coffee.
Enjoyed this article? Share it!