The Magicians Season 3: Taking a Look Around the Muntjac
Syfy has released a new 360 degree set tour of the Muntjac, a new and important set piece for the upcoming third season of The Magicians. The tour is conducted by Brittany Curran, who plays Fen the wife of High King Eliot and Summer Bishil who plays Margo Hanson. They start off by introducing us to the Heartwood. This is one of the last magical creatures in Fillory and it's bonding to the ship; bringing the Muntjac to life, basically. A lot of the third season will take place in and around the Muntjac just as a lot of the second season revolved around the Throne Room and the first season around the Physical Kids' Cottage.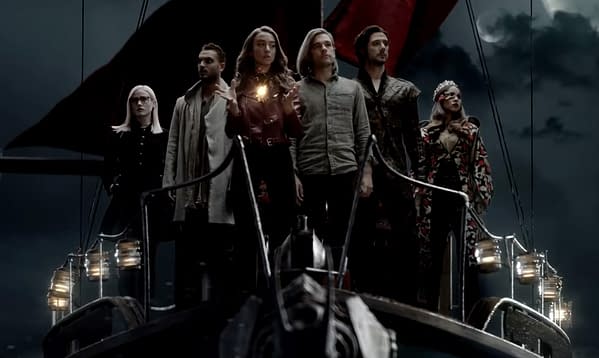 They tell us that the third season is all about questing and the keys. They show us the book that guides them and some of the keys they are looking for. This tour is taking place later in the season as Summer tells us about a scene she has with the Heartwood in episode three, so it's possible that they've collected most of the keys by the time this tour was filmed. They also show us the Royal bedroom, which is kind of cool. I'd definitely live there. Overall, the girls don't really seem to know what they are allowed to say and what they can't, so they're just winging it. But it's a cool look at the ship as the season premiere gets closer.
The Magicians season 3 kicks off on January 10th on Syfy.