"The Orville" Crew Brainstorm The Musical Episode That Will Never Be (at NYCC)
The cast of The Orville sans star Seth MacFarlane talked about the upcoming third season and its transition from network TV in FOX to streaming service Hulu at New York Comic Con (NYCC). When it came to the Q&A portion of the panel, an audience member asked if a musical episode was on the table in the future – but unfortunately, looks like season three will not feature one.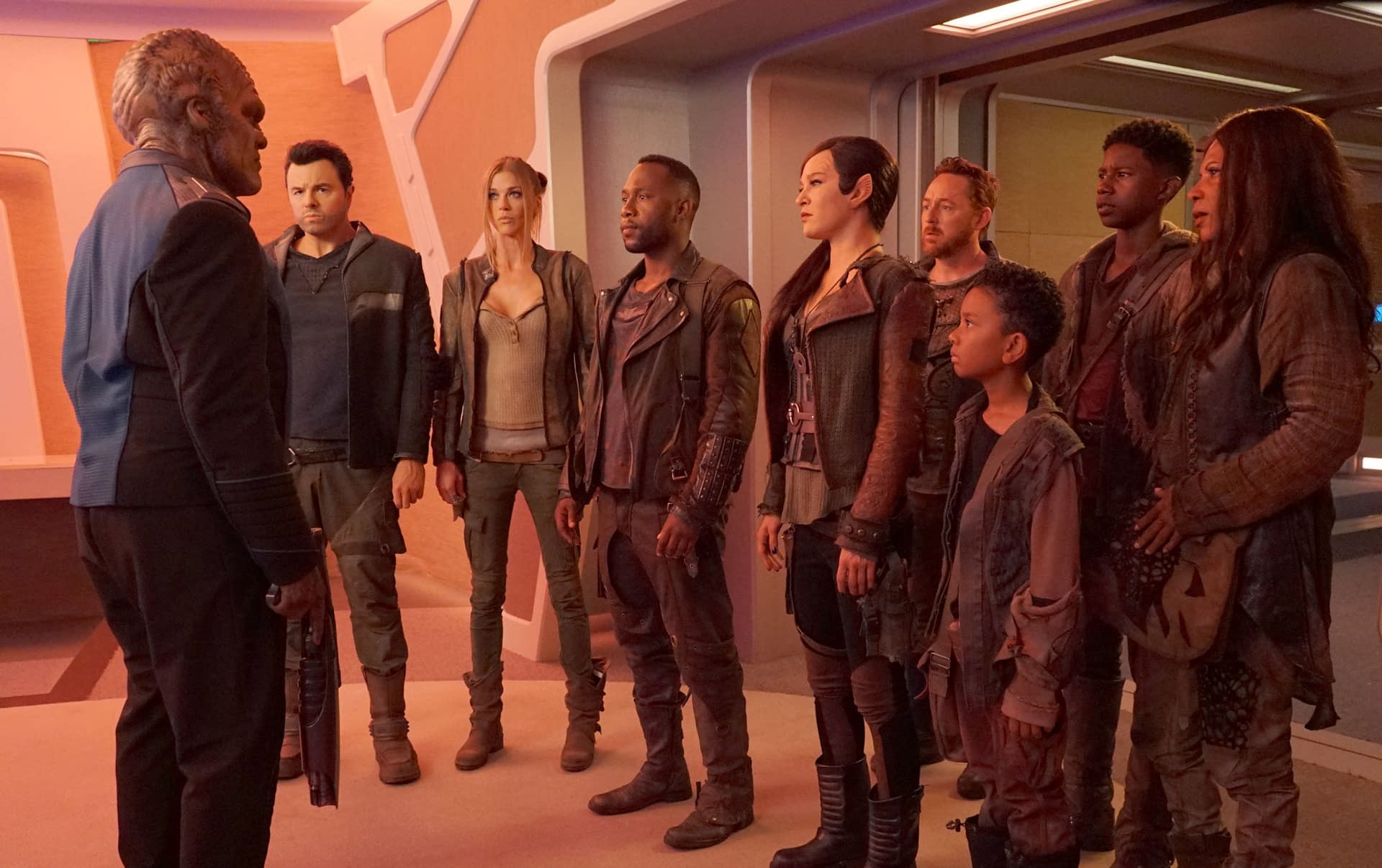 Scott Grimes, who plays helmsman Lt. Gordon Malloy, vehemently denied saying, "Absolutely not," before coming back with "But, if we did…" He pitched an episode where the crew "could go at planet where they speak in a musical way."
Penny Johnson Jerald, who plays Dr. Claire Finn, responded, "No. Way!"
Grimes hijacked Jerald's idea she pitched one day on set and he altered it in the panel. Her original suggestion was the Orville crew visit a planet in which one can only emote through song. Jerald's idea was more in tune of a musical where normal dialogue would be spoken until the character breaks into song expressing a strong emotion. Grimes' idea of the characters only interacting with one another would make it an opera.
Peter Macon, who plays the Moclan Planetary Union Officer Lt. Cmdr Bortus, tacked onto Grimes' idea, saying, "But. But But! Puppets" to the cheering crowd.
Grimes then broke into a rendition of "Goodbye" by Air Supply, serenading Mark Jackson, who plays the Kaylon Isaac. Assuming the cast and crew already shot most or all of season three, it could be a potential season four suggestion. Then again, since the second season the series veered toward a more serious route and will likely retain the theme.
If "Buffy" Did It, Why Not "The Orville"?
It didn't stop a show like Buffy: The Vampire Slayer in sixth season episode "Once More, With Feeling" – where the Scooby gang fell under the influence of a demon revealing their secrets in song. One thing is for sure, there is definitely no Star Trek episode the show could look to for guidance.
For those hoping the idea comes to a fruition, let's just see if The Orville fights on to see a fourth season.
For now, you'll have to settle for their karaoke…