'The Tick': Peter Serafinowicz, Griffin Newman Talk Tick/Arthur Relationship at WonderCon
Bigger. Messier. Stranger.
Amazon Prime's The Tick has rounded third and headed home into its highly anticipated second season this week. Now that our heroes have returned the VLM to normal size and defeated the Terror, what can we expect from the crazy mind of creator Ben Edlund in this sophomore turn?
Peter Serafinowicz (Guardians of the Galaxy, Shaun of the Dead) and Griffin Newman (Our Cartoon President, Draft Day) took a few minutes out of their busy WonderCon 2019 schedule to chat with us. Perfectly cast as The Tick and Arthur, Peter and Griffin (respectively) immediately start joking as they sit down to the table, proving that the chemistry the characters share seems to extend well past the screen.
After dodging a few questions about The Tick's new costume, Serafinowicz talks about the influence of former incarnations of the superhero and how it impacts his performance.
[All photos by Bleeding Cool]
"I constantly try not to be influenced by those performances, but they are both so endearing and definitive -define the character. Even so there's no way that it wouldn't just seep in. I really tried not to. Maybe sort of just a little bit, for instance, of the Patrick Warburton show. I loved his performance, and I didn't want people to think 'Oh, he's just doing his version of Patrick Warburton's portrayal.' So, the bits that I saw, I loved. And there's no way that couldn't of seeped in. But, you know, I wanted to have my own take on it."
During our chat, Griffin spills the beans that he has been a fan of The Tick his entire life and how he had to downplay his fandom for the characters during his audition process. He discusses the challenges of playing a character he loves so much.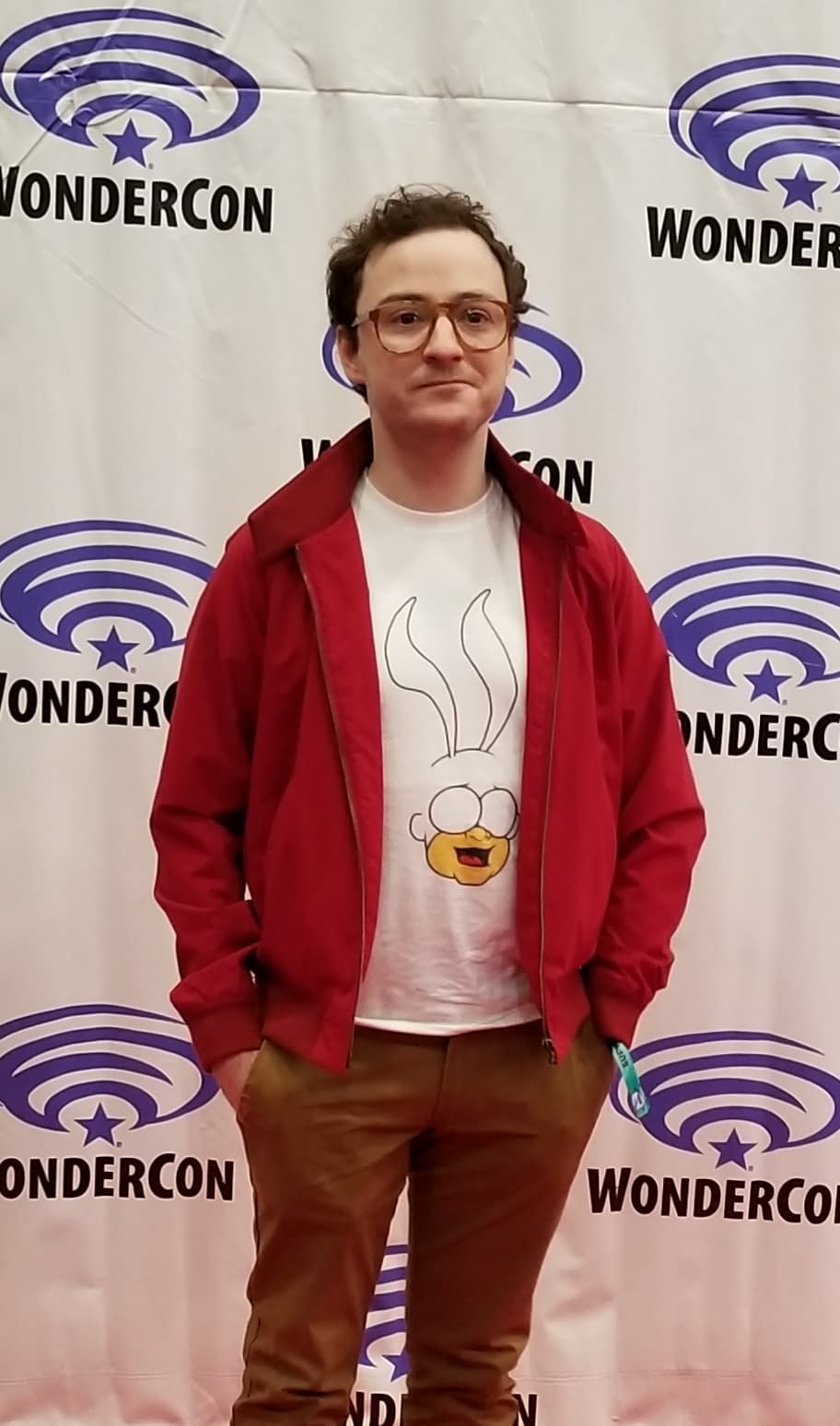 "There is a notion in my head that's very well established of who Arthur is. How he moves and what he sounds like. Even though three other people played him before. The universal reality of those different performances clicked in my mind. You have to not get caught in the rut of trying to doing an impression of them. Which a lot of that was just, the script was so different.

I tried to find the midpoint between- what are the key elements that all the different versions of Arthur have that I want to capture so that feels right in that way.

Then, and how much can I, just on the day, approach the scene as an actor and do the best I can. Without worrying about living up to those expectations, because it's kind of overwhelming."
As for how he approached the audition, Griffin was in the unique position of knowing too much about the project and actually having to dila back his enthusiasm:
"I had to downplay how much of a fan I was when I was auditioning and meeting with Ben, cause I could tell he wanted people that didn't feel beholden. And then after I gotten the part and I started asking him all these questions i could see the terror in his eyes. 'This guy Catfished me. You know all these characters?'"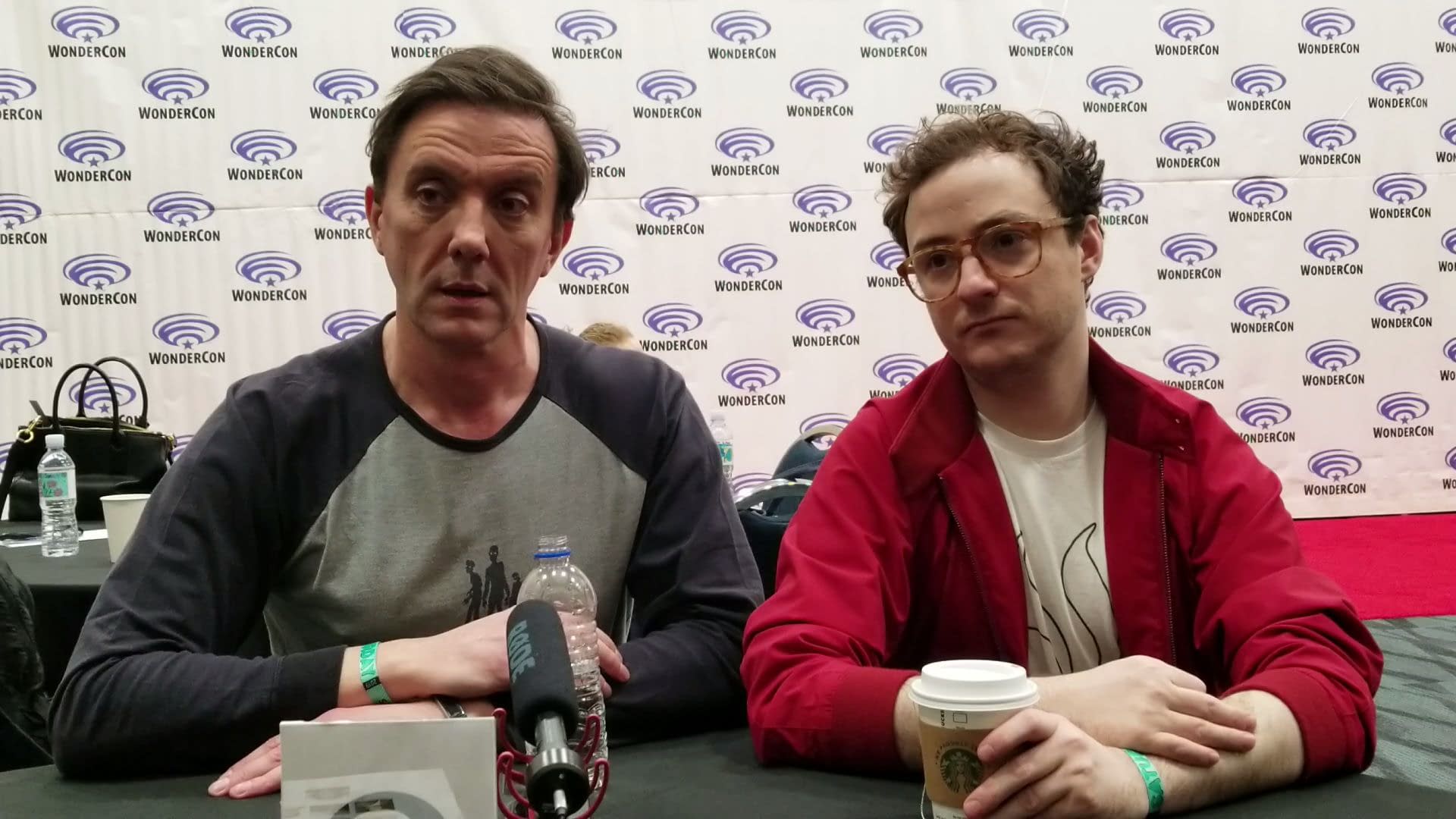 When asked if Griffin was seen as the set's unofficial "expert," the happy chums replied:
Griffin: To a degree, Yeah. Sometimes I'm even the guy who knudges Ben (Endlund) and will go 'Can we do this thing from the comics?' I'll remind him sometimes.

Peter: (Or) I don't think Tick would do this.

Griffin: But of the cast, I am certainly the one that's most obsessive about the history.

Peter: Yeah, more than Ben.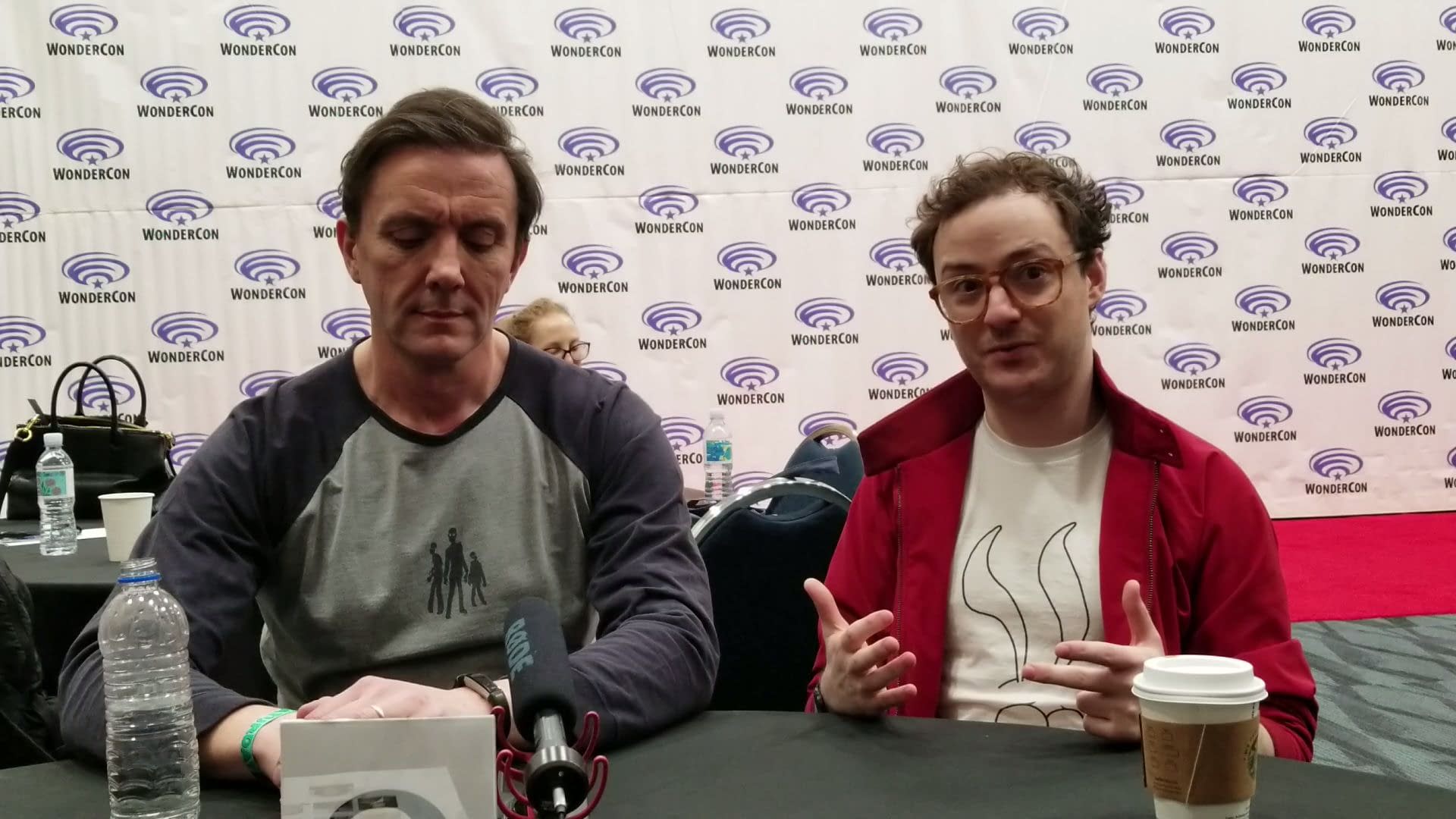 My favorite exchange is when asked how The Tick and Arthur's relationship will develop this season, Serafinowicz and Newman unintentionally start to ooze some of their onscreen chemistry and we get a sense of how much they love playing these characters.
Peter: I guess it's like watching this friendship continue. It feels like Arthur, in a way, rejected Tick's friendship for most of the first season, and that was what Tick wanted more than anything was for Arthur to be his friend. So now that they are friends, and that's all the Tick wants. There is just something I enjoy about just watching Tick and Arthur. Just those scenes of them doing not really very much.

Griffin: Season one was so much so the romantic comedy of our courtship. All the banter trying to get to the point where we realized we want to be together. You know, most romantic comedies the success is they ended up together, now they're happy. But then in real life, it's like 'No, relationships take work.' Whether they're friendships, or your family, or your lovers, or anything, they're people that you have to put work into. The dynamic in season two is 'How do we keep that functional?'

Peter: They have a pretty functional relationship.

Griffin: There is no more resistance on Arthur's side. He is so fully accepted the Tick, and what the Tick represents and the life he is going to live now. The Fear of 'I shouldn't get involved with this guy, I don't belong in the battlefield.' is gone.

Peter: There are little niggles that annoy, sort of rub up against each other a little bit, but on the whole it's quite a successful marriage.

Griffin: Ben said to me once that one of the things that he has tried to do with The Tick, in every version, is put forth a (sort of ) version of male intimacy that you don't often see. Where it's not couched in jokes, and it's not couched in any sort of Machismo, and sort of detachment. It's like a show about two people who really kind of love each other and work well together. But aren't too cool to admit it, and how much they mean to each other.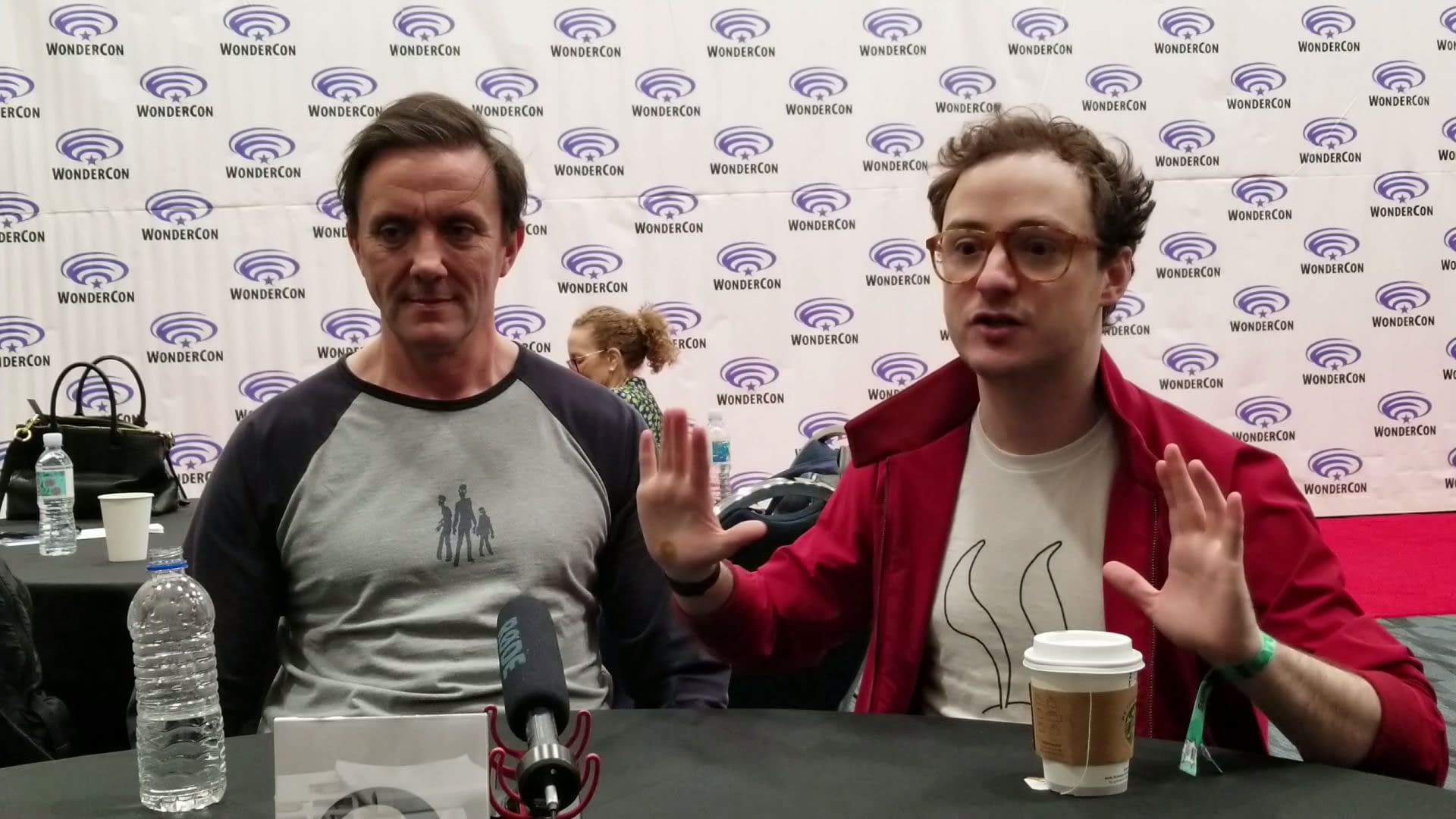 We end with a final question about the "Lobster-man" we see the heroic pair facing off against in the second season opener. While he offers viewers some details, the bigger question of who is (and isn't) the season's "big bad" – and if there actually is a "big bad" anyway – is the one Griffin believes fans should be asking:
"Lobstercules is a main character his season, we have a lot of them. I think a lot of this season is about the Tick and Arthur came to prominence when superheroes were not really around. They were fighting the Terror who was a clear cut bad, one of the worst guys there ever was, and now we are dealing with a lot of gray area. You have a lot of heroes coming in, we're trying to figure out if they are doing it for the right reason. We have a lot of people who look bad but might be good, we have people who look good who might be bad,

We want to be vague about who the primary antagonist of the show is, because I think part of the show is us not knowing who we are actually fighting against, or if we're fighting."
In the interview video below, Peter and Griffin also take a deep dive into the relationship between The Tick and Arthur, discuss how to pronounce the word "machismo," what exactly is The Tick's weakness, what's Arthur's greatest strength, and some interesting insight into… set props?
The Tick season 2 is now available on Amazon Prime.