Undertaker Returns from Retirement for Last Ride Bonus Episode
Sometimes, it seems as though pro wrestlers retire in the same sense that comic book creators quit Twitter. WWE made headlines throughout the entertainment world in June when the final episode of WWE Network documentary Undertaker: The Last Ride implied, but did not explicitly say, that The Undertaker had decided to end his legendary career with the Boneyard Match at WrestleMania being his last match. Of course, some were skeptical that The Undertaker would really be able to stay out of the ring for long.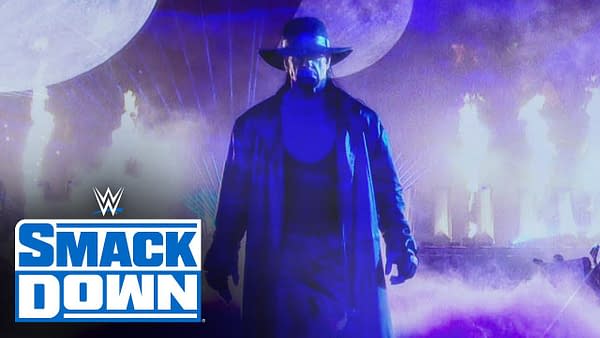 And now, it looks like WWE can't even stick to a true ending for the documentary, as nearly a month after its conclusion, the show is coming back to the WWE Network with a bonus episode. WWE Network News reports that a new episode will be showing up on July 19th titled Undertaker: The Last Ride – Tales From The Deadman. Presumably, the episode will feature interview footage that was cut from the original run of the show.
Following the conclusion of The Last Ride in June, WWE dedicated an entire episode of Friday Night Smackdown to paying tribute to The Undertaker. In addition to broadcasting the Boneyard Match, which announcers explicitly referred to as The Undertaker's final match, the show featured numerous interview clips of WWE legends praising The Undertaker, footage of his past triumphs, and even a storyline wherein Baron Corbin trashed the Undertaker in a promo and Jeff Hardy fought Corbin in the main event to avenge The Undertaker's honor. Even so, it seems unthinkable that WWE wouldn't want to get as much money as possible out of an Undertaker retirement match by holding it at a major PPV in front of a live crowd and advertising it beforehand, not to mention the fact that Vince McMahon will continue to return to Mark Callaway whenever he needs to bring back an old store to spike a rating or appease the royal family of Saudi Arabia, so we're still 100% expecting The Undertaker to return for one more run by next year, assuming the pandemic allows it.