'The Walking Dead' Season 9, Episode 13 "Chokepoint": A Pause Before the Storm [SPOILER REVIEW]
If it felt like this week's episode of AMC's The Walking Dead was pretty much a "Part II" from last week's "Guardians," I think it's safe to say you're right. Picking up immediately where things left off – Beta (Ryan Hurst) and a squad of Whisperers are on the hunt for a fleeing Daryl (Norman Reedus), Connie (Lauren Ridloff), Henry (Matt Lintz), and Lydia (Cassady McClincy). Alongside our main storyline, we have Ezekiel (Khary Payton) and Carol (Melissa McBride) forced to deal with a well-articulated "ransom request" from The Highywaymen – one that will have to be handled if the Trade Fair is to survive.
The Walking Dead s09e13 "Chokepoint": Daryl's daring rescue mission forces Alpha to unleash a group of her own to retrieve what belongs to her, even if the price is paid in blood. The Kingdom's plans to reunite the communities is put in jeopardy.
This week's episode "Chokepoint" was definitely the season's "bridge" episode: strong, solid support that both wrapped up last week's narrative (thus giving it a higher level of importance than if it had been a "done-in-one") and laid the rails for the final three episodes. After a number of intense episodes, it was refreshing to have a "breather" that was still relevant to the season's story arc – a much-needed "pause" especially if you've read the mini-synopsis for next week's episode already.
So let's do a deep-dive into this week's episode to see what's causin' all this:
● This has been bothering me ever since I first saw Connie write it, but why is the episode called "Chokepoint" when she actually writes it as two words? Not trying to be picky, but with The Highwaymen setting such a high grammatical bar…
● Aside from being righteously disturbing, Beta's line to a dying Whisperer ("But you will always be one of us.") left me feeling that Beta buys way much more into the cult-aspect of the group than Alpha (Samantha Morton) does. For Alpha, the Whisperers are a means-to-an-end – for Beta, it's a family… a purpose… a reason for being.
● I could feel the chemistry vibe between Reedus and Ridloff coming off my screen – from how they look/assess each other when one of them wasn't looking to how they were able to make writing on notepads sexy. A lot of potential for these two moving forward, as long as it's not rushed or forced on viewers – especially those still standing with Carol.
● That said? Looks like Dog made his choice…
● I'm still not sure why some people assume Oceanside is fine because a banner representing them is hanging at the Trade Fair. I read it more as a tribute "In Memory Of" – like we saw with the Shiva tribute.
● Loved that moment when Carol stepped in to "personally reassure" everyone that there was no way The Highwaymen were old Saviors. Trust her. She knows.
● Carol is a walking, one-woman "good cop/bad cop" routine: she's more than willing to negotiate with The Highwaymen. Until she isn't. Then she'll kill them. Seems fair, right? Probably the most Zen-like way to live in the zombie apocalypse.
● Considering Jerry was responsible for that movie projector bulb remaining in tact, giving him his sword back is the least The Highwaymen can do to thank him – they'll never truly understand how that one bulb (and their love of movies) saved their lives.
● McClincy killed it this episode, chewing up screen time with a slow-building intensity that's making her "Romeo & Juliet" storyline with Henry more interesting with each passing episode. Something to look for on you rewatch: how McClincy outwardly demonstrates the duality at conflict within her.
● The Highwaymen riding to the rescue with a smooth, "We're The Highwaymen. We're your escorts to the fair." line was just the right smile-inducing "cheese" I needed – even Tara (Alanna Masterson) looked caught up in the moment. My biggest fear? They're good… but not "bad" enough to take on Alpha and the Whisperers.
● Just so we're clear? Anything happens to Dog, Earl (John Finn), or Tammy (Brett Butler)? I'm going to one-man riot. Just fair warning, AMC…
● One thing that should definitely not be overlooked was Daryl's willingness to leave with Henry, Lydia, and Connie to find a new place to live and settle – to save them and the communities: that was a helluva' decision. A very Rick-like move – one he would've respected and admired.
● One of the best fight scenes I've seen on television in a long time – best one-on-one fight scene I've seen on the series so far (pretty sure I'll hear about that one). Brute rage and strength versus stealth, speed, and skill – both sides with knives. As much as I appreciated the unintended L.A. Law homage at the end, I'm looking forward to Round #2… and #3… and #4…

So that's where we stand heading into the final three episodes of AMC's The Walking Dead – with all roads leading to the Trade Fair. Uh oh. The season-ending journey begins with next week's episode "Scars," where we finally learn what it was that tore the communities apart years earlier – and if the communities can find their way to unite before it's too late.
The Walking Dead s09e13 "Scars": An outsider's arrival forces Alexandria to rehash devastating old wounds; eye-opening secrets from the past are revealed.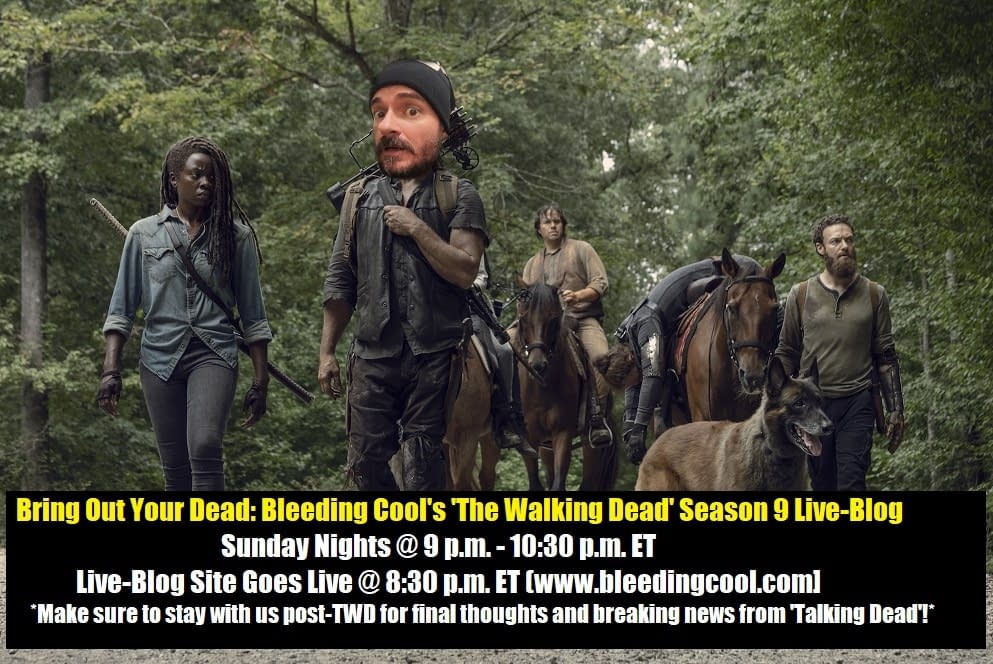 That's right! Bring Out Your Dead: Bleeding Cool's The Walking Dead Live-Blog is back each and every Walking Dead Sunday night – starting with a little "pre-game" at 8:30 p.m ET (live-blog goes live on our website) before charging head-long into our live-blog coverage beginning at 9 p.m. ET. After the show, hang out with us a little longer as we share our thoughts on the night's developments and offer up some predictions on what's still to come – and to see if Chris Hardwick has any news to break on Talking Dead.
AMC's The Walking Dead airs Sunday nights at 9 p.m. ET.