'The Walking Dead' Season 9, Episode 13 "Chokepoint" [Bring Out Your Dead 913! Live-Blog]
Welcome back to Bring Out Your Dead: Bleeding Cool's The Walking Dead Live-Blog as we take a look at the lucky (???) 13th episode of the long-running AMC series' ninth season, "Chokepoint."
Last week's episode was an excellent exercise in compare/contrast between Michonne (Danai Gurira) and Alpha (Samantha Morton) as far as leadership style and philosophy are concerned. Meanwhile, Beta (Ryan Hurst) got the drop on Henry (Matt Lintz) – who was forced to join their travelling band on walker-wannabes. Next thing you know, Lydia (Cassady McClincy) has a knife… Daryl's (Norman Reedus) is dressed in walker skin… some walker-on-wannabe-walker action ensues… and now Daryl, Lydia, Henry, and Connie (Lauren Ridloff) are on the run.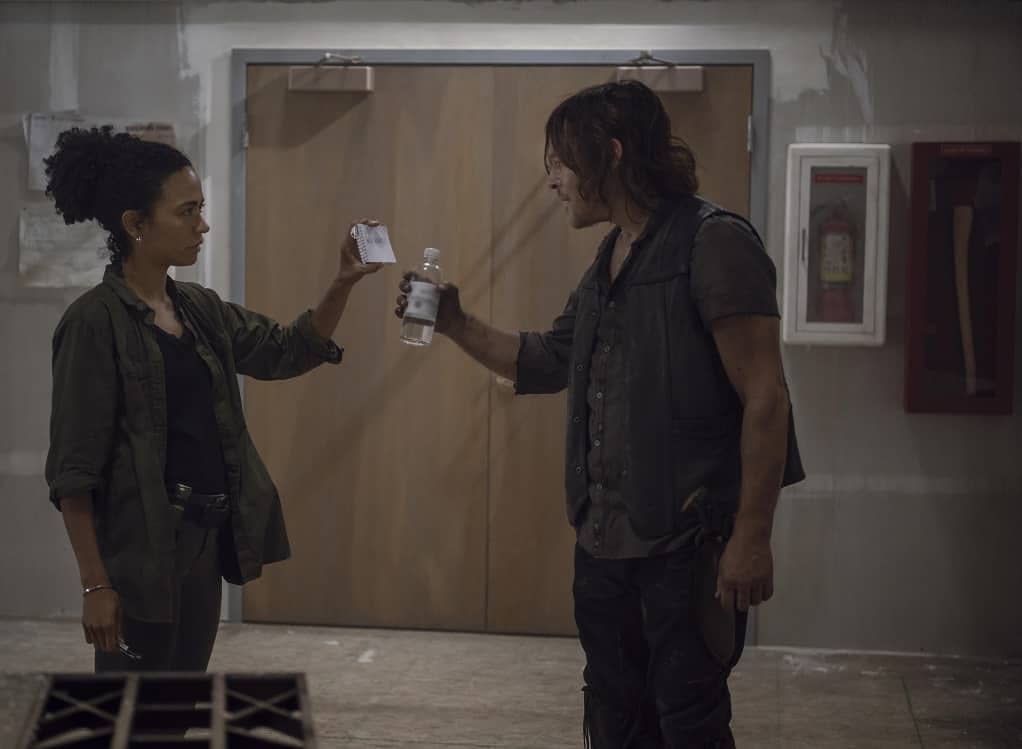 As if that wasn't bad enough, looks like Ezekiel (Khary Payton), Carol (Melissa McBride), and the Kingdom are facing a threat to the fair from an unseen enemy: The Highwaymen. It looks like if the Kingdom's fair is to work, then Ezekiel and some others are going to have to confront the threat directly.
The Walking Dead s09e13 "Chokepoint": Daryl's daring rescue mission forces Alpha to unleash a group of her own to retrieve what belongs to her, even if the price is paid in blood. The Kingdom's plans to reunite the communities is put in jeopardy.
● This page should update…but just to be on the safe side I strongly suggest you refresh every now and then to make sure because I've been known to ramble often and quickly.
● If you're going to social media to talk about what we're talking about, go with: #TWD and #TWDBC.
● While you're waiting (or if you just need a breather from my raw, uncut cult-of-personality), check out some very cool Walking Dead universe extras below. The cast and creators from the AMC series break down the Whisperers' way of life and discuss Henry's reasons for risking his life to save Lydia:
Hurst, Morton and the crew show how the Whisperer camp's animalistic vibe was created:

The second half of "The Walking Dead" Season 9 finds our groups of survivors, both old and new, continuing to deal with the impact of events that took place during the six years that have passed. Since the disappearance of Rick, many of these characters have become strangers to each other, and in some ways, strangers to themselves.

What they do know is that they are in undeniable danger. They will soon realize the world just beyond does not operate as they thought. The group's rules and ways of survival no longer guarantee their safety. A whole new threat has crossed their paths, and they soon discover it's unlike any threat they have encountered or endured before. The group will start to question what they think they see. What may appear to be normal in this post-apocalyptic world could actually be more disturbing and terrifying than when the apocalypse first broke out. All that is certain is the stakes are high and numerous.

Based on the comic book series written by Robert Kirkman and published by Image Comics, "The Walking Dead" tells the story of the months and years after a zombie apocalypse and follows a group of survivors who travel in search of a safe and secure home. The series is executive produced by chief content officer Scott M. Gimple, showrunner Angela Kang, Robert Kirkman, Gale Anne Hurd, Dave Alpert, Greg Nicotero, Tom Luse and Denise Huth.
AMC's The Walking Dead airs Sunday nights at 9 p.m. ET.