Wayne's Mark McKenna Talks Dream Role, Del Dynamic, and Pop Culture Picks (INTERVIEW)
A highlight of Bleeding Cool's time at this year's Tribeca TV Festival was screening/reviewing YouTube Premium's new original comedy series Wayne, a tale of a bloody road trip, young love, and reckless youth from the writers of Deadpool and Zombieland launching on the streaming service on January 16 (see review below). Created by series writer Shawn Simmons and executive produced by Rhett Reese, Paul Wernick, Greg Coolidge, and Kirk Ward, the series is a righteously insane-in-all-the-right-ways mix of John Hughes, John Wick, Rian Johnson's Brick, and the Coen Brothers' Raising Arizona.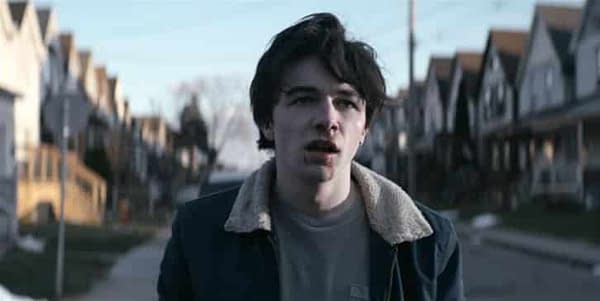 When McKenna's Wayne learns that his birthright – a 1978 Pontiac Trans Am – was stolen from his father on his father's deathbed. Looking to right another of society's wrongs and to do right by the memory of his father, Wayne sets out on a journey that will take him from Boston to South Florida with nothing but a dirt bike, some fireworks, and new "girlfriend" Del (Red Band Society's Ciara Bravo) – all in the name of claiming his rightful inheritance.
Now before we go any further, here's something you should know about Mark McKenna's (Sing Street, Kat and Alfie: Redwater) Wayne: he means well, has a very straight-forward sense of justice, and his heart's always in the right place. So if he had to stab a kid with a carrot (it makes a little more sense if you watch this after you're done here), we're sure he had it coming – maybe Wayne was concerned the kid wasn't getting enough Vitamin C?

Bleeding Cool had the chance to speak with McKenna to discuss what viewers can expect from both his character and the series, his relationship dynamic with Bravo's Del, his interests and hobbies off-set, and more: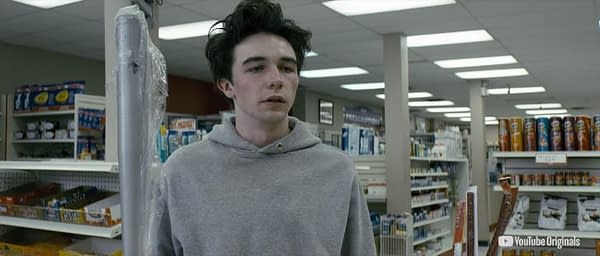 ● With the positive buzz about the series steadily growing since its 2018 Tribeca TV Festival premiere, how has the experience been for you on a both a personal and professional level?
"Not much has changed for me on either a personal or professional level really. I've gained more followers online and now people tell me they're excited for the show instead of asking what it is. The most change I've experienced so far is just the increase in followers at the moment."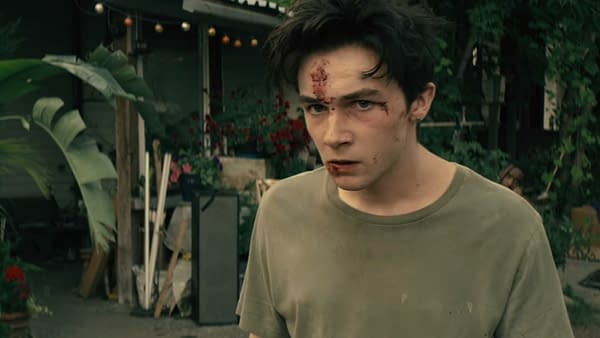 ● Was there a specific moment or moments from this season that you look back on now and say, "Yeah, that's what this is all about," and what was it that made it stand out?
"There's a few scenes in the show that I feel sum it up pretty well. To me the show is about human connection and the relationships we build in our lives so for me any scene that fully represents that (and there are a good few) represents the show."
● Wayne always seems to maintain a level of cool, simmering control (at least by his standards) in any given situation – except when Del's on the scene. What is it about Del that Wayne finds so comfortably disarming – and what do you want viewers to take away from their dynamic?
"Del is the first girl Wayne has ever spoken to and the first girl to ever speak to him. Wayne feels comfortable around Del because she is the first person to ever talk back to him (the cookie scene at Wayne's door in episode 1) and it makes him feel like she's not afraid of him and isn't going to run away. She is the first person Wayne has ever felt comfortable enough to be himself around and have them accept it and like him for it too."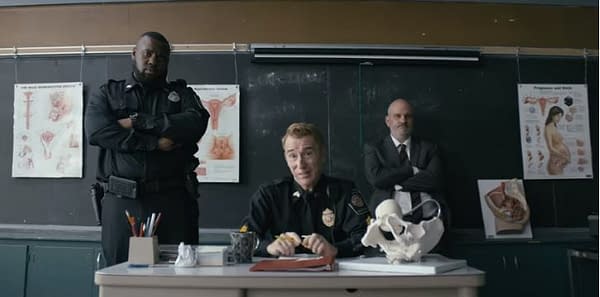 ● Viewers who checked out our review of the first two episodes felt the characters reminded them of early Coen Brothers, like Raising Arizona. How important was that to you when considering the part, and is there a character you feel will surprise viewers?
"To me Wayne is a role I've dreamt of since before I even had any interest in acting. Wayne is essentially a teenage Dirty Harry and when I was younger I always wanted to be those people after watching action/superhero movies (as everyone does when they're younger) and when I got into acting I thought you had to be at least 28 or so to play that type of character, so for it to come around as a teenager and to get that part was a dream.

I feel like Sgt. Geller will surprise people the most, there's constantly small details about the kind of person he is and his past being revealed and I feel like no matter how much you find out about him, you never really know him."
● When you're not on set or out promoting the series, what music, movies, television shows, video games, and comics are you into right now that you'd want our readers to know about?
Music
"After being on this show I got very into punk music. I've also recently gotten into jazz which is pretty nice because punk music will stress you out of you listen to too much."
Movies
"I love old/classic movies. I had a marathon recently where I watched a movie every night of the week but it was all classics I hadn't seen before like Taxi, 12 Angry Men, Butch Cassidy and the Sundance Kid (which I have seen about 10 times I just love it and watch it regularly), the list goes on but the moral of the story is I like old/classic movies. And the odd cheesy teen movie like 10 Things I Hate About You."
TV
"I haven't committed to many tv shows recently, once I finished Breaking Bad I thought that was the end of tv and we'd never bounce back. The two shows I'm completely caught up with at the moment are Better Call Saul and Barry. Better Call Saul was a very obvious answer but I also love Barry and feel like it balances drama and comedy very well."
Video Games
"I've been slacking on video games for the past year or two. I was obsessed with the Uncharted series but that's finished now. I LOVE The Last of Us and I'm very excited for part 2 but for now it's just GTA 5 and Red Dead Redemption 2, which are two very typical games that everyone knows. I tried getting into Fortnite and was into it for a while then I left to shoot Wayne and when I got home I tried to play it and it was like a completely different game with all the updates, which scared me off and now I've stopped playing it. Felt like I went to prison before iPhones existed and now that I'm released, everyone has one."
Comics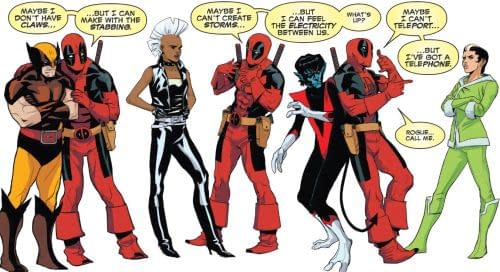 "I haven't read comics since I was a kid so I am very behind on them. I didn't even read interesting ones either I think I read The Simpsons comics and stuff like that. Maybe the odd X-Men or Deadpool comic but nothing too crazy."

Check out Bleeding Cool's review of the first two chapters of Wayne ('Get Some Then' and 'No Priests') below and learn why the series is going to be one of the major breakout series of 2019:
Spoiler Warning: I'll be covering some themes and takeaways involving major and minor plot points from the episode, so please keep that in mind. Definitely not looking for pitchforks and torches outside my apartment.