I've just watched two hours of AEW Dynamite, and I'm only halfway done with wrestling tonight. Aren't Wednesdays the best? It's time for NXT, which could in all seriousness be the last one we see for a while. This episode was recorded last week, and WWE is set to begin filming again on Friday. But at least three people, and maybe as many as two dozen by some accounts, have tested positive for COVID-19 in WWE. WWE is, as of last report, still going ahead with tapings, but if this situation gets out of hand it will be really bad. Things are already bad in Florida, were both WWE and AEW tape. And WWE not only didn't start testing their wrestlers until last week, but they even let some fans into the building for the last two sets of tapings. I'm just hoping everyone involved comes out of this okay.
So yeah, on that note, let's watch NXT. The crowd is pounding frantically on the plexiglass. I'd be freaking out too if I was locked in a room with dozens of potential coronavirus carriers! We see that, one hour ago, Damian Priest was found attacked in the parking lot. Cameron Grimes comes out to face Priest in the ring… if he can make it. Grimes accuses Priest of faking the attack to get out of a match with him. Grimes calls on a ref to come and award him victory by forfeit. Priest comes out through the crowd with his ribs taped up and the match gets underway.
Hurt ribs and all, Priest comes out strong and pounds on Grimes, but Grimes works on the injured ribs. Priest hits a sit-out powerbomb at one point and sells it more than Grimes. Priest also can't get Grimes up for the Razor's Edge at one point on the outside. Grimes ultimately gets the win with the Cave In. Mauro Ranallo calls him "the cock of the walk." Gross. I still do not know why Priest is called the "Archer of Infamy," but one day I will find out. And one day, Priest will get a push.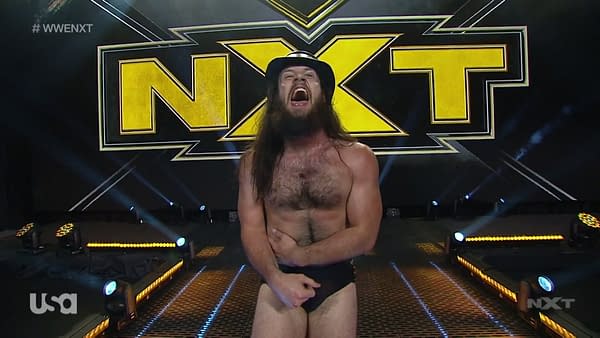 Outside earlier today,  Robert Stone accosts Rhea Ripley over beating him up when he tried to get her to hire him as his manager. He brags about Aliyah signing with him instead, and now he is going to give Rhea a second chance. She tosses him in a dumpster. Aliyah runs up and yells at her. She says just because Rhea's career is in the trash doesn't mean she gets to throw Aliyah's manager into the trash. She slaps Rhea and looks like she immediately regrets it. Rhea just laughs and gives her a match for later tonight. NXT goes to commercials.
After the break, it's another one of those Thatch as Thatch Can segments. Then a recap of Santos Escobar and his crew beating up Drake Maverick last week. El Legado del Fantasma come to the ring. Escobar will be facing Jake Atlas, who is looking to defend the honor of Maverick. Atlas controls the first half of the fast-paced and intense match, but he gets distracted by Raul Mendoza and Joaquin Wilde outside and gets his face rammed into the plexiglass right before a commercial break.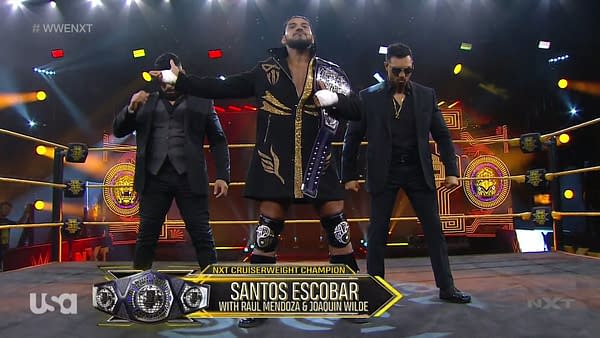 Escobar is in control after NXT returns and… I was just passed this Tweet by Renee Young on the Bleeding Cool Slack:
Man. What a few days. My show gets cancelled and I get Covid. Wear your masks and wash your hands. Stay safe, everyone ❤️

— Renee Young (@ReneeYoungWWE) June 25, 2020
Ugh. I hope she and Jon Moxley are okay.
Escobar wins with the Phantom Driver. After that, Undisputed Era finally convinces Roderick Strong to get in a car trunk. Then they tell him he'll face Dexter Lumis himself in a match tonight. Strong psyches himself up. Mauro Ranallo promotes the main event for tonight with a tale of the tape on Finn Balor, Keith Lee, and Johnny Gargano, then NXT goes to commercials.
After the break, Beth Phoenix plays a video of last week's NXT Tag Team Championship match Imperium and Breezango. Mckenzie Mitchell interviews Malcolm Bivens and Indus Sher backstage. Bivens is pissed off at Lorcan and Burch for interrupting Indus Sher's interruption of the match last week. But isn't turnabout fair play, Malcolm? Then we see a video package for tonight's main event. Then more commercials. Then another video package, this time for Karrion Kross. Lots of video packages tonight.
Kacy Catanzaro and Kayden Carter take on Dakota Kai and Raquel Gonzalez. It's just like the singles matches we've seen between these two teams over the last two weeks, but this time all at once. Carter and Catanzaro are classic underdog babyfaces here. They get in some offense, but never really have a chance. Catanzaro eats a powerbomb from Gonzalez and then Kai taps her out. After the match, Kai calls out NXT Women's Champion Io Shirai. Gonzalez says Kai will be the next champ.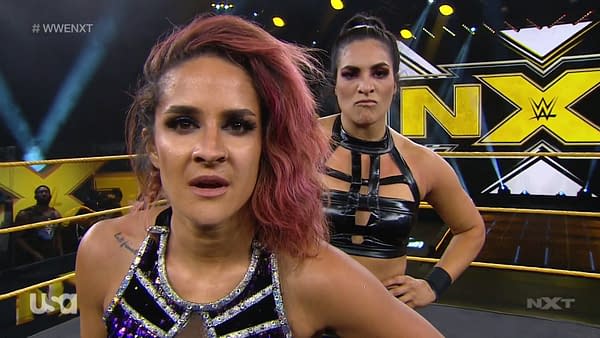 Backstage, Bronson Reed is getting ready to face Karrion Kross after foolishly calling him out next week. This isn't going to go well for him. Maybe he'll reconsider during the commercials?
Nope. Kross and Scarlett come to the ring after the break. Reed comes out next to meet his doom. Don't get me wrong here. Reed does get in some offense. But the outcome is never in doubt. WWE is really high on Karrion Kross right now and Reed is only here to put him over. He does that by taking some big suplexes from Kross before Kross taps him out with the Kross Jacket.
After the match, McKenzie asks Adam Cole which of the three men in tonight's main event he'd prefer to face. Cole says a common man would choose the easiest opponent, but Cole isn't a common man. He doesn't care who he faces, because he can beat any of them. More important is making sure there's room on his mantle for the North American Championship. NXT heads to commercial break. And we'll head over to the second part of our NXT report.
Enjoyed this article? Share it!