In the first hour of NXT: Great American Bash Night 2, Mia Yim fought Candice LeRae in a hardcore street fight, Bronson Reed defended the honor of a jobber, Johnny Gargano put on a mat wrestling classic with Isaiah "Swerve" Scott, and Robert Stone got run over by a tank. Now there's just one more hour left in this marathon we call Wednesday night.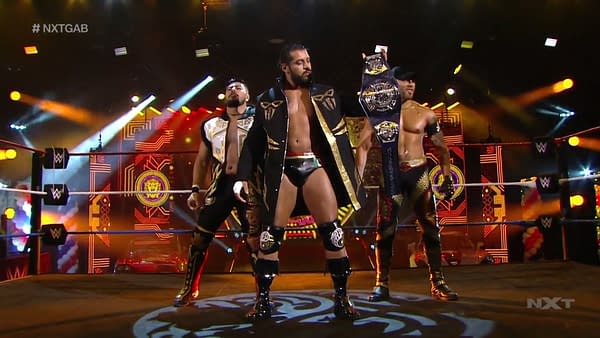 We get a video package for Tegan Nox vs. Io Shirai, which happens next week. We see Keith Lee warming up backstage. Legado Del Fantasma head to the ring. Tom Phillips shills Mountain Dew in exchange for limited commercial breaks for the second hour of NXT. Breezango comes out cosplaying as the Conquistadors. Drake Maverick joins them. We have ourselves a six-man tag match.
Fandango and Joaquin Wilde start things off. Fandango takes control and tags in Tyler Breeze. Wilde immediately pushes Breeze back into the heel corner and tags in Raul Mendoza. But Breeze fights back and hits a swinging backbreaker. He tags in Drake Maverick, who stops to trash talk Santos Escobar. Maverick hits some kicks on Mendoza and taunts Escobar again. He tags in Tyler Breeze. Mendoza tas in Escobar, who tags in wild. All three men team up on Breeze and now Mendoza is in control. He works over Breeze and applies a rest hold. Breeze fights back with a jawbreaker and tags in Fandango, who beats up both Mendoza and Wilde. He hits a Falcon Arrow on Wilde. The heels flee the ring, and Fandango tosses Breeze on top of them. Then he hits a springboard moonsault on them. Mendoza pushes Fandango into the steel stairs. Wilde brings Fandango in the ring and applies a rest hold again.
Fandango is the biggest man in this match, but he is doing most of the selling. Escobar finally tags in and begins picking apart Fandango. More rest holds. Mendoza tags in and stomps Fandango. Fandango has been selling his knee since the moonsault earlier, and Mendoza works on it as Fandango tries desperately to make a tag. And works on it. And works on it some more. Fandango dumps Mendoza from the ring and starts the slow crawl toward his corner. Breeze prevents Wilde from interfering, and Mendoza hits the hot tag on Maverick. Maverick unloads on Escobar and the match devolves into chaos. As everyone else brawls outside, Escobar kicks Maverick's feet out from underneath him as Maverick climbs the ropes and hits the Phantom Driver for a three-count. The outcome of this match was never in doubt. Escobar is getting a push, and Maverick and Fandango are jobbers to the stars.
McKenzie Mitchell interviews the Garganos backstage. Johnny Gargano says they're the best power couple in the entire world. Tonight was a great night, but what would have happened if Finn Balor didn't get in his way and cost him his shot at the NXT North American Championship and tonight's event. Gargano says he doesn't forget. LeRae says she doesn't either and they both have some wrongs to right. They leave to have sex. NXT goes to commercials.
After the break, Drew McIntyre predicts Adam Cole will win tonight. Santana Garrett comes to the ring, followed by Mercedez Martinez. We know how this match is gonna go. Garrett actually gets in more offense than I expected, but it's more of an annoyance to Martinez than a threat. Martinez wins with a fisherman's buster.
WWE NXT Great American Bash Night 2 Recap Continues!
Damian Priest cuts a pre-recorded promo on Cameron Grimes. Priest gets Grimes in the ring again next week. He says Grimes is a little bitch. Mick Foley predicts that either Keith Lee will win the match or Adam Cole will win the match. Way to pick a side, Foley. Shawn Michaels goes with Adam Cole but holds up a sign for Keith Lee. What the hell, guys? The main event is next, and it will be commercial-free. After these commercials.
NXT has thirty minutes to fill, so they go all out on the entrances. Both entrances start from backstage just to tack a few more seconds on. Mauro Ranallo says this is the biggest match in NXT history. By the time the bell rings, there are just 22 minutes left. Can you tell Triple H is booking this place? Cole starts things off with a headlock. Lee tries several ways to shake him off. Eventually, he just powers out. Lee puts a knuckle-lock on Cole. Cole tries to fight back with a kick, but Lee catches it and hits a short shoulder tackle, which sends Cole right out of the ring. Lee charges at Cole outside but Cole ducks and Lee goes through a plexiglass barrier. Cole slams Lee's head into the steel stairs and engages in other varieties of ringside violence.
Back in the ring, Cole hits a backbreaker, then some forearms and a big boot, then another backbreaker. Cole puts a leg choke on Lee. Back to their feet, more kicks and a backbreaker again from Cole. Cole gets a two-count. Cole taunts Lee and goes to remove his knee pad, but Lee catches Cole's hand. So tender. Lee hits some punches and a powerslam, which gets two. Lee cradles Cole in his bosom. Lee drops him and climbs the turnbuckles, but Cole kicks his legs out from under him and hits a backstabber on Lee from the second rope. Cole tries a pin and gets a two-count. Now cole tries to climb the ropes and Lee knocks him down onto the apron. Lee goes to the top and drags Cole up straight from the apron into a superplex. Lee gets a two-count.
Lee tries to pick Cole up, but Cole slips through his legs and gets a few kicks. Lee catches him in a Spirit Bomb and gets a two-count again when Cole manages to put a finger on the bottom rope. Cole rolls out of the ring for a breather. Back in though, he eats a shoulder block and a spinebuster for a two-count. Lee hits a moonsault off the second rope and gets two again. Lee picks up Cole for the Big Bang Catastrophe, but Cole escapes and hits a superkick. But Lee hulks up. Cole hits another superkick. Lee hulks up again. Cole hits a lower kick and hits the Last Shot. But Lee kicks out at two.
Cole wastes a lot of time taunting Lee. When he goes for another Last Shot, Lee hits him with a clothesline. Cole hits the Panama Sunrise on Lee, but Lee kicks out again. Cole looks like he's about to cry. Cole hits three superkicks on a kneeling Lee, and again Lee kicks out. Now the knee pad comes down. Cole hits Last Shot again, but instead of pinning, he climbs to the second turnbuckle. Cole goes for a Panama Sunrise, but Lee reverses and hits a Spirit Bomb. Then he hits the Big Bang Catastrophe and gets the three-count. Now we see the scene leaked on the internet last week. Lee is a double NXT Champion. He raises both belts in the air. Confetti pours from the ceiling. No Dusty finish. Karron Kross and Scarlett watch Lee from an observation deck above the ring. They are the most protected performers in WWE, both in the ring, and from coronavirus.
Well, that was a hell of a night. Both AEW and NXT put on some killer shows. I'm tired as hell. Thank goodness there's no wrestling on Thursdays.
Enjoyed this article? Share it!