It's been quite a WWE Monday Night Raw so far. Three championships have been defended so far. One of them changed hands. Ric Flair declared Randy Orton the "Greatest Wrestler Ever," and Big Show started a feud with him. And lots more. Read about it in part one and part two of our Raw report. But now, it's the home stretch. The final hour. At this point, we're all in too deep and we have no choice but to watch the rest.
Now it's time for Sasha Banks and Bayley to defend their Tag Team Championships against The Iiconics. I wrote an editorial (to be be published sometime this week) about how Banks and Bayley are basically carrying the entire WWE right now. I really hope they don't drop the titles tonight because then I'll have to go edit it. Both teams here have a ton of charisma. The Iiconics are okay in the ring. Banks and Bayley are great. They carry the Iiconics to a decent but short match, running through a single commercial break, where Peyton Royce taps out to the Banks Statement. Phew! No editing required.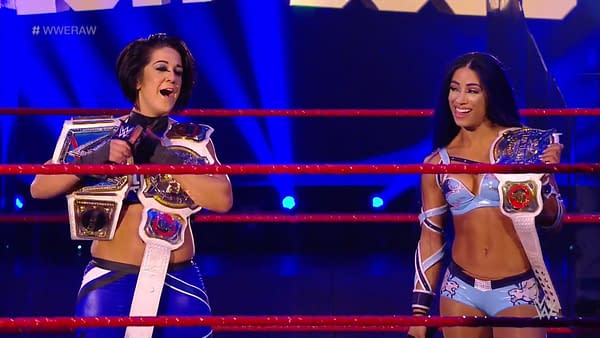 After the match, Bayley gloats about how great they are. But Sasha says she's a little jealous that Bayley has two titles and she only has one. Sasha also wants to experience having two titles. Sasha wants a title match. So at Extreme Rules, she's officially challenging Asuka for the Raw Women's Championship. Fooled you, didn't they? Asuka comes to the ring and accepts. She gets beat down as a result.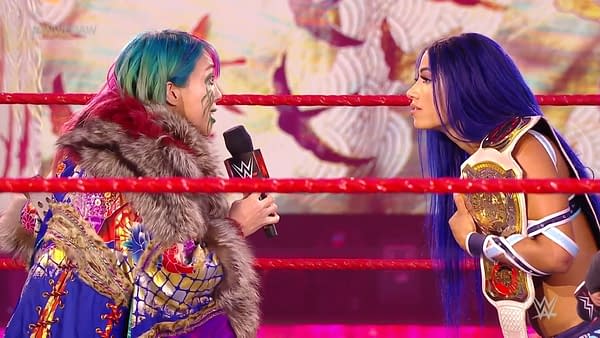 Backstage, Sarah Shreiber interviews Bobby Lashley and MVP. Lashley says he should be WWE Champion but R-Truth screwed it up for him. MVP says Lashley is revitalized without Lana and his association with MVP has led to that. MVP says he can do the same for Apollo Crews, if Crews would only listen to him. But if Apollo makes the wrong decision, Lashley will beat him up. MVP says he and Lashley have to head to the ring for The VIP Lounge. Raw heads to commercials.
After the break, Ruby Riott approaches Liv Morgan backstage. Liv is on the verge of tears over her losing streak and doesn't want to be bothered. Are these two crazy kids going to get back together? WWE could use more women's tag teams to feed to Sasha and Bayley!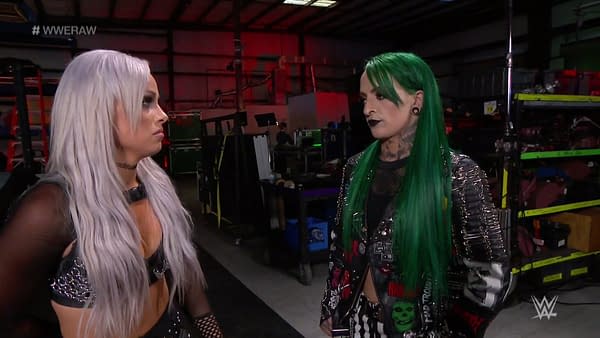 MVP kicks off the VIP Lounge, with Apollo Crews as the guest. MVP gives Crews credit for his accomplishments so far, but he needs MVP to navigate tough decisions. MVP can help Crews use the United States Championship to achieve fame and fortune. Crews says he didn't need MVP's help to win the Championship and he doesn't need his help to keep it. MVP warns Crews that his reign won't last long without MVP, but Crews isn't buying it. Since Crews won't accept MVP's offer, MVP says one way or another, the US Championship is coming home. Shelton Benjamin comes out for his match with Crews. MVP distracts Crews so Benjamin can attack him from behind. Raw goes to commercials.
After the break, the match is officially underway. It doesn't last long. Crews gets the win with his powerbomb. MVP sarcastically applauds Crews after the match and tries to raise his arm, but Crews jerks away. Bobby Lashley attacks from behind and puts the Full Nelson on Crews.  Backstage, Dominic Mysterio and Rey Mysterio are ready to confront Seth Rollins… after some commercials, of course.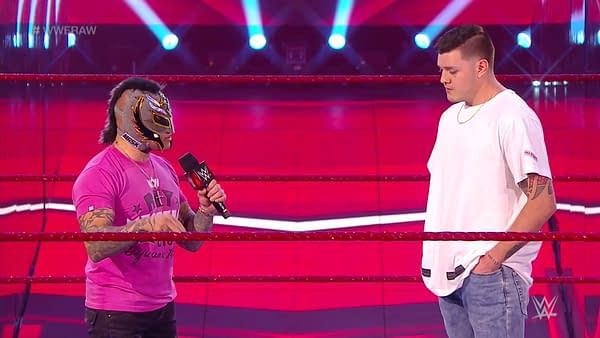 Before this segment, Tom Phillips is overcome with an urge to share a recap of what happened last week between Dominic and Seth, so he does. Rey and Dominic are in the ring. Rey was very scared last week when he tried to call Dominic and Dominic didn't answer. He was even more scared when he learned Dominic was coming to Raw to attack Seth Rollins. But Dominic managed to attack Rollins and avoid getting jumped by his crew. Rey is proud, but he's also angry at Dominic for putting himself at risk. Rey is pissed at Seth Rollins, but even though Dominic is bigger than Rey, Rey is still his dad. Rey says that since Dominic fought for Rey, now Rey is gonna fight for Dominic. Rey needs to get revenge on Seth Rollins himself. Dominic says he understands, but he's not going anywhere. They're going to fight together as a family.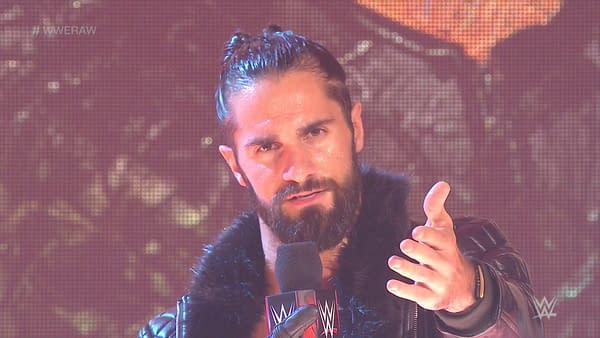 Seth Rollins comes out. Seth says this puts him in a dilemma. Should he beat up Rey in front of Dominic? Should he beat up Dominic in front of Rey. Seth says it's destiny, and he should take an eye from each of them. Seth approaches the ring, but before he gets there, he calls out Buddy Murphy and Austin Theory. But Aleister Black and Umberto Carillo attack Theory and Murphy. Now all four men corner Rollins. Rey hits him with a 619 and the beatdown is on. They try to jam Seth's eye into the corner of the ring steps like Rollins did to Rey, but Theory and Murphy interrupt. Rollins tries to jam Dominic's eye into the stairs, but Carillo and Black chase off Rollins and his disciples with steel chairs. And that's the anticlimactic ending to Raw.
There were some high points on the show tonight. Sasha Banks and Bayley are great. Randy Orton is at the top of his game. The Asuka vs. Charlotte Flair match was good. The main event, not even a match, was underwhelming. Drew McIntyre vs. Dolph Ziggler is not a match anybody cares about. Nobody cares about Apollo Crews either, and while Bobby Lashley and MVP will make the United States title more interesting if they win it, Lashley really ought to win the WWE Championship. But one thing I'll say is the show seems to keep things moving. The matches are relatively short (though not as short as last week). Another good thing about Raw is that it's over! See you here tomorrow for Impact.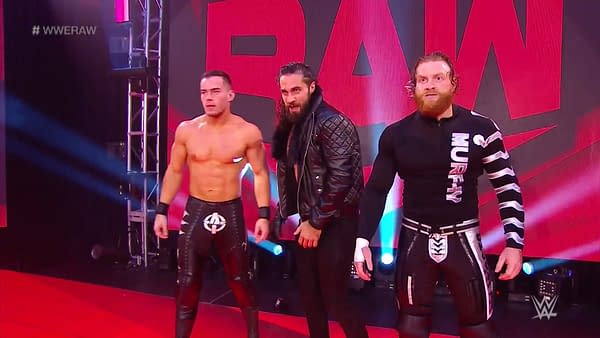 Enjoyed this article? Share it!