WWE SmackDown Report 6/12/2020 Part 2: And New IC Champion?
We're right in the middle of an epic contest between Daniel Bryan and AJ Styles for the Intercontinental Championship here on WWE Smackdown. If you haven't read the first half of this recap, trust us, you want to. It involves Jeff Hardy, Sheamus, and a large mug of urine.
We come back from a commercial break to Styles and Bryan exchanging kicks, which drives Styles from the ring. Bryan tries a suicide dive but Styles is like, didn't we just come back from commercial? Styles blocks, but Bryan locks in an armbar in the middle of the ring. Styles reverses to a Calf Crusher. Michael Cole halfheartedly pretends to believe Bryan, as a face, may tap out. Bryan reverses to an armbar but Styles escapes. Bryan finally finishes those Yes Kicks he started before the last commercial break and gets a two-count.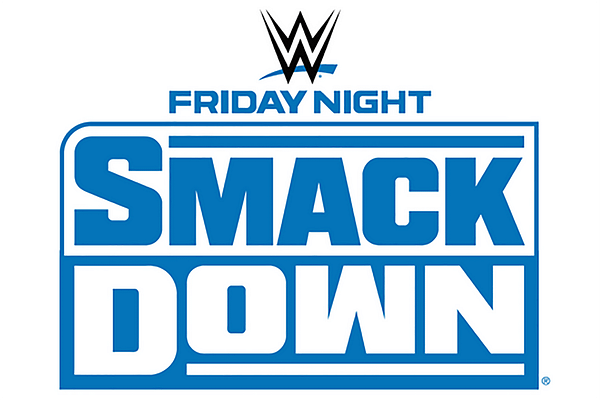 Bryan picks up Styles and puts him up on the top rope in the corner. After some negotiation, Styles ends up elbowing Bryan to the floor twice before Bryan finally manages to get a super back suplex. That was a cool exchange that put an unusual spin on the usual top rope battle. Go ahead, Smackdown. Go to commercials. You earned it.
We come back to Styles and Bryan with second winds, exchanging some high impact moves. They're really energetic. Did they drink some of Jeff Hardy's urine during the commercial break? After they get their flippy stuff out, Styles goes for the Styles Clash but Bryan reverses to a pin attempt. Bryan gets Styles in the ankle lock but Styles fights out. Bryan and Styles hit a series of German suplexes where they keep the waistlock on and get up to try another, but the other wrestler reverses the waistlock and hits a suplex of their own. The end result of this is Bryan putting the Yes Lock on Styles. Styles makes it to the ropes.
Bryan does his face-stomping thing. He sets up for the running knee but Styles catches him to hit a Styles Clash. But Styles isn't able to pin Bryan. Both men slowly climb to their feet and Styles hits the Phenomenal Forearm for the three-count. Styles gives a short interview after the match. He'll be the best Intercontinental Champion ever because he's phenomenal or something to that effect.
The announcers are over this and want to talk about Miz and Morrison's prank war against Braun Strowman from last week. We see a video recap of pretty much the entire thing. Strowman talks about the prank war. He says he can get his car repaired, but Miz and Morrison won't be able to fix what he does to them at Backlash. He also has a message for Otis. He's in no mood for nonsense with the briefcase tonight. Smackdown takes a commercial break.
We come back for a recap of Sasha Banks and Bayley winning the Women's Tag Team Championships last week. It's time for a celebration. Banks and Bayley come out. On their way to the ring, they stop to take a selfie with Cole and Graves. Bayley says she understands why people say it can be lonely at the top, as the best Smackdown Women's Champion ever, but she's not lonely because she has her best friend, Sasha Banks. Now they're the Tag Team Champs too. Sasha Banks says they're the role models and not some dentist in Jacksonville. Their friendship is stronger than ever and they're unstoppable together.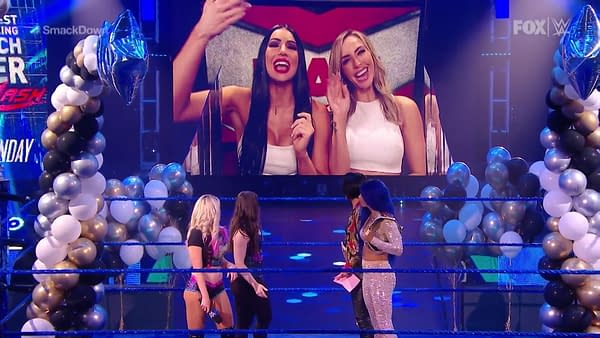 Alexa Bliss and Nikki Cross interrupt. The champs are not happy with their celebration being interrupted, but Nikki says they love a good party. The Iiconics appear on the Titantron and say they're going to win the match at Blacklash on Sunday. But they're really just providing a distraction for Cross and Bliss to attack the champs from behind. This will all be settled in a three-way at Backlash.
Miz and Morrison join Kayla Braxton backstage. They're sick of Braun Strowman's threats and have a new music video as a response. This one is called Hey! Hey Hey. It's going to be amazingly bad. Sadly, it's interrupted by Brawn Strowman coming to the ring. His partners, Otis and Tucker, come out next. Commercials come out next. Then Dolph Ziggler, Miz, and Morrison. The match begins with Ziggler running away from Otis, not wanting anything to do with this foolishness. Hey, Dolph, you're the one that keeps signing those contracts. Heavy Macinery do the their thing for a while.
Baron Corbin interrupts the match on the Titantron. He approaches Mandy Rose backstage. He's still upset about Otis wearing his crown last week. Corbin isn't mad at her for encouraging him though. He says Mandy is fantasizing about being with Corbin instead. You know what, that maybe even grosser than thinking about Otis and Mandy. Otis runs the fastest he's ever run from the ring to the backstage to beat the crap out of Corbin. Or maybe he was running fast to get there before the commercial break.
After Smackdown comes back from commercial, the heels are in firm control, triple-teaming Tucker with quick tags as Strowman becomes more and more enraged in the corner. Tucker tries futilely to reach the corner as the heels try to stop him. When it looks like Tucker will make it, Miz and Morrison pull Strowman off the apron at the last moment. Eventually, Otis comes out to ringside with Mandy. Tucker is able to tag in Otis for the hot tag. Otis cleans house while Mandy watches with a loving look in her eye. Otis Otises up on Ziggler and tosses him straight over the ropes to the floor. Outside, Strowman annihilates all three men and tosses Ziggler back in for the Caterpillar. Otis hits it and gets the pin.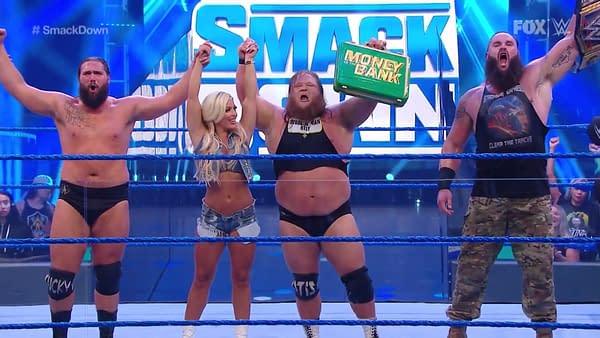 You know what, this was a pretty decent episode of Smackdown. The Hardy and Sheamus segment was the Jerry Springer style disaster we all knew it would be, and so I can see why WWE wanted to leak this one (which is definitely how it got out there). Styles vs. Bryan was a really good match. And god help me, even the main event was just short enough to be entertaining. One thing for sure is that Smackdown was a much better go-home show for Backlash than Raw was on Monday. Speaking of which, we'll be doing our usual live coverage of Backlash this Sunday. Bleeding Cool: we do wrestling now. Hope to see you there.