In Churl Yo's "Isonation": Ultimate Social Distancing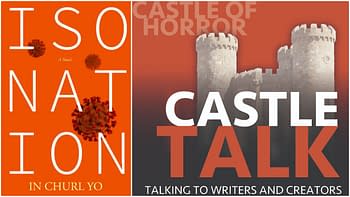 This episode we're talking to In Churl Yo, author of Isonation. The book presents a future in which fear of contagion has led to a world where people live in hermetically-sealed apartments: social distancing has become complete social isolation. The family unit never leaves, and only communicates with the outside world through virtual reality (called the Virt) and by use of delivery and servant drones. Imagine if Disney and Amazon built the planet and decided what to deliver to your house because you can't go anywhere: that's Isonation's world.
In the book, the main character Zoah busts out for an adventure to determine the truth of her world many years after the catastrophe that drove everyone inside. She teams up with a soldier for hire, Caleb, and Neema, a secret revolutionary as she ventures back out into the real world.
Yo, who lives in Seattle, talks about how he had not anticipated that around the time of release, the world of the book would reflect the world he was living in.
Yo chatted about the book and the research involved in it, a lot of which went into his recent Medium article, "You've heard of social distancing, but could social isolation be our future?" We also talked about how quickly things in Seattle and the rest of the US have changed in the last couple of weeks, and how society's response to the pandemic—cancellations, stay-at-home orders, runs on toilet paper and hand sanitizer—differs from the country's response to 9/11 and the 2008 financial crisis.
Isonation comes out April 1 from Castle Bridge Media, the producers of the Castle Talk podcast.
Listen here:
Listen on YouTube:
Jason Henderson is the host of the Castle of Horror and Castle Talk Podcasts, the editor of the Castle of Horror Anthology series, and the author of Quest for the Nautilus: Young Captain Nemo from Macmillan Children's Books.