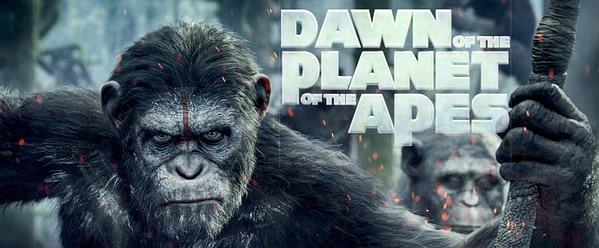 While you're waiting in line this weekend to catch the next blockbuster of the summer season, Dawn of the Planet of the Apes, you can catch up on some of what's happened in the ten years that have passed between 2011's Rise of the Planet of the Apes in three short films.
Vice Media's Motherboard Productions teamed up with Fox to produce the films. They were all done on a smaller budget to be sure, and the apes don't make an appearance (though they begin to make their presence felt at the end of the third).
It all harkens back to a quote from the trailer: "We spent four years fighting that virus and then another four fighting each other." The shorts examine both the effects of the plague as well as the effects on society.
It seems that the humans have had their hands quite full enough with their own fall of civilization. While the original Planet of the Apes mythos had the apes take over fully on their own (though in that storyline they were already immersed among the humans when the uprising came giving them the advantage there), in the new one it seems that the cultures will collide as one is expanding and the other is holding on for survival (which really brings to mind Battle for the Planet of the Apes and it's storyline with the last stronghold of humans)
Quarantine is the first film, and it takes place one year after the events in Rise and shows the effects of the simian flu having taken hold as a mother is separated from family. All Fall Down takes place in the middle at five years after Rise, and then we find The Gun taking place just before the events in Dawn. Though in the lattermost case it's really a story that covers the entire decade as it follows the story of a gun from the beginning of the outbreak until the end of the decade.
It's a great way to help set the tone and atmosphere between the first and second feature films. So while you're in line or getting ready to snap up your tickets online, check them out:
Quarantine
[youtube]https://www.youtube.com/watch?v=ejrtt37XzOY#t=355[/youtube]
All Fall Down
[youtube]https://www.youtube.com/watch?v=sxcTS7AUngs#t=249[/youtube]
The Gun
[youtube]https://www.youtube.com/watch?v=IYCl7_bDbZs#t=333[/youtube]
Bill Watters is an event producer, photographer, reporter, and software engineer living in San Francisco. Currently loving writing about and photographing the national geek and fandom scene as well as the latest happenings on both big and small screen. @BillRW3