Black Lightning Season 1, Episode 6 Recap: 'Three Sevens: The Book of Thunder'
This article contains spoilers for the Black Lightning season 1 episode 'Three Sevens: The Book of Thunder'.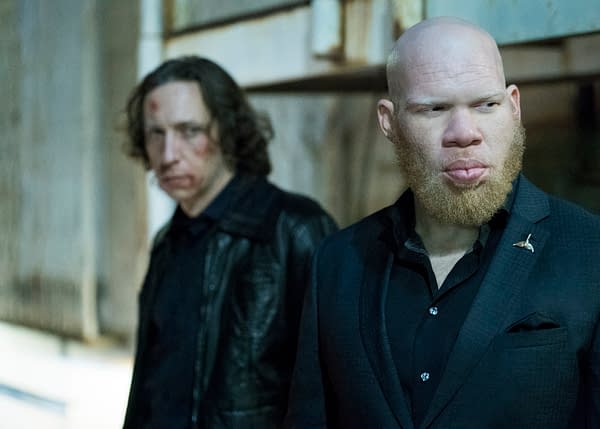 There's a lot of things going on in this episode, but we'll start with Jennifer (China Ann McClain), who has mixed feelings about her relationship with Kahlil (Jordan Calloway). She wants to be there for him, but also had very different plans for her life. Things get worse when Kahlil joins in on the cyberbullying against Jennifer. Jefferson tells her that it may be the pain he's feeling in finding out he won't walk again, or it could be him showing who he really is. When she tries to talk to him, he tells her that he blames her for his being shot and paralysis. That he wouldn't have been at that march if it wasn't for her. They appear to be done, but Khalil is getting closer with Tobias Whale (Marvin "Krondon" Jones III), who appears to have plans for the young man.
Anissa (Nafessa Williams) continues to dig into her grandfather's work and get involved with activism. A protest against a civil war statue leads to the murder of one of the protesters and Anissa responds by using her new power to destroy the statue. She had given some of her grandfather's research to her mother because it was more medical than she understood. Lynn (Christine Adams) has also been looking into what has been affecting Jefferson and compared his brain scan to that of someone on Green Light. One of these two things go the attention of the wrong people, and Lynn is attacked while she is on the phone with Jefferson, while Anissa is on the way. But we'll get back to this.
Gambi (James Remar) saves Jefferson (Cress Williams) before the police arrive when he is having an attack. Gambi calls in Lynn and she does some scans, but can't find anything because of how quickly Jefferson's powers heal him. He seems better, she gets upset with him pulling her back into this world and leaves. Jefferson tells Gambi he's going to kill Tobias, but Gambi tries to talk him out of it, saying that murder is over the line. Jefferson doesn't care, and he finds a way to track Tobias using his albinism as a clue. He's in position to kill Tobias when Gambi patches Lynn through to try to talk sense into him. She gets him to pause, but then men break in to her office and Jefferson immediately flies off to save her.
Anissa gets there first, in costume because she was going to reveal her powers to her mom. She takes out the bad guys, but is just starting to free Lynn when Black Lightning arrives, not recognizing her. He thinks she's attacking Lynn, and they fight. Her invulnerability and strength are a pretty good match, but his experience wins out. He knocks her out and then realizes who she is. They call Gambi and race her out of there and back home. She wakes in her bed with her parents leaning over her… her father still dressed in his Black Lightning suit.
Gambi pays a visit to Lady Eve (Jill Scott), and we learn a lot. She used to work for/with Gambi and that his retirement came with a promise. They would leave the Jefferson family alone and Gambi wouldn't reveal Tobias. Every week we learn more and more about Gambi, and none of it has to do with him being a tailor.
Things have changed drastically as now Jefferson and Lynn know about Anissa and she knows about Black Lightning. How will that change the family dynamic? How does Jefferson deal with his daughter putting herself in danger? How does Lynn deal with another person she loves going out to fight crime every night? And do they keep it from Jennifer? And how long before Gambi makes her that kick-ass suit? We should start getting some of those questions as soon as next week.
https://youtu.be/BsXGzbvCKDc