Bohemian Rhapsody Review: Great Moments That Don't Form a Cohesive Whole
[rwp-review-recap id="0"]
Bohemian Rhapsody might have some spectacular moments but it never forms a cohesive whole or have anything of merit to say about its subject.
Director: Bryan Singer
Summary: A chronicle of the years leading up to Queen's legendary appearance at the Live Aid (1985) concert.
There are plenty of reasons a movie can fail. It's almost a miracle when movies turn out good when there are so many ways for them to go so wrong. In the case of Bohemian Rhapsody it very much feels as if the fault must lie with the people at the top of the ladder. The actors aren't the issue because they are all up there giving it everything they have. Rami Malek in particular does a spectacular job of nailing every single mannerism that Freddie Mercury had. He is doing his best with those insane fake teeth and putting it all up on screen much in the way Mercury did on stage.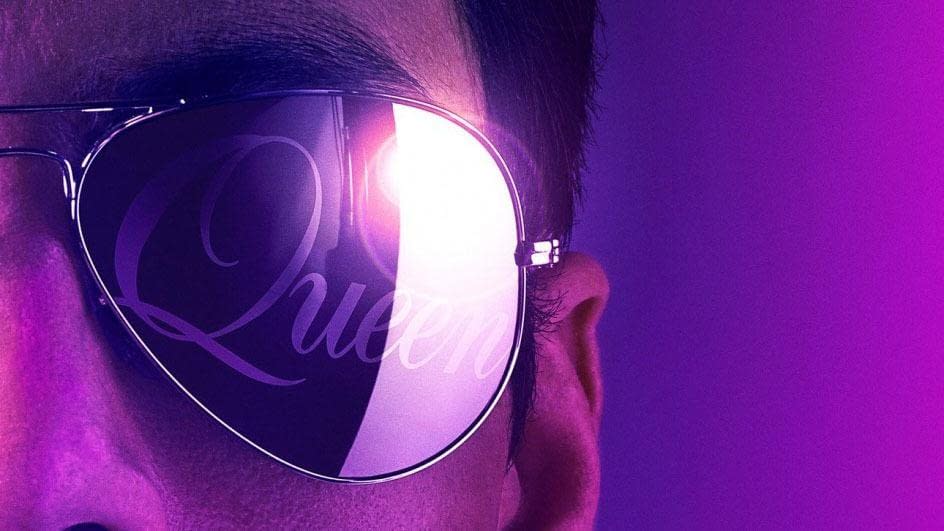 Malek is backed by great performances by Gwilym Lee, Joe Mazzello, and Ben Hardy who play Brian May, John Deacon, and Roger Taylor respectively. It's uncanny in some cases how much these people resemble the actual people involved. When the movie takes the time remake concerts it makes you feel like you're there but watching concert remakes isn't worth the price of admission.
The problem is top down with the fist being that Bryan Singer was an extremely poor choice for a director. Singer is a mediocre talent on his good days and he brings nothing to the table here. For a movie filled with such bombastic performances the tone is all over the map and the production itself feels a distinct lack of personality.
Then there is the script by Anthony McCarten. If you'd like to learn more about the band Queen you'd be better off reading the wikipedia article or looking up any book. The movie is less of a movie and more of a series of events one right after the other. There is very little in the way of commentary about anything that is going on on screen. Mercury's decent into addiction are portrayed but the worst thing we see from that is him getting sick which carries some weird connotations.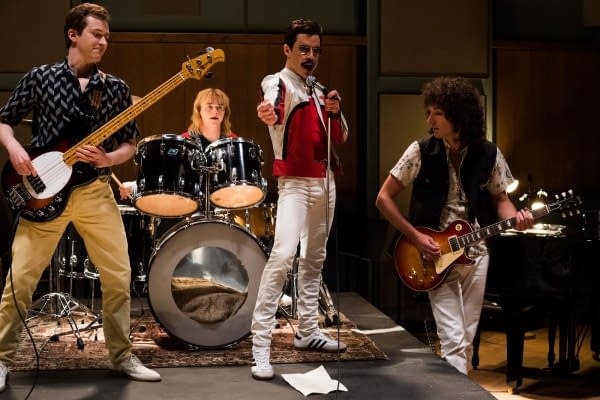 There were rumors for a long time that this movie wouldn't address Mercury's bisexuality. It turned out not to be true but that didn't mean they did a good job of addressing it either. There is, again, that weird connotation that Mercury would still be alive if he hadn't broken up with his wife. However, the reality of the situation it that Mercury got AIDS likely from unprotected sex with a man. That doesn't make it homophobic when that it literally what happened. On top of that the exploration is rather sexless for a movie about a man that radiated sex appeal. We see him lying naked with Mary but we only see some lingering looks, subtext, and one kiss when it comes to his relationship with men. There was also the decision to end the movie in 1985 at the Live-Aid concert completely ignoring the final years of Mercury's life.
Bohemian Rhapsody might be entertaining if you're a fan of Queen but you could get just as much amusement watching concert recordings on youtube for free. There isn't enough here to merit spending the money on a movie ticket even if you love the band.
[rwp-review-ratings id="0"]
[rwp-review-form id="0"]