Avengers Endgame LEGO Hulk Drop Set Coming in the Fall
Avengers Endgame is getting a new LEGO set this fall. This new set is titled the Avengers Hulk Helicopter Drop, and clocks in at 482 bricks, and will feature four minifigs: Black Widow, Hulk, a Chitauri soldier, and Rescue. Hulk will be wearing the nano gauntlet, and the main builds of the set will feature a helicopter with drop feature and a Chitauri Leviathan flyer. The set will cost $59.99 and will be available in November. Check it out below!
LEGO® Marvel™ Super Heroes Avengers 76144 – Avengers Hulk Helicopter Drop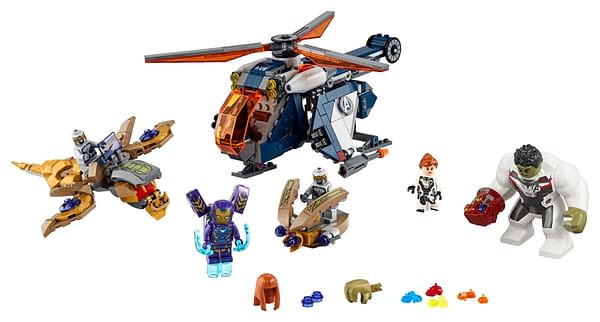 Team up with the Avengers in an epic aerial battle against the Chitauri soldiers! Launch the helicopter with Rescue and fire the triple stud shooters at the mighty Leviathan. Dodge the Chitauri flyer's stud shooters. Surprise the enemy by dropping the mighty Hulk into battle. Then attack with Rescue's Power Blasts and Black Widow's batons. Who will win this LEGO® Marvel Avengers Endgame? You decide!
Kids can role-play as Rescue, Black Widow and Hulk with a missile-shooting helicopter building toy and reimagine Marvel Avengers: Endgame battle scenes against 2 enemy Chitauri soldiers and a posable Leviathan!

Includes 4 minifigures, a cool Hulk action figure, a helicopter with triple stud shooters and function to drop Hulk into battle, plus the Chitauris' Leviathan and stud-shooting flyer to stage epic aerial encounters.

Rescue aka Pepper Potts has Power Blasts for action play and Hulk comes with the Infinity Gauntlet glove with 4 collectible Infinity Stones – the other Infinity Stones are in the Avengers Compound Battle (76131) set.

The helicopter building toy measures over 4" (11cm) high, 9" (25cm) long and 7" (19cm) wide, and all the models and characters combine brilliantly with other LEGO® Marvel sets for even more superhero role-play action.