The Hot Toys Cosbaby line is still pretty new and is quite unique. We have seen a lot of Batman movies getting these collectibles lately and it looks like Batman 1989 is next. These figures act like they want to compete with Funko but I can get more of a Dorbz vibe rather than the Pop vibe. Still, these figures are still cool and can easily fit perfectly in any collection of the right clientele. This time Batman and Joker are getting their Batman 1989 remakes and it is nice to see them in such a unique way. Batman will come with a Cosbaby Batmobile that you can even insert him inside of which is pretty cool. Jack Nicholson's Joker is also getting his Cosbaby debut and has two different versions of him. Both are highly colorful, full of character and you can just hear his voice looking at these. Joker fans should plan on getting these as not a lot of Joker 1989 collectibles are out there. Each on Cosbaby is $25 and the Batmobile is priced at $83, which seems pretty steep. Pre-orders are already live and you can find them located here.
It's over Joker,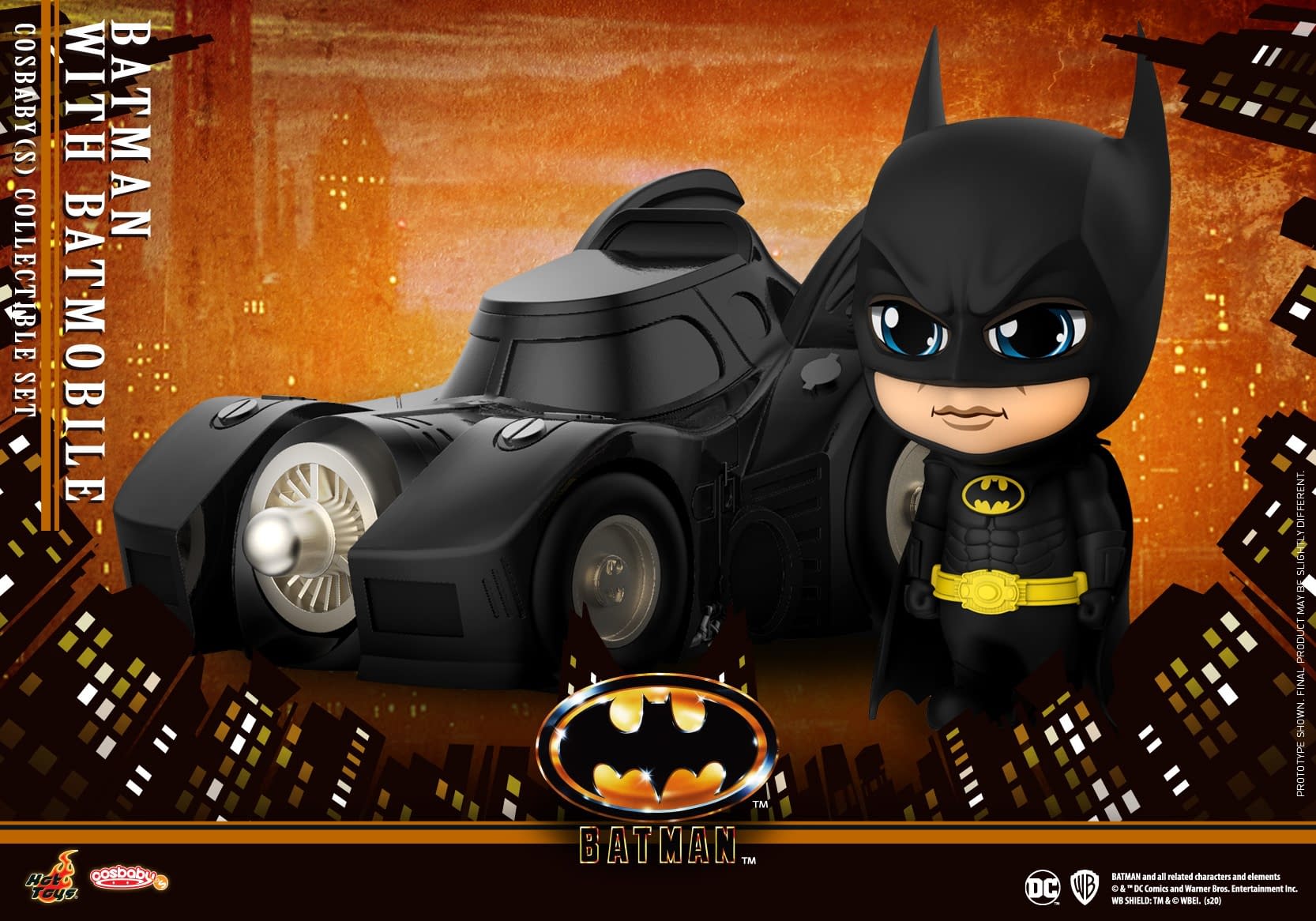 Batman (1989) – Cosbaby
"It's not exactly a normal world, is it? – Batman.
When the Bat-Signal flashes across the night sky, Batman springs into action and descends from the rooftops to defend the citizens of Gotham City from the criminal underworld that threatens them. Based on the classic Batman released in 1989, Hot Toys is thrilled to present its Cosbaby collectibles of Batman and The Joker to recall moments from movie! Features Batman with Batmobile Cosbaby (S) Collectible Set; Batman with Grappling Gun, Joker, Joker (Laughing Version), and Joker (Mime Version) Cosbaby (S). Each Cosbaby stands approximately 11.5 – 12cm tall with rotatable head.
Batman with Batmobile set covers the Caped Crusader and Batmobile within a single exciting package! Consider as one of the most recognizable iteration of the Dark Knight's ride, the Batmobile is positively massive, measures about 17 cm in length and 9cm in height. Batman Cosbaby is removable from the vehicle to display individually.
Batman with Grappling Gun highlights Batman and his fancy weapon in stylish Cosbaby style, Batman is ready!
The clown prince of crime back in town! Thinking of his next evil plan that taunts Batman and the citizens. Wearing the remarkable white face paint and purple suit, Joker with a devilish smile holds a cane and a bang gun is ready to greet you at door; holds a paint brush, the Laughing Version brings Joker the world's first fully functioning homicidal artist and he can't wait to surprise you with his most gorgeous living piece of art; Mime Version presents Joker in black and white sophisticated suit with a tall hat holding the quill pen.
Join the fight! The great city of Gotham and its dark knight depend on you!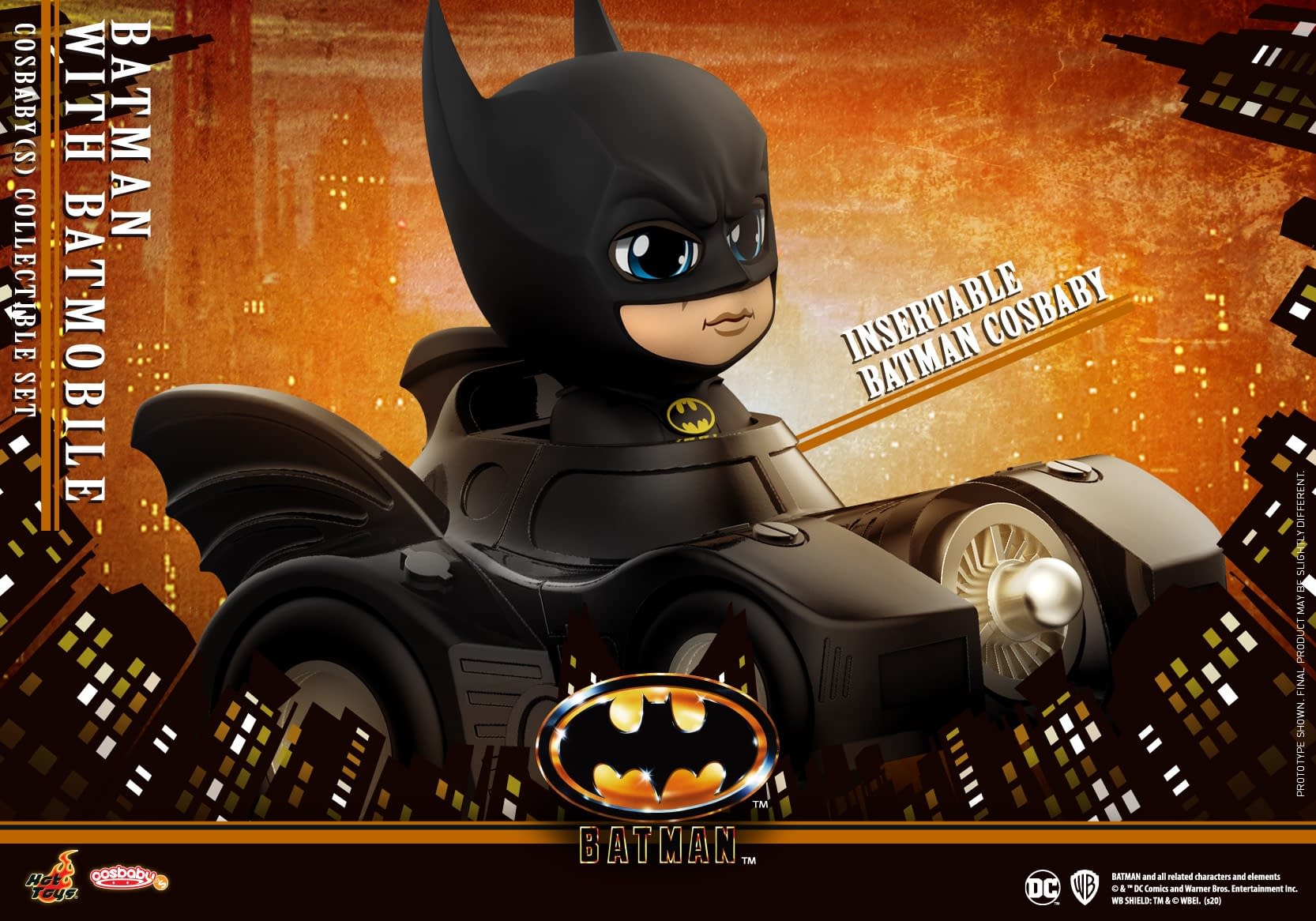 Enjoyed this article? Share it!