Batman Travels of the Year 3000 with New Prime 1 Studio Statue
Batman has had a wide variety of costume changes in his time as the caped crusader. The video game world easily takes advantage of these costumes as alternate outfits that the character can play as. One of Batman's most famous games is the Batman: Arkham Asylum franchise. Prime 1 Studio is taking another look at Batman Arkham Knight and specifically one of the extra costumes from that game. This time we will be getting the Batman Justice League 3000 costume as a statue. The statue stands at roughly 19.5 inches tall and has two versions coming from it. The standard version does include removable handpieces that let you show Batman 3000 with and without a grenade. While the deluxe version you get the same as the standard but it features an extra and more aggressive Batman portrait. Real talk here, if you look closer at the detail of his face I definitely can see some Bat-fleck going on here and I love it! The costumes color is something else, the red is spectacular and it's a quite artistic look for Batman. This red changes the vibe of Batman and is very different from the usual black and gray we see, almost gives me a Deadpool feel. There is a lot of flavors here and would be a talking point for any collectors Batcave. The Justice League 3000 Batman costume would be perfect for any Batman fan or a fan of the Arkham Knight video game
The Concept Masterline Batman Arkham Knight Batman Justice League 3000 Statue from Prime 1 Studio is set to release between December 2020 and March 2021. The standard version of the statue will be priced at $449 and the link for the standard is located here in already live. The exclusive version with the extra head portrait will be priced at $499 and pre-orders for that one are already live in located here.
Clone? Clone? CLONE?!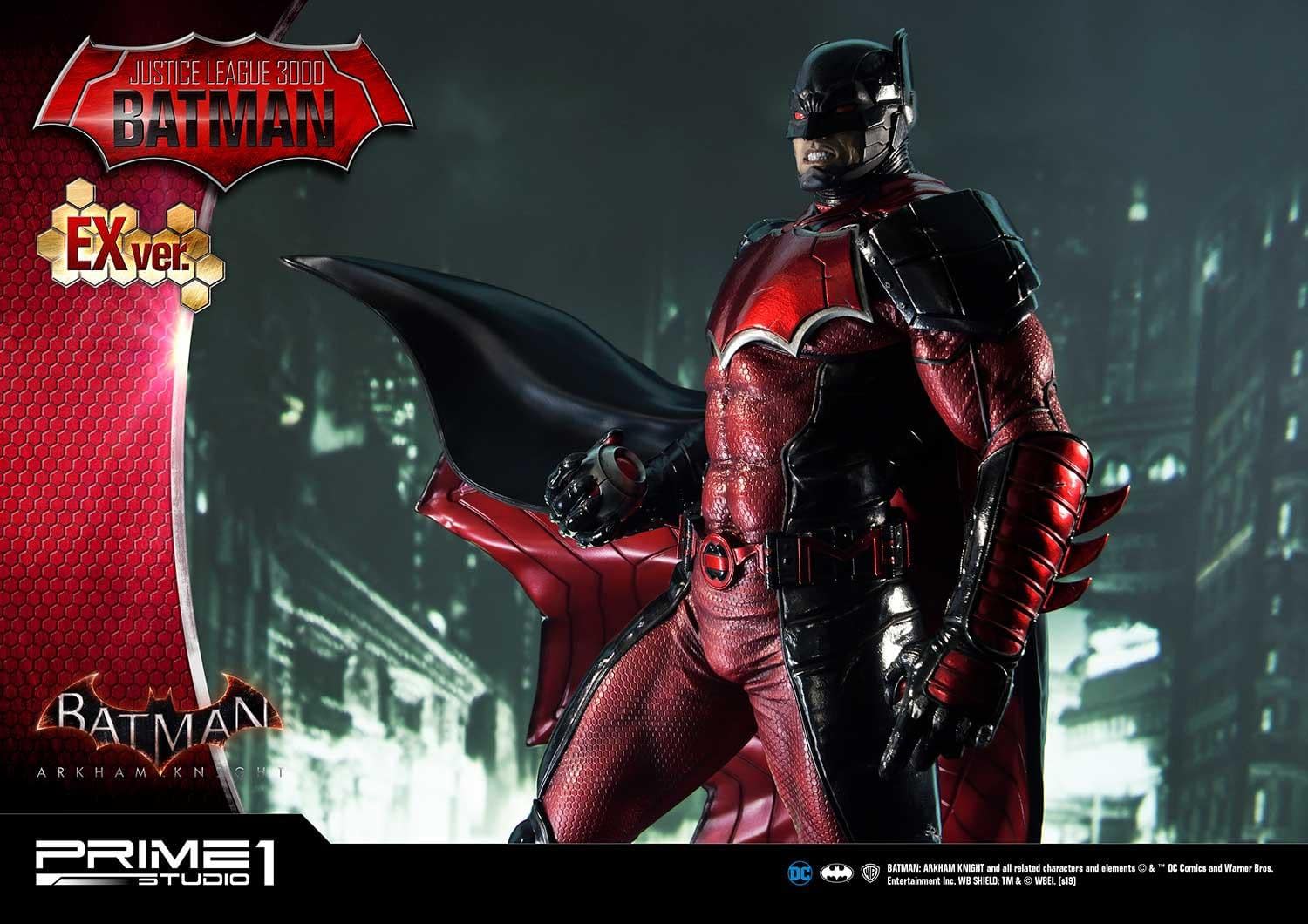 Concept Masterline Batman: Arkham Knight Justice League 3000 Batman Statues
Prime 1 Studio is proud to present the 1/5 Scale Batman Statue CMDC-05EX: Justice League 3000 Batman Exclusive Version (Batman: Arkham Knight).
Batman: Arkham Knight is a 2015 action-adventure video game developed by Rocksteady Studios and published by Warner Bros. Interactive Entertainment. Based on the DC Comics superhero Batman, it is the successor to the 2013 video game Batman: Arkham Origins, and the fourth main installment in the Batman: Arkham series.
We recreated the Justice League 3000 Batman's red suit with a great attention to details.
Batman measures approximately 19.5 inches tall which is the size easier to collect than Museum Masterline. The Exclusive Version includes alternate Angry Portrait.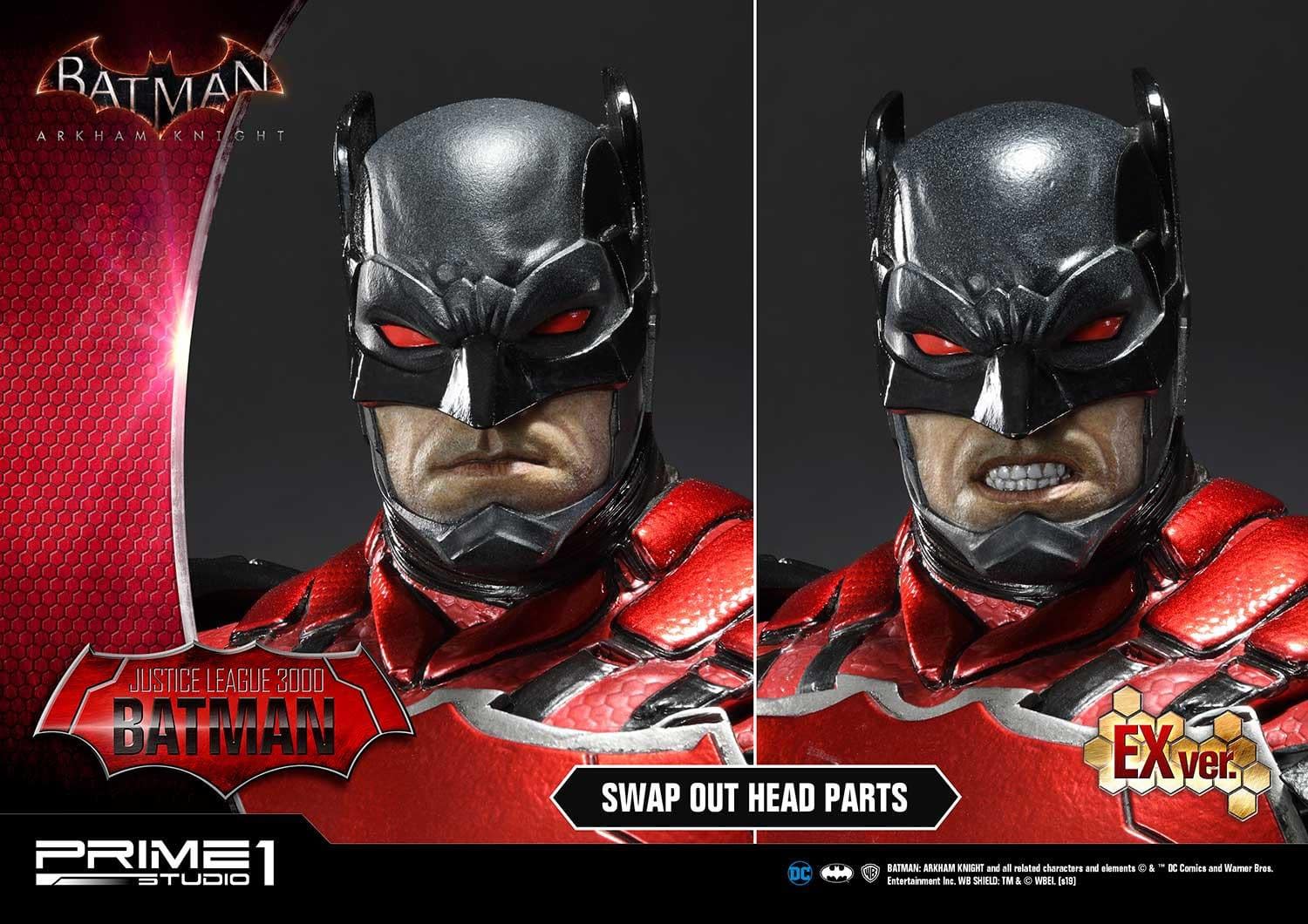 It is a must have for all Bat fans.
Specifications:
– Statue Size approximately 19.5 inches tall [H:49.4cm W:39.7cm D:39cm]
– One (1) specially designed base
– One (1) interchangeable Open Right Hand
– One (1) interchangeable Right Hand with a Smoke Bomb
– One (1) Normal Portrait
– One (1) alternate Angry Portrait (In Exclusive Version Only)