New Beast Kingdom, Hiya Toys Figures Include Thanos, Spidey, Batman
Beast Kingdom and Hiya Toys have some new Previews Exclusive figures coming to local shops and such in the near future. First up, a new Injustice 2 Batman figure will be hitting shops, featuring the standard Hiya articulation and accessories. Past that, Beast Kingdom will have a new series of Egg Attack Spider-Man figures for everyone, including Spidey, Miles Morales, Spider-Gwen, and Venom. A new Thanos, and a variant of their Iron Spider Civil War figure. All of this wil lbe in shops come February. Check it all out below!
From Hiya Toys. A PREVIEWS Exclusive! Injustice 2 follows Batman and his allies as they try to rebuild the planet after taking down Superman, ending his reign of terror. But when Braniac sets his sights on Earth, Batman is forced to free his old friend, risking a new uprising from the Man of Steel, or face the total destruction of his world! Based on their appearances inInjustice 2, comes this line of 1/18 scale exclusive figures! Featuring full articulation and character specific accessories, these figures stand about 3 3/4" tall. This Enhanced version of Batman features even more detail than the previous version!
From Beast Kingdom. A PREVIEWS Exclusive! With summer officially in full-swing, why not take home some seriously fun swinging action from the new Marvel Comics: Spider-man Mini Egg Attack series, brought to you exclusively by Beast Kingdom! Arguably the most well-known character in Marvel's Comic universe, the friendly neighborhood Spider-manis now joined with the multiverse's Spider-Gwen and Miles Morales, as well as the infamous anti-hero; Venom! With the release of Beast Kingdom's new Spider-man MEA range of mini statuettes, each character recreates their classic comic poses using three-dimensional recreations. Added extras to each piece such as colorful building backdrops, and bases with 3D logos creates the ultimate in comic collectability. Cute and small they may be, yet with delicate painting, each tabletop statuette is sure to be a head turner. So make sure to get all four in your collection and get those Spidey-Senses tingling today!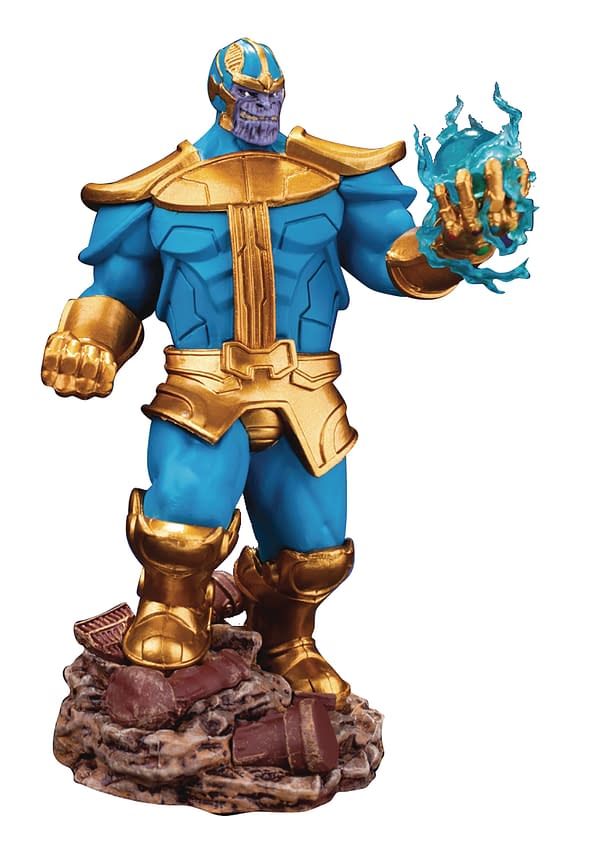 From Beast Kingdom. A PREVIEWS Exclusive! In time for the 10th anniversary of Marvel Studios, Beast Kingdom presents a statue based on retro and classic scenes from Marvel Comics as part of the D-select series of the Exquisite Scenes collection! With his Infinity Gauntlet, the Mad Titan Thanos has the power to decide the fate of the entire universe. Going back to the classics, beast Kingdom gives you the most extreme and savage tyrant of the original comics! Thanos, the victory within his grasp due to his possession of the Infinity Stones, is sculpted standing atop of ruins and wreckage. With a triumphant look on his wicked face, he has gathered a huge amount of power in his hand just waiting to release it! The special paint and the multi-layered painting technique make the scene and character even more lifelike. This stunning Thanos measures about 6.3" Tall.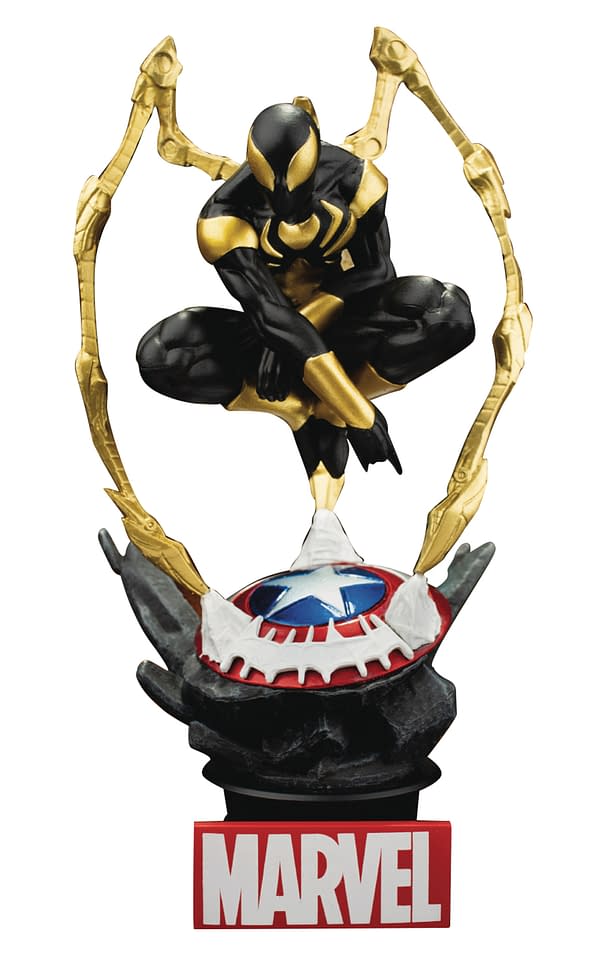 From Beast Kingdom. A PREVIEWS Exclusive! The Iron Spider suit from the original Civil War comic, was created by Tony Stark for Spider-man in order to increase the battle prowess of his team and is equipped with three spider-arms! This upgraded black-and-gold armor gives Spidey a sleek look! Supported by his spider-arms, Spider-man is poised above a base featuring the shield of Captain America: the leader of the opposing team. The overall scene design in this figure is a complete recreation of the classic panel illustration in the comic and the special metallic paint and exquisite painting technique manage to blend the classic with a technological style, giving your iconic hero a more modern feel. This stunning Iron Spider figure stands about 6.3" tall.