Dark Souls III Unleashes a Might Yhorm Statue from PureArts
Dark Souls III is one of my favorite games of all time. The complexity of the world, the story, the combat, and the enemies are just fantastic. One of the coolest parts of the game was the boss fights, just telling your friends the story of your fight seemed like a folk tale. You can bring one of those bosses home as the Lord of Cinder Yhorm enters our world thanks to PureArts. This statue is 1/12 scale but it is massive, he sits 20.5" tall and weighs roughly 66lbs. Yhorm is posed sitting in upon his massive throw as if he is waiting for you to arrive and challenge him. Pure Arts put a lot of detail into this Dark Souls III statue and it really shows. One of the coolest features in this statue is the inserted LEDs. His base, arms, and eyes all light up giving him that perfect eerie and Dark Souls style vibe. This is one statue Dark Souls III fans should not miss!
The Dark Souls Yhorm on Throne Statue from PureArts is priced at $749 and is set to release between February and April 2020. This statue is limited to only 750 pieces and pre-orders are already live and located here.
Welcome, Unkindled One.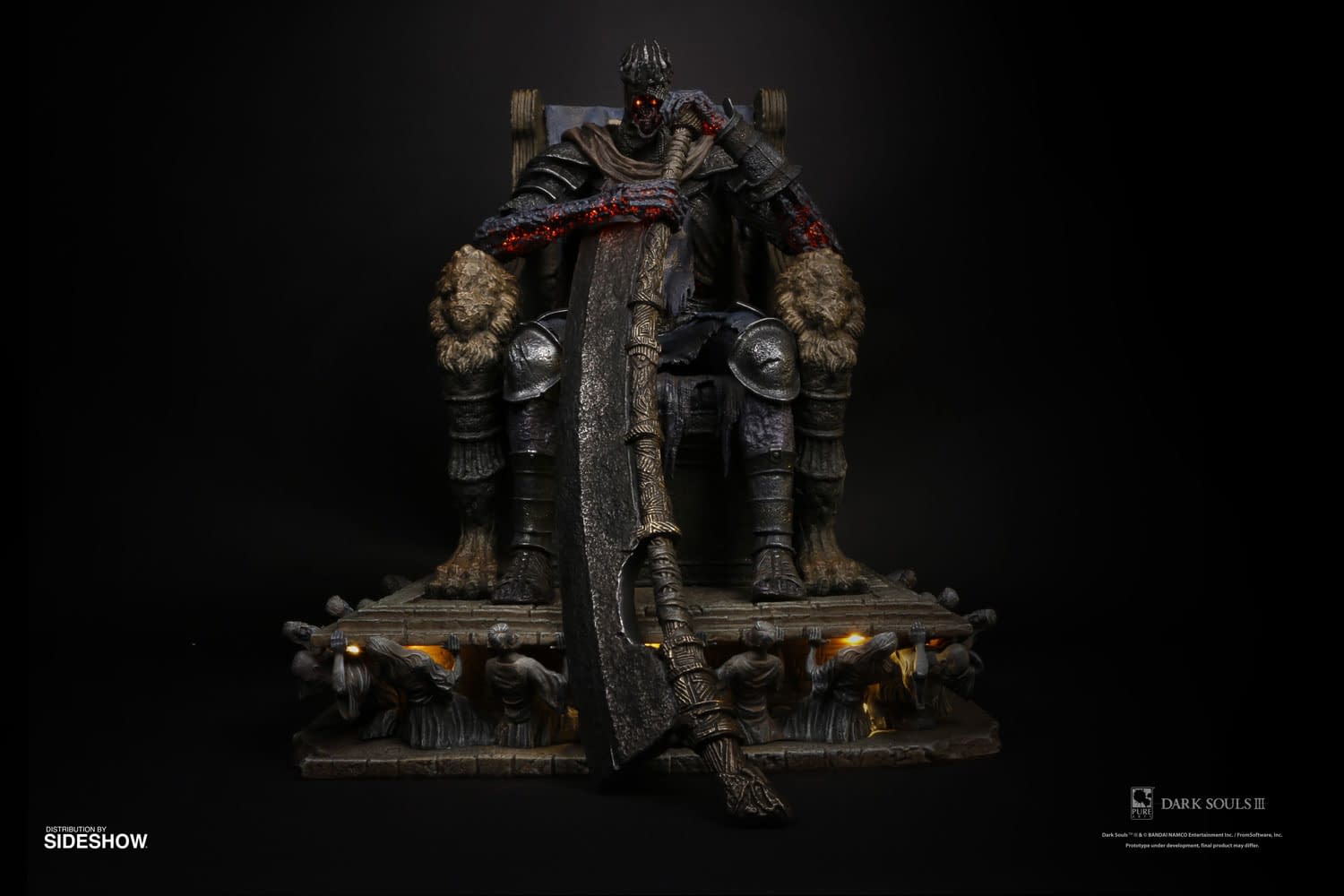 Yhorm on Throne Statue by PureArts
ABOUT THIS STATUE
Sideshow and Purearts present the Yhorm on Throne 1:12 Statue!
This Colossal boss, also known as the Lord of Cinder, is recognizable by his enormous size, heavy machete, and glowing red eyes and skin.
Yhorm is presented with his most iconic pose when he is sitting on his impressive throne.
The big extra plus of this larger version is that the eyes, parts of Yhorm's skin and base can light up and glow thanks to LED devices that bring a whole new dimension to this masterpiece.
Product Size – Height: 20.5" (520.7 mm) | Width: 23.5" (596.9 mm) | Depth: 18.5" (469.9 mm) |
Box Size – Height: 24.00" (609.6 mm) | Width: 24.00" (609.6 mm) | Depth: 26.00" (660.4 mm) | *
Dimensional Weight – 66.00 lbs (29.94 kg) [Intl. 91.00 lbs (41.28 kg)] *