Darth Maul Statue Re-Releasing Coming Soon from Kotobukiya
Darth Maul, in my opinion, is one of the coolest newer charters to come out of the Prequel Trilogy. Darth Maul and Grevious changed the Star Wars mythic with the way we thought about lightsabers. Kotobukiya is re-releasing the icon and badass Japanese ukiyo-e style ArtFx Darth Maul Statue. With a light-up double saber and the full-body art of Darth Maul's symbols. The Double saber light up alone is perfect and amazing for this Statue. The red glow all of the state regardless of in the light or darkness will bring that sinister sith feel to it. You don't see many statues re-releasing so try to get one before they stop making them. With the return of The Clone Wars and the recent Star Wars: Solo film, the recent re-appearances of Darth Maul we will likely be seeing more of Maul in the future. So if you want to take the risk and be ahead of the crowd this is the staue for that. This sith statue is perfect for any Star Wars fan, Jedi or Sith member and it's perfect for any Darth Maul fans out there.
This statue will cost $119.99 and is currently set for a March 2020 release date. So you have time to save up but with it being one of the most iconic siths in Star Wars lore they could fly off the shelves. So lock yours down today here!
Check out the double bladed sith and all his glory below!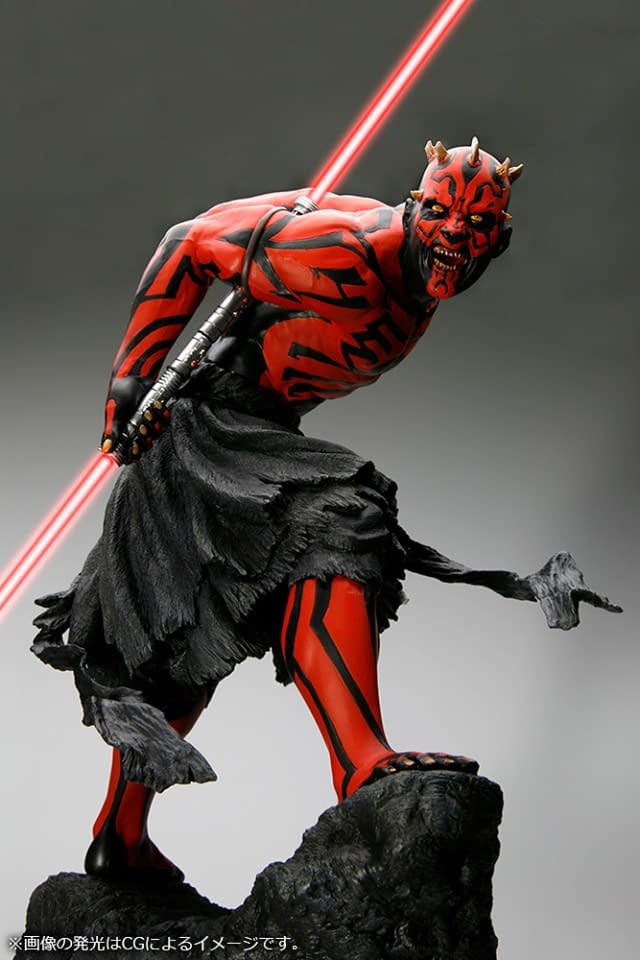 STAR WARS DARTH MAUL JAPANESE UKIYO-E STYLE ARTFX STATUE – RE RELEASE (2020)
Finally the 1/7 scale ARTFX series is back!
The unique statue applies Japanese esthetic like never seen before!
Light saber light up feature! Sith's allegiance symbol "tattoo" has been fully replicated on the body.
Inspired by artistic style by Japanese Ukiyo-e artist "Katsushika Hokusai"
Available – March 2020