Deadpool Rides on in with New Beast Kingdom Figure
Deadpool has seemingly you've been out of the spotlight for quite a while. Ever since the release of Deadpool 2 whether it's his comics or his collectibles they are all slowing down and this to me is perfectly fine! The market was oversaturated with Deadpool collectibles here and there and you never want that much Deadpool. His quirky and crazy attitude is something that needs to be cherished so when good collectibles come out the real fans can dive in. This time we are seeing a new Deadpool deluxe Figure from Beast Kingdom. What makes this figure so deluxe is that it comes with a scooter accessory that he can ride and even lights up. Deadpool comes loaded out with a wide variety of hand and eye interchangeable pieces. I always love a character figure who is customizable that way no two are ever really the same. He does come with a secondary head swap to show his scarred face and even the pants swap, that way you can see him in his underpants. The scooter adds a lot more flavor to this taco with the light-up ability and it gives us that extra scooter detail we've always wanted. Let's figure it would be great for any Deadpool fan whether from the comics or the movie it would add some spice to your collection.
The Deadpool Deluxe Beast Kingdom Figure does not have pricing just yet. However, Beast Kingdom did give us a release date with the first quarter of 2020. Pre-orders are not live just yet but Beast Kingdom and Bleeding Cool will when they do go live. Don't forget to check out all the other amazing Marvel characters that Beast Kingdom has already released.
Superhero landing!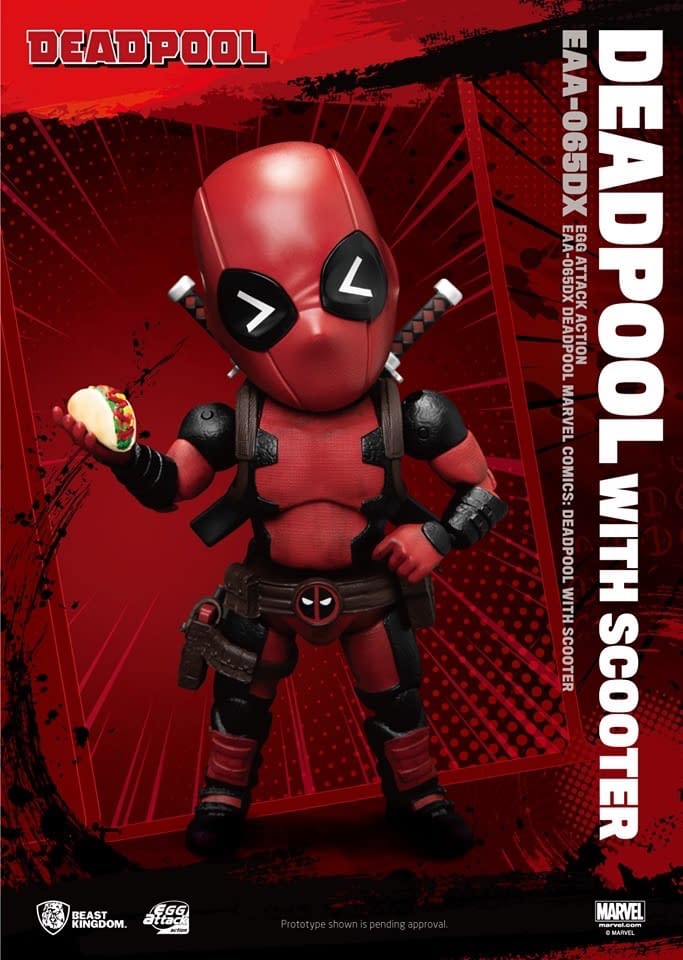 The most charming and humorous superhero is back with a new look and tons of accessories to boot!
The 'Anti-Hero'with a disfigured face, Deadpool is a one man army able to heal himself from nearly any kind of injury. Bestowed with superhuman abilities Wade Wilson AKA Deadpool is on a mission to break some regular bones, and funny bones as well!
Beast Kingdom's Entertainment Experience company is back once again with the latest signature Egg Attack Action series of Marvel Heroes action figures. This time with real fabrics used for the clothing. The classic red and black suite and leather like trousers are completely reproduced with accuracy. To really kick it back 'The Merc With A Mouth'also gets to sport some snazzy Deadpool boxer. A real head turner! With a host of new accessories, including replaceable eyes, Taco hands, weapons and a new Wade Wilson, unmasked head sculpt, collectors can enjoy posing Deadpool in many different styles.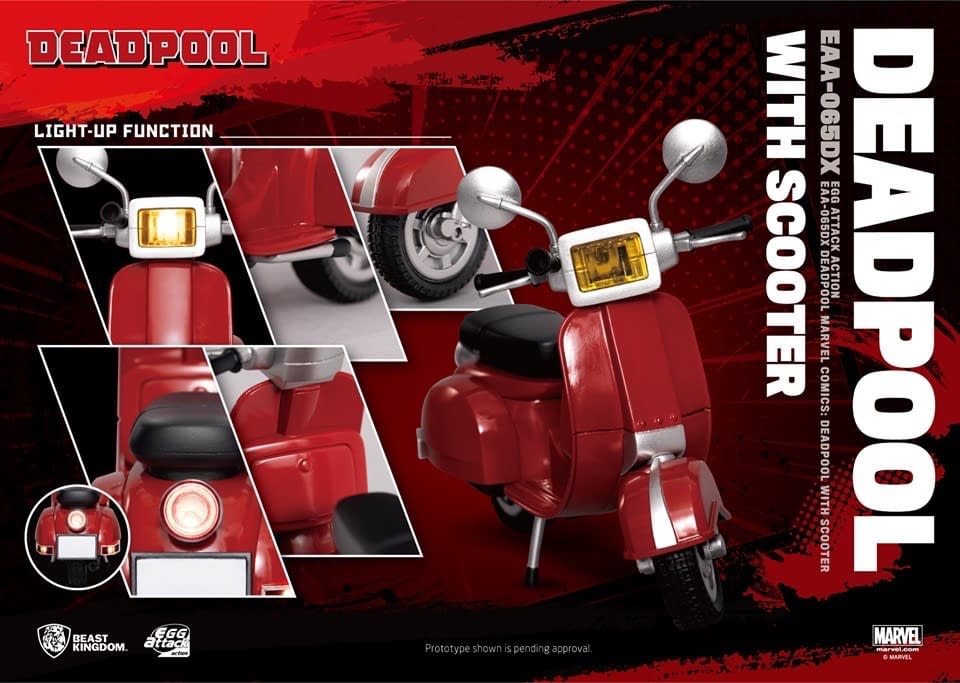 But wait, there is more, the coolest set piece to come out of Deadpool 2 was without a doubt the chase scene with the signature red scooter. This limited edition set also includes Deapools very own scooter with light up front and tail lights as well as design stickers, allowing collectors to recreate some zany actions scenes. So don't miss your chance to add the latest Deadpool figure to your collection today!
Product Measurements:Approx. 6 inch=16.5 cm
Release Date: Q1, 2020