Doom is a bloody masterpiece and has been an icon in the gaming community. Show your love for that iconic game with the newest exclusive figure coming exclusively to Walgreens. Doomguy Doom slayer figure it will be 7 inches and highly articulate with over 22 moving parts. The variation is the bronze-colored Space Marine armor scheme. The character does come loaded out and has a display base, a Supershotgun, and Extended Arm Blade. There's a lot a small little details on Doomguy as you would expect from a company like McFarlane toys. Some might think the extra variation and paint bronze scheme isn't necessary but I think the paint brings us figure out together and look nice too with the original figure release. Doom: Eternal fans should look forward to getting Doomguy and adding him to their DOOM collection.
The DOOM Doomguy Slayer 7 inch Scale Figure from McFarlane Toys will be exclusive to Walgreens. Walgreens does not have the character listed on their site just yet so really stay and a price or a mystery. Stay glued to their site for a random drop as Walgreens likes to randomly release their online reveals. Be on the lookout for other Walgreens exclusives like the upcoming Bloody Arya Stark variant figure.
No one imagined Hell to be this fun.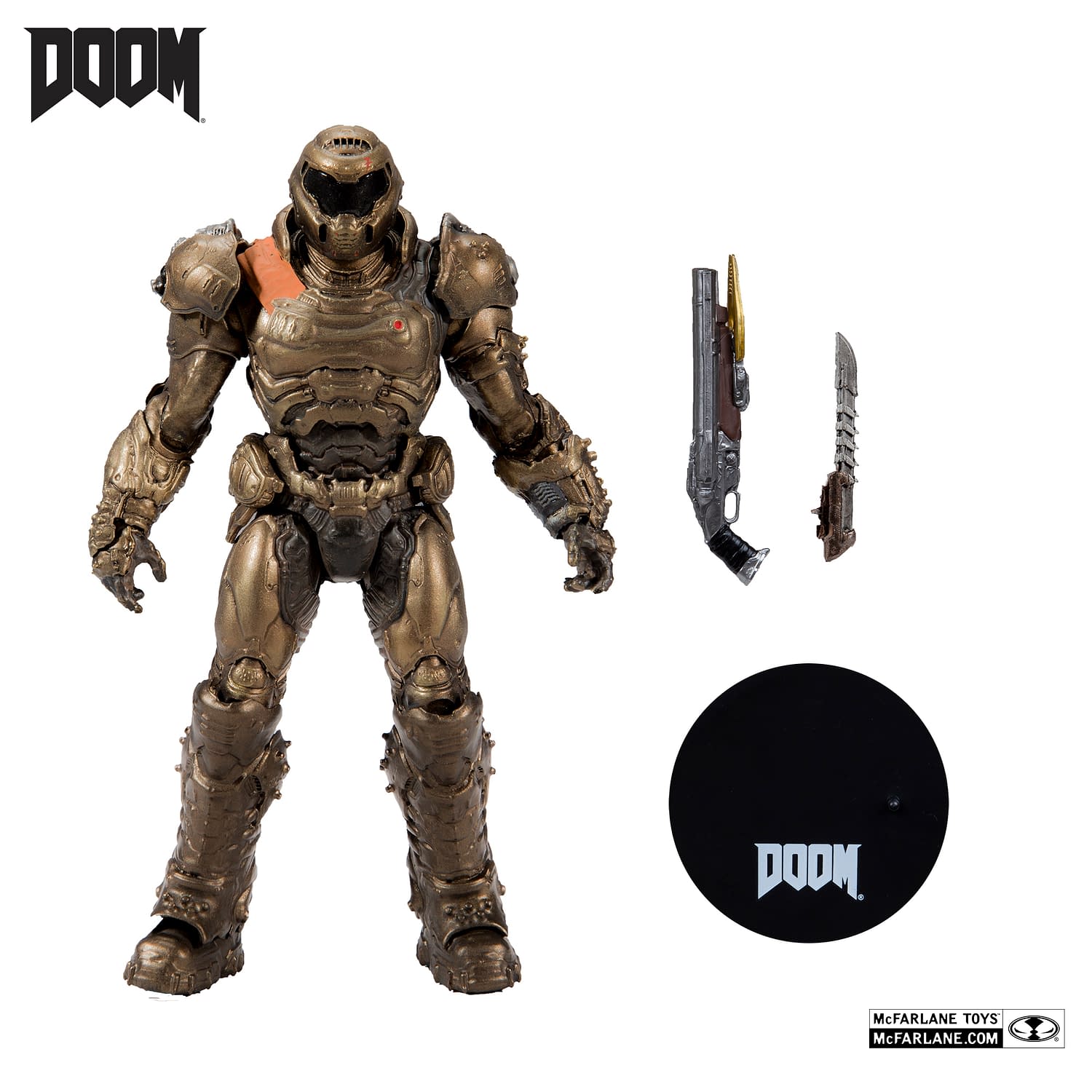 The Doom Slayer (also known by the UAC as DM1-5, DOOM Marine or The Slayer, the Demons of Hell as the Doom Slayer, the Unchained Predator, the Hell Walker or to the fandom DOOMGuy) has been the main protagonist for most the series and playable character in Doom franchise and in the upcom-ing Doom Eternal. His origin is intentionally vague, but he wears his iconic green Space Marine armor and slaughters through countless demons and monsters on a perpetual war against hell.
Product features:
Incredibly detailed 7" scale figure based on the legendary DOOM Franchise
Features DOOMGuy Slayer in his 'Bronze' Space Marine Armor
Figure comes with a base, the Supershotgun, and Extended Arm Blade.
Designed with Ultra articulation with 22 moving parts
Figure showcased in DOOM themed window box packaging
Enjoyed this article? Share it!