10 Videos from NYC's Five Points: An Annual Collision of Toys, Live Art, and Counterculture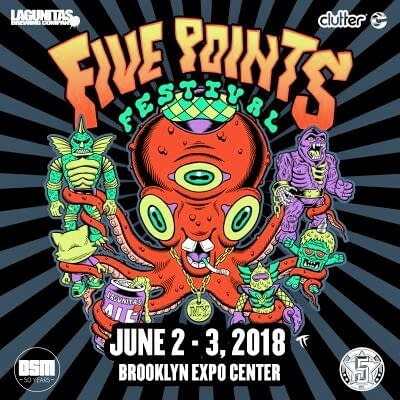 NYC's Brooklyn Expo Center served as the weekend host to what has become an annual collision of art, toys, counter-culture, and craft beer known affectionately as the Five Points Festival. Running from Saturday, June 2, through Sunday, June 3, at the Brooklyn Expo Center and sponsored by Clutter Magazine and Lagunitas Brewing Company, Five Points Festival didn't promote itself as a "big con" with huge premieres and photo ops with celebrities; offering instead an event that catered to tastemakers, misfits, and rebels of all kinds. Over the span of the two days, Brooklyn's Greenpoint Neighborhood was transformed into an urban oasis of vinyl and plastic toys, original art, indie designers, resin, plush, blind boxes, blanks, minis, kaiju, Japanese vinyl, posters, prints, apparel, craft beer and more.

The weekend kicked off with the 8th Annual Designer Toy Awards on Friday night, June 1, at the Brooklyn Bazzar, honoring the excellence and innovation in the designer toy world (which you can watch below). Celebrating the best of the industry's artists, designers, and brands, the Designer Toy Awards also recognize those who champion designer toys around the world – which was especially important considering the number of international vendors who attended the Festival: artists and creators from Japan, Singapore, the United Kingdom, South America, Spain and many more.

As a follow-up to Bleeding Cool's Five Points photo gallery from earlier this week, here's a whole bunch of "cinéma vérité" videos (…just go with it…) to give you the warm, fuzzy feeling of actually being there. Don't forget: when you're done, scroll down to the bottom to check out some of the artists and exhibitors who were kind enough to work with us:
● So let's start off with a few videos to give you a better overall sense of the event's flow:
● Art and creativity were on display in a big way over the course of the two days, with two prime examples here: POPaganda's Ron English working on a commissioned piece; and two artists working magic during a live painting event:
● Here's a look at when things get "serious" at Five Points Festival: learning what you have to do to get what you want, to get what you want into your hands (read that without the comma pause and your brain hurts…trust me); along with two of the million reasons why it's all worth the flaming hoop-jumping:
● Finally…a little "The More You Know" moment: please enjoy VR demonstrations like this when you're out in public – just understand there's a 96.3% chance someone (me) will catch you on camera. Throwing out fair warning…
Special thanks to the artists/exhibitors who took the time to speak with me and were incredibly cool with having pics/video taken during the event; and while I righteously apologize in advance to anyone I missed, I wanted to give props once againto the following: Nate McCartney; Mr. Mars Studios Inc.; Zaza Toy Box; Anderson Bluu/BluuDreams; Shauna J. Grant; MDBX Studios; Toy Tokyo; Danger Bot Kill Co.; M. Victoria Robado/Shouri; Marzipan Physics; Johnny Flid; and Janet Sung.
Personal thanks to Regine Sawyer from Women in Comics Collective and Bronx Heroes' Ray Felix for keeping me laughing — and a functioning level of sane.