Fright Rags To Sell Joe Bob Briggs Action Figure On April 21
Joe Bob Briggs is finally getting an action figure. The long-time horror host will get a retro-style 3.75-inch figure exclusively on sale at Fright Rags. This is all in celebration of the return of his Shudder show The Last Drive-In With Joe Bob Briggs, which returns to the streaming network for its second season on April 24th. This figure, which will feature 4 points of articulation and "Beer Fu Grip," goes on sale on Tuesday, April 21st, for five days only. It will ship in October. Fright Rags also has several Joe Bob Briggs shirts, socks, and more for sale right now and ready to ship as well.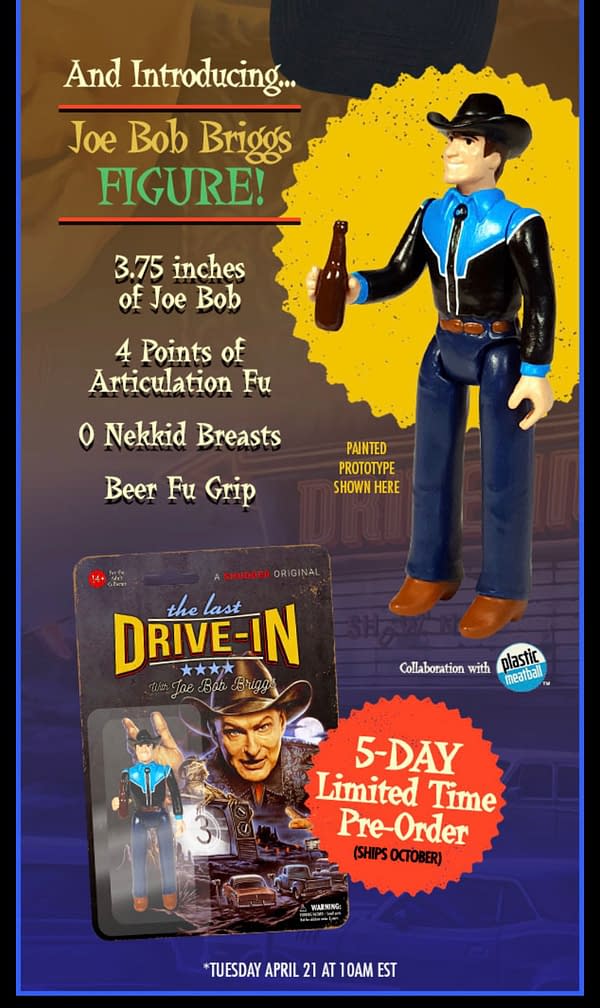 Fright Rags & Joe Bob Briggs Are a Perfect Match
Look at that retro packaging. Could that be any more perfect? I have to say; as a MonsterVision fan from way back, it is cool to see Joe Bob Briggs doing so well for himself. Shudder said that his show is one of the most successful they have launched on the service, and with good reason. His brand of humor and satire is perfectly matched with the films he watches and can be found on Shudder. Joe Bob Briggs, MST3K, and the like are like a lost art now. Often imitated, never duplicated. Check out the season 2 trailer. (Uhh NSFW)
"Proving once again that "the drive-in will never die," iconic horror host and exploitation movie aficionado Joe Bob Briggs is back with an all-new season of weekly Friday night double features streaming live exclusively on Shudder. Throughout ten episodes, The Last Drive-In series will offer an eclectic selection of movies running the gamut from horror classics to obscurities and foreign cult favorites along with the occasional surprise guest. A Shudder Original Series."
Season 2 is Going to Be Great
I loved season 1 bunches, and season 2 should more or less be more of the same. Here is hoping for some real out there choices paired with films we all know and love already. Season 2 of The Last Drive-In hits Shudder on April 24th, with the retro figure for sale on April 21st.