Let's Take a Look at Funko's Godzilla Mystery Minis!
Godzilla and Funko Mystery Minis should have been married together forever. With so many versions of the king of kaiju, along with all of his other famous monster friends, you would think we would be knee-deep in Godzilla related mini-figures. But alas, there is only one released Mystery Mini before the set we are taking a look at today. Now in stores is this Previews Exclusive Godzilla Mystery Minis three-pack. I got my hands on one, so I figured I would show everyone and solve the mystery of the third figure.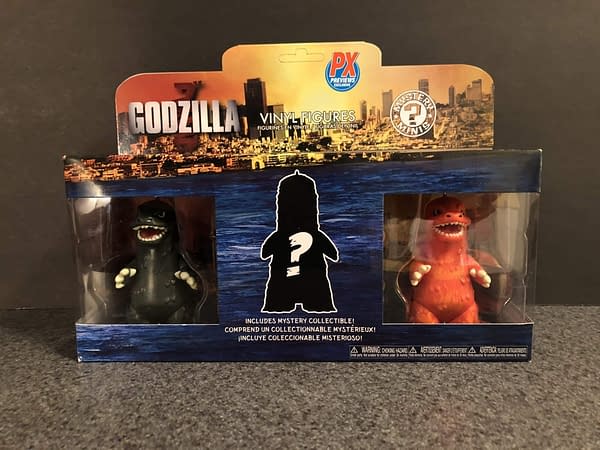 This box is fantastic. Two windows show off the two known figures in this set, with the logo from the 2014 Godzilla film and key art from the film as well. The back features Godzilla from that film as well. (Full disclosure: I ripped the box open before I got a picture of the back. Sorry all) I love how it looks like the figures are about to make landfall on the shore to reek havoc.
The figures themselves are pretty cool. They are just vinyl figures. There is zero articulation, all that there is to appreciate here is the sculpt. Some have joked that these look like pickles, and while they aren't completely wrong (and it is funny), I like the sculpt. The spikes on their backs are awesome, and I love the orange they chose for the burning version. That little bend in the tail is so awesome too. Neat little figures.
Now, for the mystery third figure!
There are two mystery figures, and this pack had the black burning version of Godzilla. I like the look of this one more than even the orange burning version, the black and orange really pop together. The other mystery figure is a 1954 grey version of Godzilla. I am a little sad I didn't get that one, since it is the classic version. And at $16.99 I won't be buying another one of these to complete the set.
That is not to say you shouldn't try your luck with a pack though! I really like this set quite a bit, and they will proudly join my Mystery Minis collection. If you would like one for yourself, you can order one here.