Giveaway: Playmobil Ghostbusters Figure Four Pack and Collectors Edition Figure!
Ghostbusters and Playmobil go together like Slimer and hotdogs. They have released some of the coolest figures and playsets they have done in the companies history for this line, and they have a couple of new products available for fans and collectors now that they will want to pick up for their collections. One is a new four pack of Playmobil Busters figures, and the other are a series of limited edition bigger size Playmobil Ghostbusters. Playmobil was nice enough to send us not only a couple to show you, but we have a chance for you to win yourself some too! Let's dive in.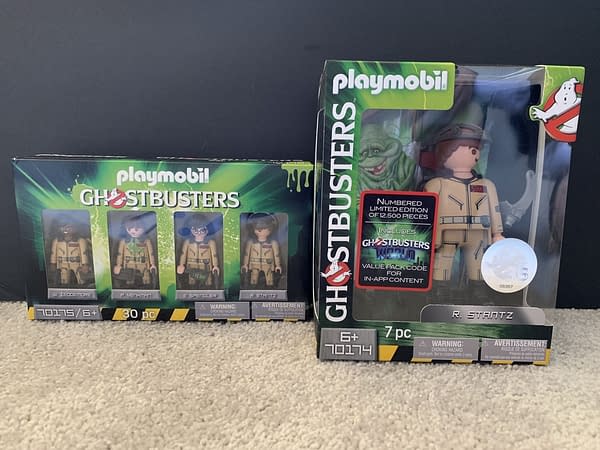 Playmobil Ghostbusters Figure Four Pack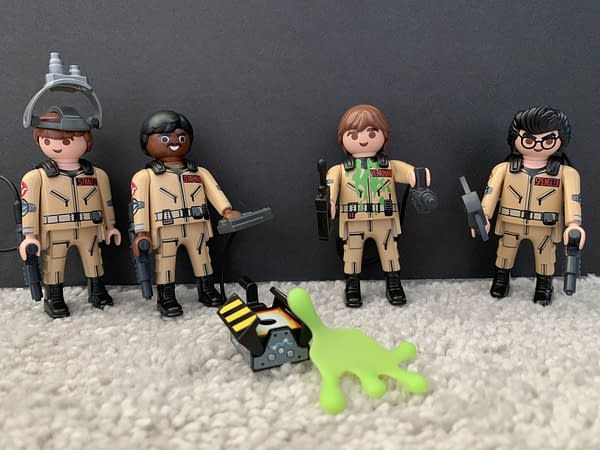 The four pack is a cool set to get if you are not into playsets or just don't have room for them, but still want to get your hands on the figures. Each of the figures comes with a proton pack, and features awesome deco and accessories. I really dig the look of these, especially the Venkman with the slime all over him. You can mix and match the accessories as well, for multiple posing options. At $20, for four awesome mini-figs, it is impossible to pass up.
Collectors Edition Figures
The Collectors Edition figures are totally cool. These are limited to only 12,500, and there is one for each Ghostbusters. Packed inside are the figure, and a card with a code to unlock special items in the Ghostbusters World mobile game. I opened Egon, as he is and will forever be my favorite Buster. Word to the wise- do not remove the hairpiece. It was a struggle to get it back on. Other than that, this figure is really cool. I love that Playmobil is steering a bit into the collectors market and outside what they would usually do. These are honestly just the smaller figures scaled up, but without losing the attention to detail. Awesome stuff.
how would you like to win yourself a Ghostbusters figure four pack and Collectors Edition Ray figure? All you have to do is send an email to playbcbusters@gmail.com, and answer three trivia questions. Those that answer all three correctly will be entered to win! We will accept emails until 11:59 PM EST on Tuesday, June 18. After that, will will notify the winner! Here are the three questions:
Where in New York is the actual firehouse seen in the film located?
What game does Louis ask people if they want to play at his house party?
What restaurant does Louis run to when running away from the dogs?
Good luck!