Hawkgirl is easily one of my favorite characters from the animated justice league cartoon. She doesn't have time to shine in the comics but she really can shine here with a new statue coming soon from sideshow collectibles. There will be two versions of Hawkgirl with a standard and a Sideshow exclusive. The exclusive statue does come with an interchangeable unmasked extra head portrait that I am in love with. The statue is very detailed, showing Hawkgirl with her wings out and ready for action. The statue stands over 22 inches tall and has a themed base with a hawk statue of rock and supporting rubble surrounding it. The statue is quite detailed in the shading and the details are just perfect. The greens on her outfit pop here as compared to the other dark styled textures of the statue. The exclusive unmasked head version doesn't have as much of an angry expression and it changes the appearance of the vibe from aggressive action to more of a heroic pose. For only a $20 difference between the standard and exclusive, it's pretty much worth it in my opinion. Any fans of Hawkgirl should add this Sideshow Collectibles statue to their collection. 
The DC Comics Hawkgirl Premium Format Statue is priced at $610 for the regular and $630 for the Sideshow exclusive and you can them them located here. As always with Sideshow Collectibles payment plans are available so take advantage of them if you need them. She is said to fly onto your shelves between July and September 2020, so you have time to save to get this amazing statue. Don't forget to check out some of the other amazing DC Comic statues coming soon from Sideshow Collectibles.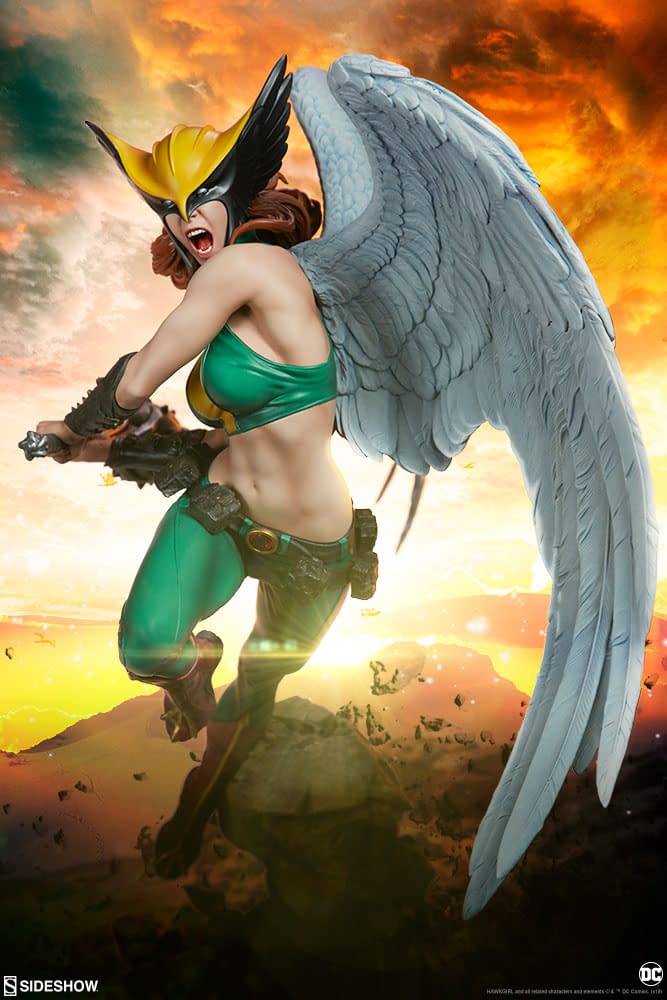 Hawkgirl Premium Format™ Figure by Sideshow Collectibles
ABOUT THIS PREMIUM FORMAT™ FIGURE
"Taste the mace!"
Sideshow presents the Hawkgirl Premium Format™ Figure, flying into our league of DC Comics collectibles.
The Hawkgirl Premium Format™ Figure measures 22" tall as the avian heroine soars over an Egyptian temple themed base with the crumbling head of a hawk idol. With her wings spread wide, the legendary fighter takes flight to deliver justice with a swing of her mystical Nth metal mace.
The polyresin Hawkgirl Premium Format™ Figure features a fully sculpted costume in her signature green, yellow, and red colors, complete with a utility belt, spiked arm guards, and a bird-symbol belt buckle at her waist. The costume is sculpted with realistic fabric-like creases designed to mimic the movement of fabric in this extremely dynamic statue. Hawkgirl's feathered wings are highly detailed, textured from top to bottom to capture the majesty and might of the Thanagarian heroine, and her iconic helmeted portrait captures the righteous fury of the flying warrior woman.
The Exclusive Edition of the Hawkgirl Premium Format™ Figure includes an alternate unmasked portrait with a determined skyward gaze and flowing red hair, giving you an alternate display option for your DC Comics display. 
Take your collection to new heights with the Hawkgirl Premium Format™ Figure today!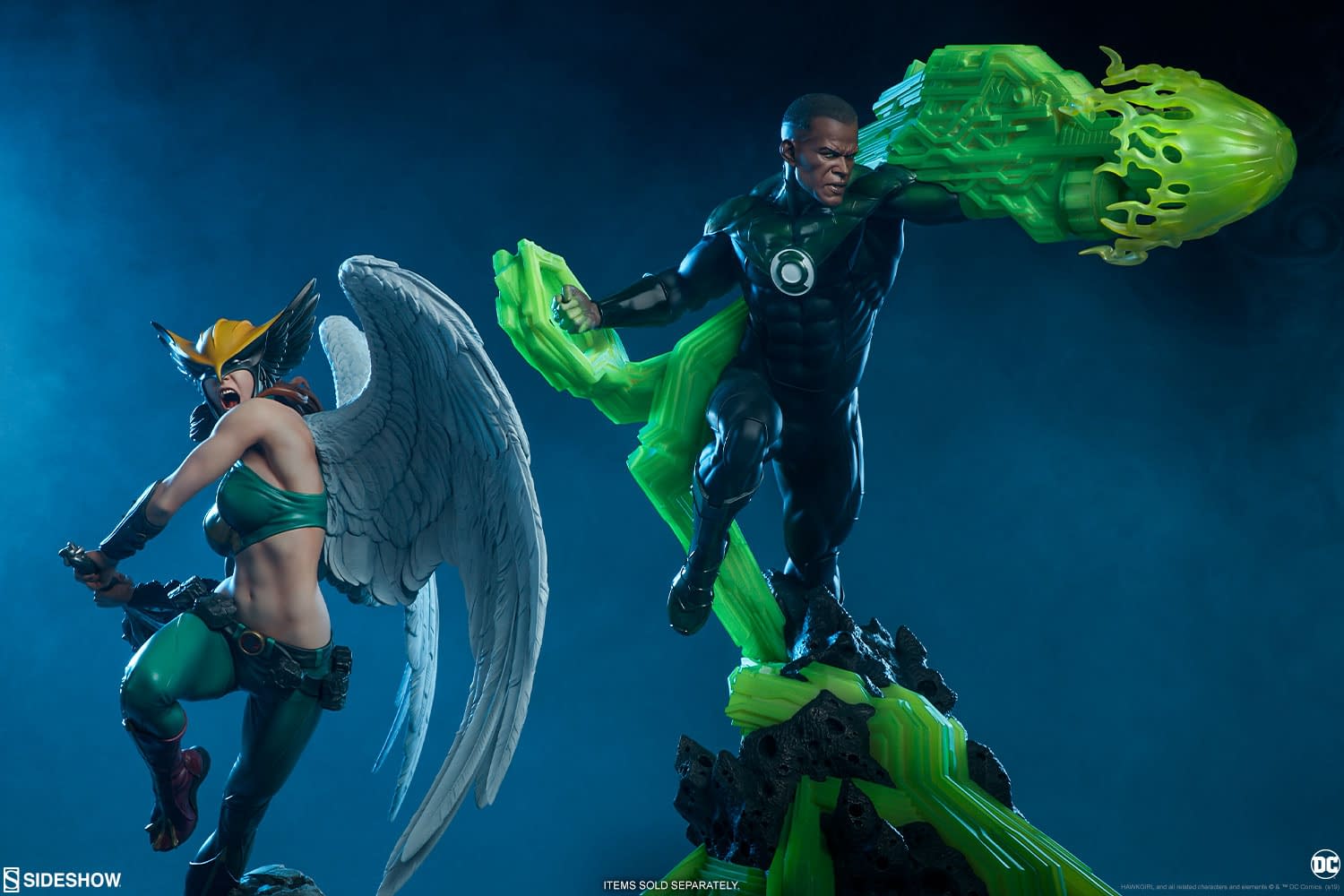 Enjoyed this article? Share it!