Hot Toys are really hitting it big as they celebrate their 500th creation. And to celebrate they have released final photos as well as details for their upcoming Iron Man mark seven from the avengers. This figure is nothing but a Complete masterpiece. This 16 scale figure stands about 12.5 inches and is highly detailed as well as articulated. He comes with a brand new head sculpt of Robert Downey Jr. not only giving you an Iron Man figure but Tony Stark figure too. The Hot Toys Mark VII figure features the iconic red and gold paint scheme from the first Avengers film. They even go a step further and have Iron Man have light-up features for the helmets, repulsors as well as the chest arc. The figure is packed with accessories from missiles, back flaps, battle damage pieces and even laser rockets on his wrists. The articulation of the figure even coincides to go with the suit pod transformation. This figure is nothing but a piece of art and with so many interchangable pieces and detail it should be owned by any Marvel fan or a fan of Iron Man.
The Iron Man Mark VII Figure from The Avengers by Hot Toys does not have a release date or a price just yet. I wouldn't be surprised if we didn't see this figure hey our shelves late 2020 possibly 2021. Don't forget to check out all of the other Iron Man Hot Toys and more images of the Mark VII here.
"I am Iron Man."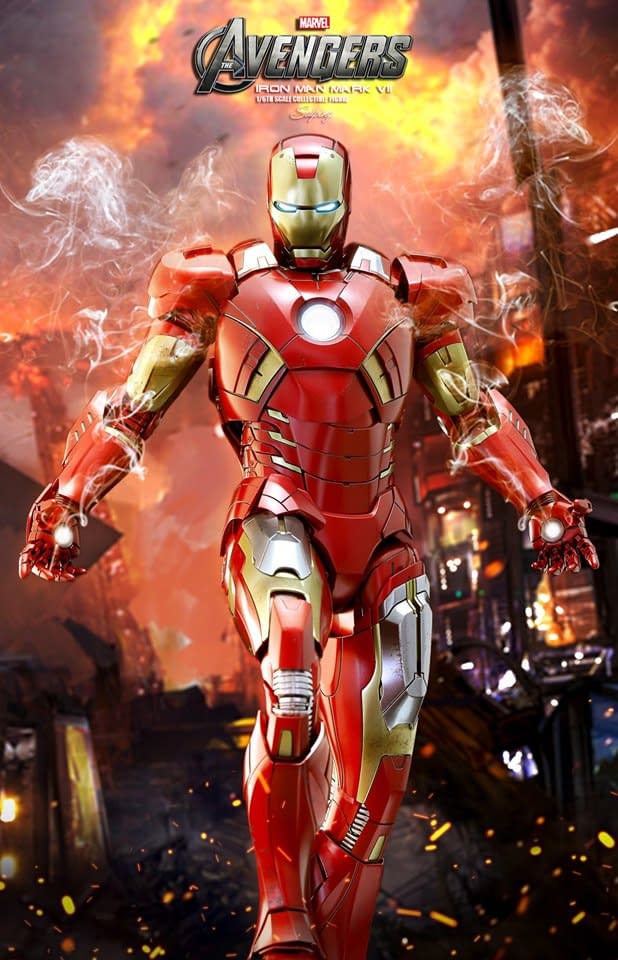 The Avengers – 1/6th scale Iron Man Mark VII Collectible Figure Final Product Photos
Celebrating Hot Toys' incredible achievement on the 500th creation of our renowned Movie Masterpiece Series, Hot Toys team has challenged to bring the iconic Suit of Amours designed with dynamic forms into one single piece of figure. Today we are thrilled to unveil the final product of 1/6th Iron Man Mark VII collectible figure inspired by Marvel Studios' The Avengers.
The highly detailed 1/6th scale Mark VII collectible figure made with diecast materials is crafted based on its appearance in the movie. Measures approximately 32.5cm tall features a newly painted head sculpt of Robert Downey Jr. as Tony Stark/Iron Man, an interchangeable LED light-up helmet, movie-accurate proportion and substantive detailed armor design with enhanced articulations allowing transformation to suit pod mode, metallic red and gold painting on armor, interchangeable shoulder and forearm weapon-firing armor parts, LED light-up functions on eyes, palms, and arc reactor, and a specially designed diorama figure base.
Special Edition available only in selected markets includes a miniature Mark VII suit pod hologram as bonus accessory.  
Don't miss out on snapshots featuring the true masterpiece! 
Enjoyed this article? Share it!