Jakks Pacific & SEGA Expand Sonic The Hedgehog Toy Line Agreement
Jakks Pacific and SEGA have announced this morning that they have decided to expand their current toy line agreement for Sonic The Hedgehog. According to the details, which it seems both parties are very happy about, JAKKS will continue to design, manufacture, market, and sell Sonic the Hedgehog branded toy product lines and collectibles worldwide starting in 2022. This is basically a renewal of their previous agreement that includes the rights to produce action figures, playsets, vehicles, plush figures, and other types of collectibles like the one you see here. Their current agreement has already produced a number of awesome figures and collectibles already that have been popular with collectors, so it only makes sense they would expand on it for as long as it works for both parties. We have a couple of quotes from this morning's announcement for you here.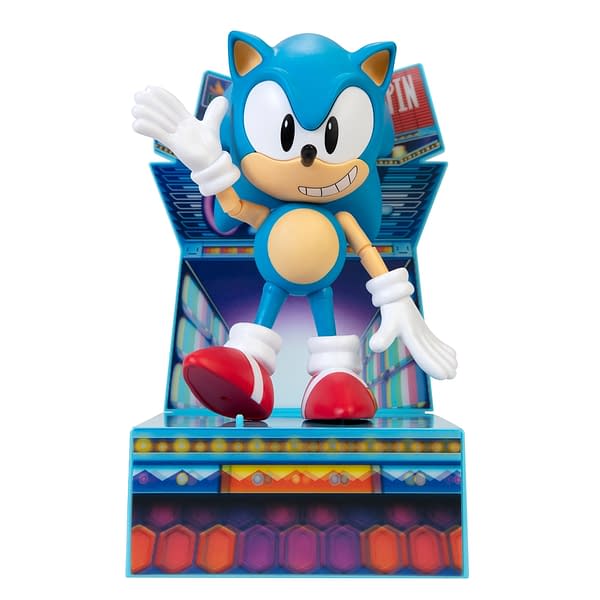 "Our line of Sonic the Hedgehog products consistently hit the mark with retailers and fans, and we are excited to continue to develop innovative toys with SEGA that resonate on a global scale," said Craig Drobis, Senior Vice President of Marketing at JAKKS Pacific, Inc. "Our Sonic figures, playsets and plush have seen consistent sales growth since our partnership with SEGA began. There is more great product to be introduced for this Fall and for several years to come."

"JAKKS Pacific has been an integral partner in bringing our vision for unique, high-quality Sonic collectibles to market over the past two years, and we're ecstatic to expand our partnership them as we enter the next decade of the franchise," said Alex Gomez, Licensing Director at SEGA of America. "The new collection is sure to bring Sonic fun to new heights with merchandise tied to upcoming projects and will feature the Blue Blur in his Classic and Modern form, with something special for Sonic fans of every generation."