"Jurassic Park" Figures Coming Soon From Chronicle Collectibles
Jurassic Park is a film near and dear to my heart. With the most recent dinosaur release Battle at Big Rock only gets me more hyped for the Jurassic Park franchise. Chronicle Collectibles has opened pre-orders for their upcoming Jurassic Park scale figure set. To have been announced so far, the first being Dr. Alan Grant himself. This sixth scale figure is highly detailed and has over 30 points of articulation. He comes with a swappable head wearing his iconic hat. He does feature a wide variety of hand swaps including a set of hands that hold a baby raptor, one that shows off his raptor claw (chronicle exclusive) and finally one holding a flare. The Jurassic Park figure itself features a highly detailed and resemble likeness to actor Sam Neill, and is an easy buy for Jurassic Park fans. Next, we will also be getting a Jurassic Park Velociraptor 1/6 scale figure. The figure itself stands at 12 inches tall and a length of 25 inches. Velociraptor features 12 points of articulation and comes with a complete set of three hand swaps. As well as a Chronicle Collectibles exclusive, where you can get the Raptor Handler Hardhat and Stun Baton. I figure itself is very lifelike and highly detailed and almost makes you look like you're playing with the film. Both figures are perfect collectibles for any Jurassic Park fan.
Both Dr. Alan Grant and the Velociraptor Jurassic Park Chronicle Collectibles 1/6 Scale Figures are set to release the fourth quarter of 2020. Dr. Grant is priced at $229.99 and is available for pre-order and that is located here. The Velociraptor is priced at $449.99 and she is also available for pre-order and located here. There is a two-pack priced at $649.99 and that is located here.
"Mr. Hammond, after careful consideration, I've decided NOT to endorse your park."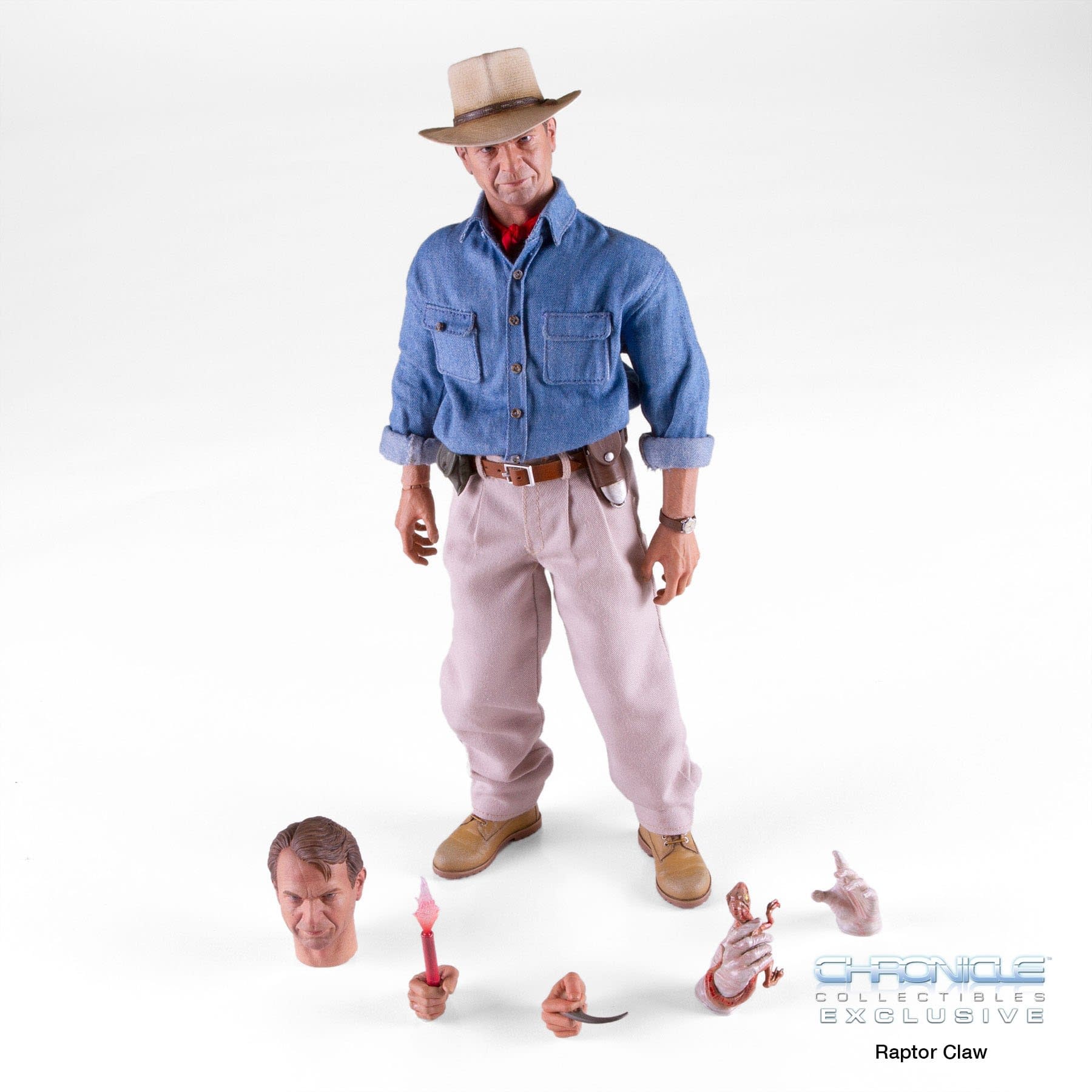 Jurassic Park – Dr. Alan Grant 1/6 Scale Figure
"Dinosaurs and man, two species separated by 65 million years of evolution have just been suddenly thrown back into the mix together. How can we possibly have the slightest idea what to expect?"
Noted scientist Dr. Alan Grant stands at the pinnacle of the paleontological world. He's a dying breed, his love of the hunt defined by the trowel at his belt and his ever-present six-inch Velociraptor claw. For Grant, the journey is as fundamental as the destination, and knowledge gained without getting your hands dirty is missing one crucial element: Fun. He has a craving for wonder and little patience for technology.
Grant also lacks patience for fundraising. He's a digger. Time spent groveling for money is time better spent in the field. So when noted theme park mogul John Hammond offers to fully fund Grant's project for three years in exchange for a few days of Grant's time, it's hard to say no.
Thus, Grant's adventure begins, and the wonder induced by Hammond's actual, live dinosaurs leads to speculation of the dangers inherent in rushing madly into such an endeavor. Which, in turn, descends into horror, as speculation becomes grim, deadly reality. And Grant soon learns that a lifetime studying the lives of dinosaurs is not the same as learning to survive them.
Chronicle Collectibles is thrilled to bring to Jurassic Park fans worldwide our OneSixth posable figure of Dr. Alan Grant. Featuring a fully-articulated body, the figure includes a fine assortment of accessories, including a pair of gloved hands holding a baby raptor, a hand holding a flare, and two swappable portraits in the likeness of actor Sam Neill. Adorned with a custom-tailored reconstruction of Grant's costume from the original film, this figure will allow Jurassic Park fans the freedom to recreate their own vision of Dr. Grant to idealize the figure's presence on desk or shelf. For fans who choose to order direct from Chronic Collectibles, they will receive a Chronicle Exclusive swap-out hand holding a raptor claw. Quantities are limited, so reserve yours today!
– Sixth scale figure body with over 30 points of articulation.
– One swappable portrait of Grant wearing his iconic hat.
– Additional portrait of Grant, sans hat.
– Swap out hands that are gloved and holding a baby raptor.
– Swap out hand holding a flare.
– Chronicle Exclusive – A swap-out hand holding a raptor claw.
– Keep figure away from technology.
– Keep children away from figure.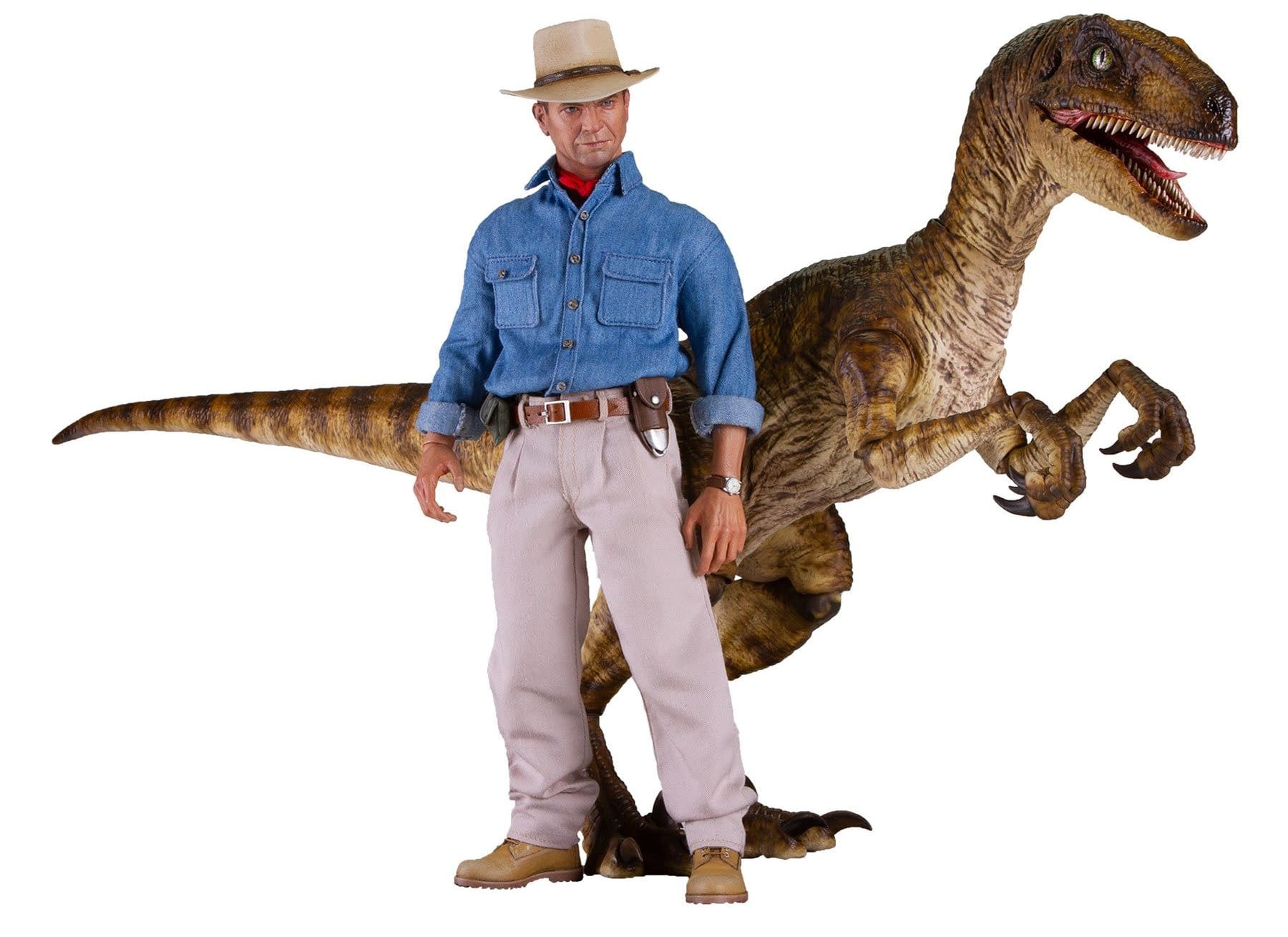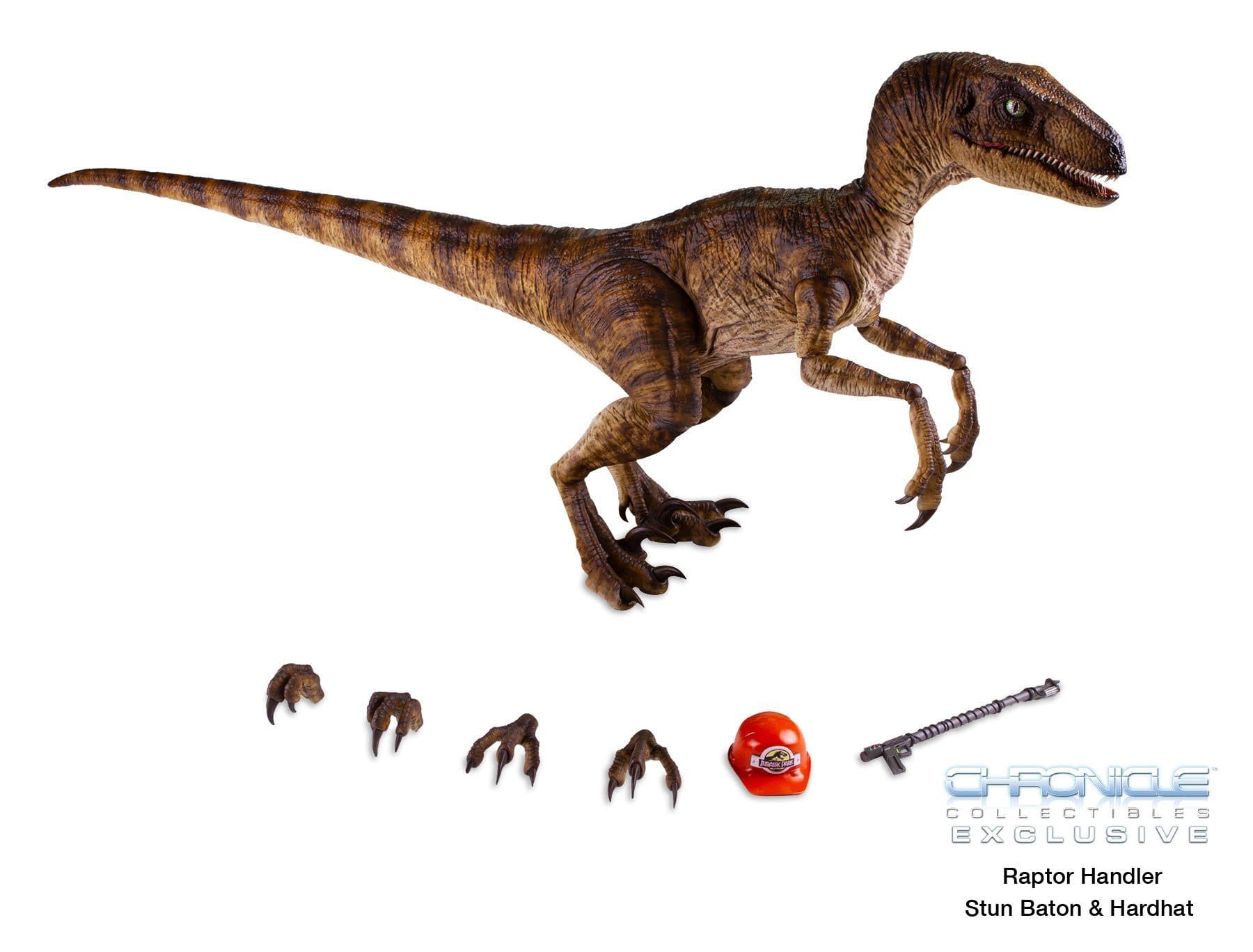 Jurassic Park – Velociraptor 1/6 Scale Figure
"You stare at him, and he just stares right back. And that's when the attack comes. Not from the front, but from the side…from the other two raptors, you didn't even know were there."
With that bone-chilling description of a long-extinct reptilian terror, Dr. Alan Grant foreshadowed the horror that would all-too-soon dominate his life. That tale presaged a cascading sequence of sounds and revelations, each, in turn, dialing up the level of dread until, at last, that lightning-fast alpha predator is revealed: The Velociraptor, the supreme pack hunter of Jurassic Park.
While the T. rex was the superficial king of Jurassic Park, the Velociraptors arguably stole the show, especially in terms of skin-crawling fear. Their calculating eyes, coupled with their speed and ability to make astonishing leaps, made for a far deadlier encounter for young Lex and Tim as the raptors stalked the two children through the compound's kitchen.
Chronicle Collectibles is thrilled to present to collectors the OneSixth Velociraptor Articulated Figure. Standing at 25 inches in overall length and 12" in height, our raptor features 12 points of articulation and comes complete with three sets of hands – one with relaxed hands, one neutral position, and the others outstretched for an attack.
Discerning collectors who purchase directly from Chronicle Collectibles will enjoy a bonus accessory: the Raptor handler's stun baton and hard hat. Quantities are limited, so reserve yours today.
– At least 12 points of articulation.
– Three pairs of hands: Relaxed, neutral and attack.
– Chronicle Collectibles Exclusive – Raptor handler's stun baton and hard hat
– Measures approximately 25″D x 12″H x 4″W
– Constructed of PVC.
– Lethal at nine months.