"Karate Kid" All-Valley Tournament Arrives with Icon Heroes
The Karate Kid is one of those classics that can easily be overlooked. It was a tale showing a bullied kid who rises up and not only takes the hits but gets back up to win. While this story could be misinterpreted as we see in Cobra Kai the YouTube exclusive series. Even so, this story is a great 80s flick that might have had some unnecessary sequels but is always worth a rewatch. This time Icon Heroes is bringing one of the pivotal moments alive with their next statue. The All-Valley Tournament is getting a statue debut exclusively at GameStop. This statue will feature both Daniel Larusso and Johnny Lawrence as they go head to head for the win. Larusso will be positioned in his final crane kick stance for the perfect dynamic feel. This statue is very limited with only 1000 sets being made.
The GameStop Exclusive Karate Kid All-Valley Tournament Statue will be priced at $159.99. You can pre-order yours today and they can be found here. They are set to release in February 2020 so you won't have to wait too long for yours.
Sweep the leg.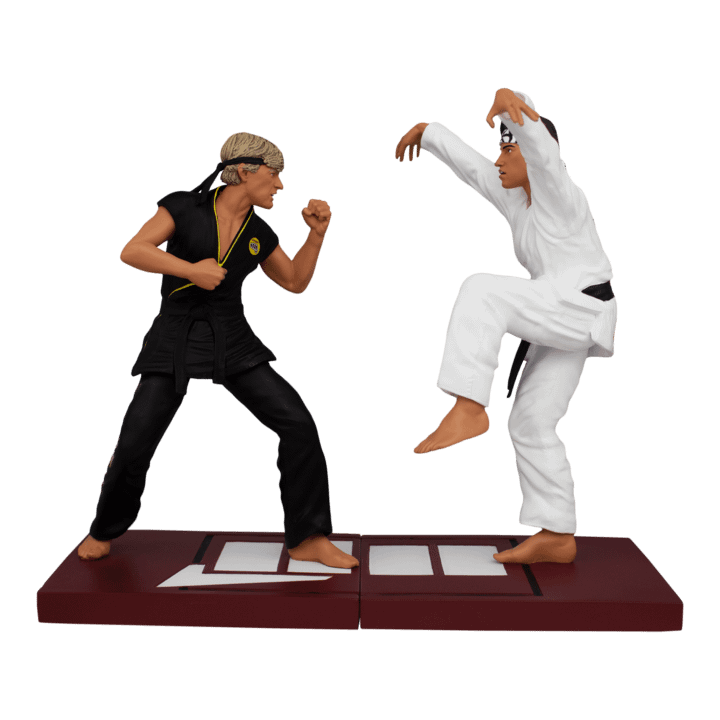 DANIEL VS. JOHNNY ALL-VALLEY TOURNAMENT STATUE SET (GAMESTOP EXCLUSIVE Regular price $ 159.99
Icon Heroes presents the GameStop exclusive The Karate Kid Daniel vs Johnny Statue Set! Relive the All-Valley Tournament final match where tied 2-2, Daniel Larusso faces off against Johnny Lawrence for the final point and win. Each statue sits on a mat base that connects with the other to form the All-Valley Tournament fist logo. Limited to just 1000 sets with a Certificate of Authenticity, these statues are hand painted and individually numbered.