Kirby Gets Frosty with Re-Release Nendoroid from Good Smile Company 
Kirby isn't just ready for winter he is the winter as Good Smile Company re-releases another Kirby figure. We recently saw that the original pink hero also got a re-release along with a new Waddle Dee figure. This time we brace the cold as Ice Kirby is here and packed with detail and accessories. He will come with four interchangeable face plates and will come with a running effect, star effect and blowing effect. On top of that this Nendoroid will come with pieces for the Original Kirby too, he will come with a Parasol, the Fighter Copy Abilities, and even the Star Bullet ability!
The Nendoroid Re-Release of Icy Kirby of Good Smile Company will be priced at roughly $45. He is set to release in August 2020 and pre-orders are live and locate here. Don't forget to check out the other two figures coming soon from Good Smile Company here.
Winter is Coming.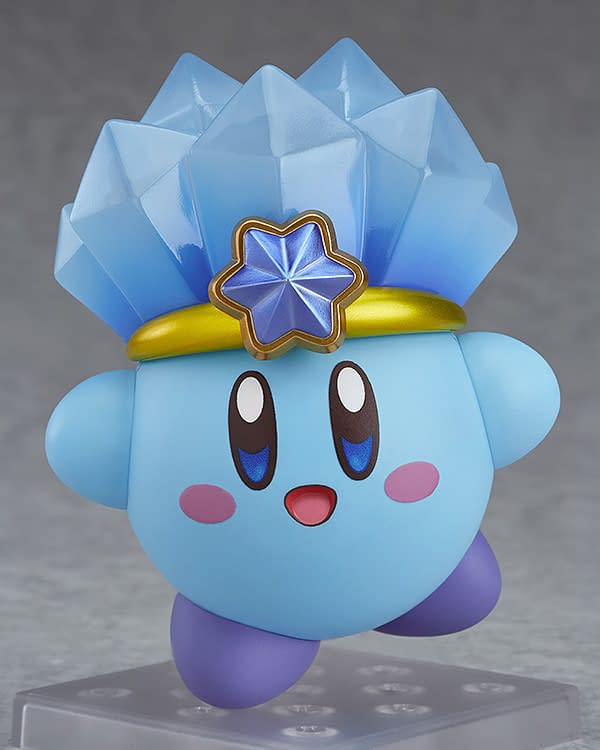 Ice Kirby is joining the Nendoroid line-up!
From the popular 'Kirby' game series comes a rerelease of Nendoroid Ice Kirby! The Nendoroid makes use of a number of magnets to make his movements smooth, natural and easy to pose!
He comes with four different face plates including his standard smiling face, a more serious face, an expression with his mouth wide open to display him using his inhale ability as well as an expanded expression to show him filled up after inhaling! His ice crown can be removed to display the standard blue Kirby seen in various fighting games, and he comes with a collection of optional parts that allow you to display him with his 'Parasol' and 'Fighter' Copy Abilities as well as using his Star Bullet ability!
The original Nendoroid Kirby is also being rereleased at the same time as Ice Kirby's rerelease, and owning both of them allows for even more fun display opportunities. As a special bonus, Nendoroid Ice Kirby will also include a new additional sleeping face plate for Nendoroid Kirby! Be sure to display them together and bring out Dream Land in your collection!