Batman collectors will have at least 2 SDCC exclusives to hunt down this year. Mattel have revealed their plans to help celebrate The Dark Knight's 80th birthday at this years show, including a four figure multi-pack and a Hot Wheels exclusive celebrating the Batmobile from Tim Burton's 1989 film. Both will be available at the Mattel booth on the show floor, and on Mattel's website in limited quantities after the show.
Mattel SDCC Exclusive Hot Wheels Batmobile Pack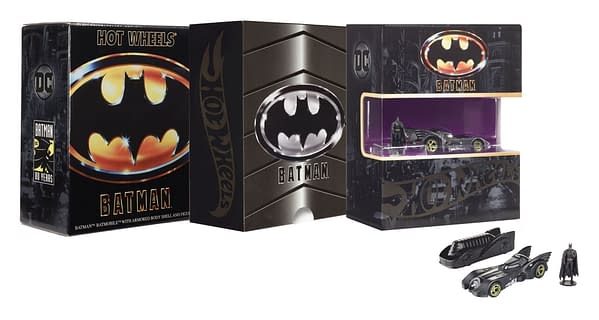 The Hot Wheels exclusive will feature both an armored and unarmored version of the Batmobile from 1989's Batman film. The car comes with a shield overlay to achieve either version of the car, or it can be displayed on its own. A mini-Batman is also included to pose by the car. The premium packaging begs to not be opened however, as you can see. This one will retail for $25.
Mattel SDCC Exclusive Batman Figure Four Pack
The 80-Page Giant: Strange Lives of Batman set will feature four different looks on the Caped Crusader, all in the six inch scale and with multiple points of articulation. They all also feature fabric capes, which is a nice touch. Included in the set are: a classic Batman, Negative Suit Batman from Detective Comics #284, a Zebra suit Batman from Detective Comics #275, and a rainbow suit Batman from Detective Comics #241.
All four look to have fantastic, classic looking sculpting and should be an awesome addition to any Bat-Fans shelf. This set will retail for $80. I would expect this one to be a tough get during and after the show, although the pricepoint may keep some away. It can be hard to tell sometimes.
Make sure to keep your eyes peeled to BC, as we will have all the Mattel reveals leading up to the show, and a full report from their booth!
Enjoyed this article? Share it!