Let's Jump Into The Past With Marvel Collector Corps 1939 Box [Unboxing]
Marvel Collector Corps has been around for a while but it was exclusively picked up by Amazon. If you've been a subscriber since the beginning it's been pretty easy to stay in the system but a lot of newer fans have trouble getting the box for themselves. The most recent box that came out in the theme this month was 1939, obviously based on Marvel's 80th Anniversary.
The box itself always shows a theme this time the Marvel's 80th Anniversary logo covers the top. Upon opening the box we are greeted by a pretty awesome and unique Hydra Funko pin. This sweet little pin showcases the classic Hydra symbol but the skeleton is Funko-based, and after I put it on I never want to take it off. Next up, there is a shirt in this box of none other than the Green Goblin himself. Most Marvel Collector Corps boxes feature some sort of clothing not always shirts it could be a hat or a beanie. The design and the lettering are perfect for this month of October. Next, we get a decal based on the old comic book style header that features Loki, Thanos, and Green Goblin.
This time in Marvel Collector Corps box I was surprised to see two Funko pops. Most of the time we are greeted with one but on special occasions, we get two. Loki and Thanos are this box special surprise and their first appearances are the idea behind these Funko Pop debuts.
Both boxes feature a silver trim around the design of the box as well as the backs showcase their first appearance comic. This concept is not new but I appreciate it every time as it gives comic fans a little throwback to the collectible that they have. Both of these Funko's are perfect for this style of mystery box. I always love seeing what comes every two months in the Marvel Collector Corps boxes. It looks like November's theme will be Marvel holiday. So I would guess we be seeing a beanie or glove set with an exclusive Marvel Holiday style Funko Pop.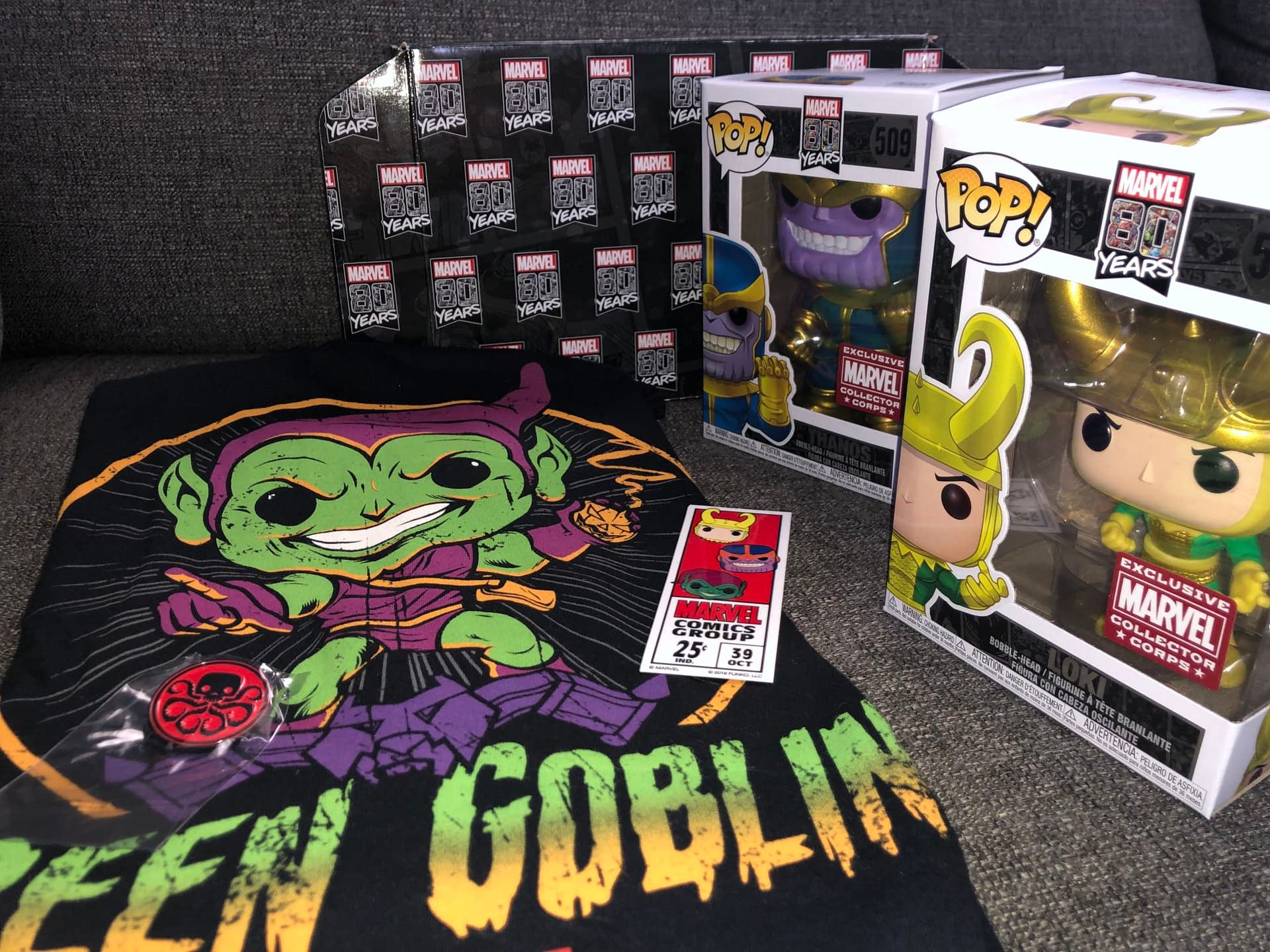 Be sure to jump in the action yourself and subscribe today (if available to). I always love these subscription boxes as they give collectors exclusive Funko's T-shirts and other unique items. Until next time a Funko and Marvel fans!