The Funko Soda train continues as we happen to get our hands on The Masters of the Universe figures. I have had a lot of fun not only opening these cans but finding them. With flippers and dedicated collectors out there, it is sometimes hard only paying retail for some of these collectibles. I told myself I would not pay eBay prices on these and so far I have lucked out. There have been three site I have been finding this limited edition Funko Soda drops; HotTopic, BoxLunch, and Barnes & Noble. Their drops have been random so it is just luck to get your hands on some of these figures but this time we got both Masters of the Universe characters, Skeletor and He-Man. So let's not wait around any longer and figure out if they have the power! First up is the villain of the Masters of the Universe story, Skeletor. He is limited to only 10,000 pieces and of course, features a chance at a 1:6 chase variant. His variant features a darker colored version of him. The can itself features Skeletors colors or purple and blue. We did not get a chase but this figure still is limited to only 1/8,400 pieces. Skeletor is nicely detailed and gives off the Saturday Morning Cartoons vibe. His skull and body are nicely detailed and quite simple. The sculpting work is nicely done and could please any Masters of the Universe fan.
He-Man, on the other hand, is a special case and we were saving him for the end. We managed to luck out this time as we hit gold this time and got the Slime Pit Slimer He-Man Chase! Unlike most of the Funko Soda Chase figures the Masters of the Universe He-Man get a completely new paint job. That's right, everyone's favorite Slime Pit is back and He-Man fell into Hordak's trap. This icon look is quite known by fans of the Masters of the Universe Mattel line. The Funko Soda figure is limited to only 10,000 pieces but since we have the chase version it is only one of 1,600 made. The Funko Soda can features the original He-Man brown and yellow colors on the text and a classic decal design. We do not have the original figure to compare it too but man do I live this figure. The green is so bright and the added red on his chest and eyes are demonic. He has a pretty basic design but his sword and hair and nicely sculpted. Compared to other chase figures out there this one will really stand out. Fans of Masters of the Universe and He-Man defiantly need to add this figure to their collection. I will now have to test the waters yet again to get my hands on the normal one for a complete set. Funko Soda brings limited edition collecting back into the collectibles world and I love it. Their simple and cartoony designs bring back childhood memories. These figures are flying off online shelves so make sure you get your hands on them before they all disappear.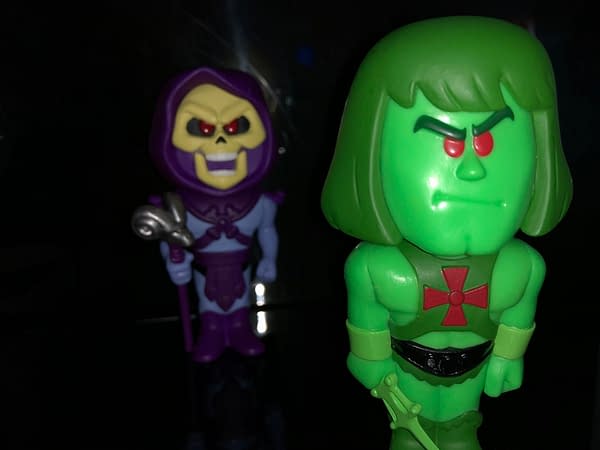 Enjoyed this article? Share it!