It is not a new concept to see some of your favorite comic book, anime, and animated characters come to life. Fanart sites are filled with human imitations of animal creatures like Pokemon and Animal crossing. This time Kotobukiya is bringing My Little Pony to life, literally, with there newest addition to their Bishoujo series. The iconic horse Rainbow Dash is getting a cool makeover as she transforms into a human. The statue is highly detailed and shows both horse and human version of the character. This isn't new with Kotobukiya but it is the first time we see Rainbow Dash come to life with this stunning look. The idea of her mane uses as the girl's colorful hair is pretty rad. This is a must have statue for any fan of the series as a great addition to the Bishoujo statue line.
The My Little Pony Rainbow Dash Bishoujo Statue from Kotobukiya does not have a price just yet. She is set to release July 2020 and while pre-orders are not live just yet, you will be able to find them here when she goes live.
Have you heard of me?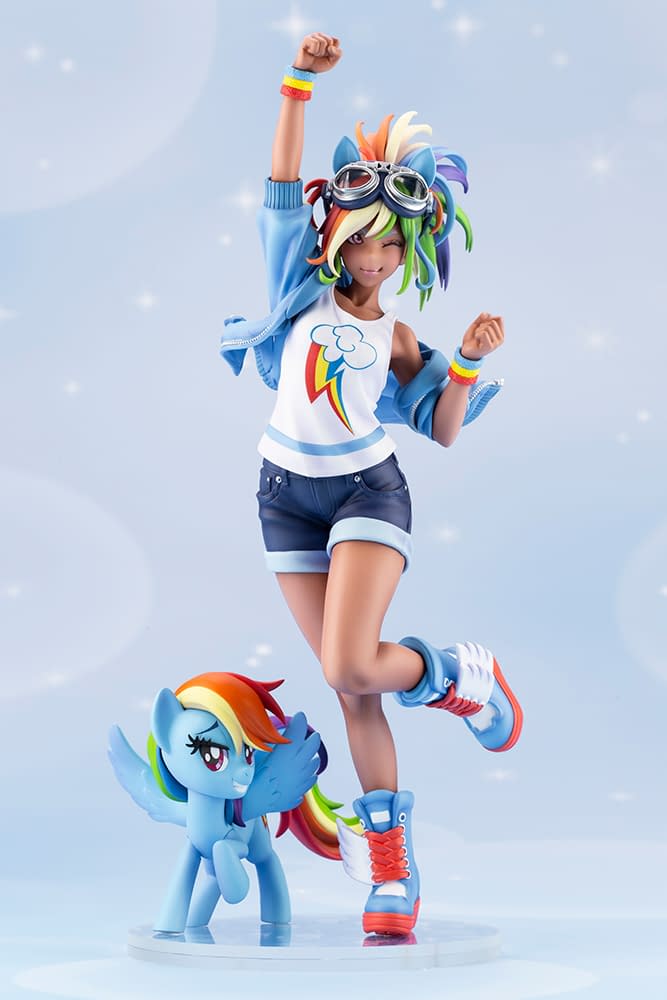 MY LITTLE PONY RAINBOW DASH BISHOUJO STATUE
Characters from the American cultural phenomenon MY LITTLE PONY are joining the BISHOUJO series!
The fifth character to join the lineup is the pony who is always on the lookout for new adventures: Rainbow Dash! Rainbow Dash has been beautifully rendered into the BISHOUJO style by BISHOUJO series illustrator Shunya Yamashita.
Be sure to pay close attention to Rainbow Dash's dynamic pose and sporty outfit when looking at this statue!
From the original MA-1 bomber jacket to the goggles on Rainbow Dash's head which uses both clear and metallic parts, every element in this rendition of Rainbow Dash showcases a girl who looks up to the one and only acrobatic team, the Wonder Bolts. Also, check out the adorable wings and Rainbow Dash's cutie mark adorning her hi-tech shoes! Rainbow Dash's rainbow colored hair is also perfectly showcased in a ponytail.
This statue comes complete with a beautifully detailed pony that stays true to the original character design.
After Rainbow Dash, the last in the MY LITTLE PONY BISHOUJO series showcasing all of the Mane 6 ponies, is Applejack! Stay tuned for more updates.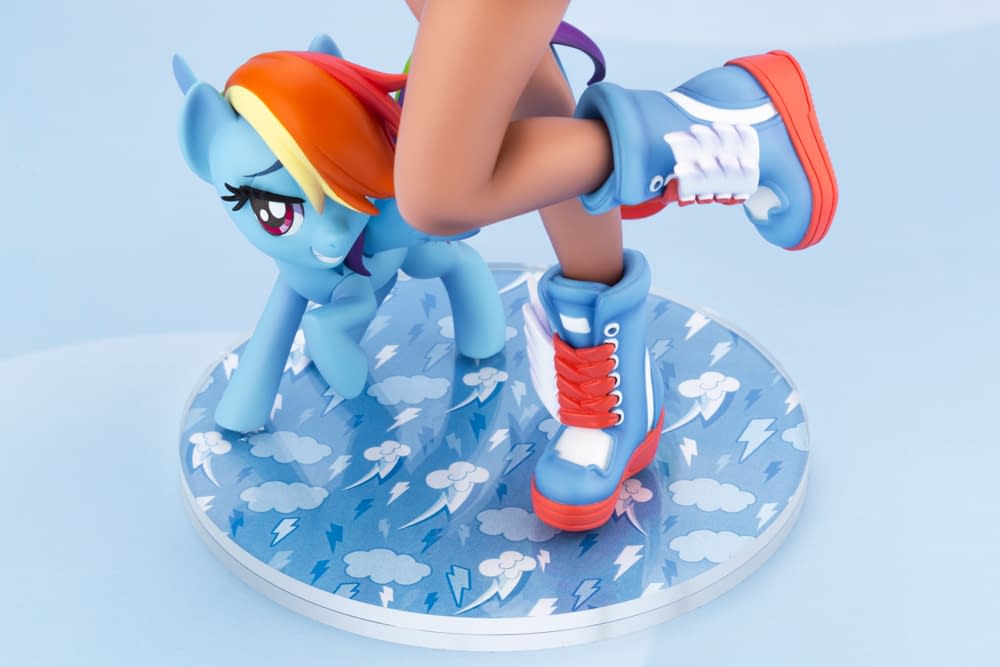 MY LITTLE PONY and all related characters are trademarks of Hasbro and are used with permission. © 2020 Hasbro. All Rights Reserved. Licensed by Hasbro.