New Hellboy Previews Exclusive Figure Ready To Raise Some Hell
Hellboy is at it again and bringing Hell with him this time. Unlike the previous Hellboy ONE:12 figure Mezco Toys has released this one is based off his Anung Un Rama side. This character model is based off the 2019 film Hellboy played by David Harbour. He comes his a nice assortment of accessories, for the body he has seven interchangeable hands, two different heads and a removable utility belt. Next we have weapons Hellboy is most known for; he comes with a customized handgun a basic sword and then a flaming version. He does comes with a horseshoe ad then a flaming crown when he is in his hellish form.
This Hellboy ONE:12 is a Previews Exclusives. So best way to get this would be local comic shops. Release date is set for June 24, 2020 and costs $80.
Check out Hellboy and all his Anung Un Rama glory below!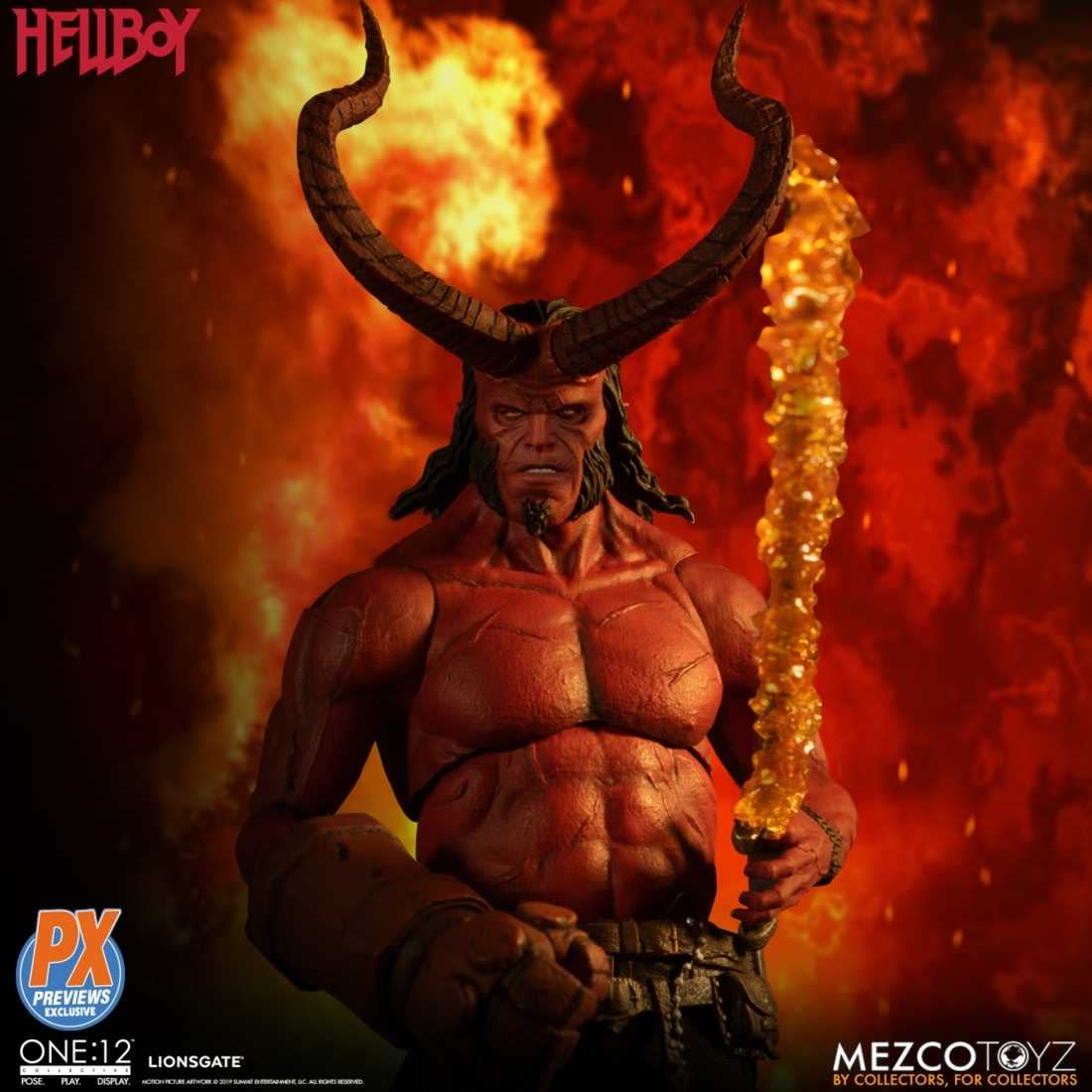 From Mezco Toys. A PREVIEWS Exclusive! Hellboyreturns to Mezco toys as a One:12 Collective action figure! This PREVIEWS Exclusive One:12 Collective Hellboy figure features 2 head portraits, one with his impressive horns, capturing the great beast's demonic nature! Hellboy is outfitted in a removable duster coat, with a customized handgun and utility belt! The half-demon comes complete with a range of accessories, including a sword, flaming sword, and a horseshoe. Hellboy also includes seven interchangeable hands, crown of flames, removable tank top and a One:12 Collective display base with an adjustable posing post. Add this impressive Hellboy to your collection today!
THE ONE:12 COLLECTIVE HELLBOY ANUNG UN RAMA EDITION FEATURES:
One:12 Collective body with over 28 points of articulation
Two (2) head portraits
Hand painted authentic detailing
Approximately 17cm tall
Seven (7) interchangeable hands including

Left

One (1) fist hand
One (1) gun holding hand
One (1) posing hand
One (1) horseshoe holding hand

Right Hand of Doom

One (1) fist hand
Two (2) posing hands
COSTUME:
Duster coat (removable)
Tanktop (removable
Crown of Flames
Utility belt with holsters
Cargo pants
Mid-calf boots
ACCESSORIES:
One (1) customized handgun
One (1) sword
One (1) flaming sword
One (1) horseshoe
One (1) One:12 Collective display base with logo
One (1) One:12 Collective adjustable display post