Night Monkey To The Rescue In New Iron Studios Spider-Man Statue
Night Monkey has teamed up with fellow superhero Mysterio to stop the elementals. He was last seen in Prague during the attack at the festival and the incident with the Ferris Wheel. Who is this Mysterious masked vigilante and he is is he a friend or foe? We all know Night Monkey is nothing more than just Spider-Man in his stealth suit, but we won't tell them that. Iron Studios has announced a new upcoming statue featuring our favorite Night Monkey. The statue showcases Spider-Man in action webbing a being a piece of debris surrounded by molten lava. It looks like the statue will have other pieces to go with it, as we will be getting more Spider-Man: Far From Home Iron Studios. From the sounds of it, we will be getting Mysterio, Nick Fury, Maria Hill, and Molten Man statues to go along with it. Iron Studios really captured the details of Spider-Man's stealth suit. This statue has a lot of power to it, but it does kind of feel out of place with the action to just be placed by itself. I think once we get to see the other Far From Home statues that everything will fall into place. This statue would be great for any Spider-Man, Marvel or Night Monkey fans.
The Spider-Man: Far From Home Night Monkey Iron Studios Art Scale Statue is priced at $119.99. He is scheduled for release sometime between April and June 2020. Pre-orders to lock down your statue are already live and located here.
"You can't have seen me because I'm not Spider-Man. And also, on the news, it was the Night-Monkey."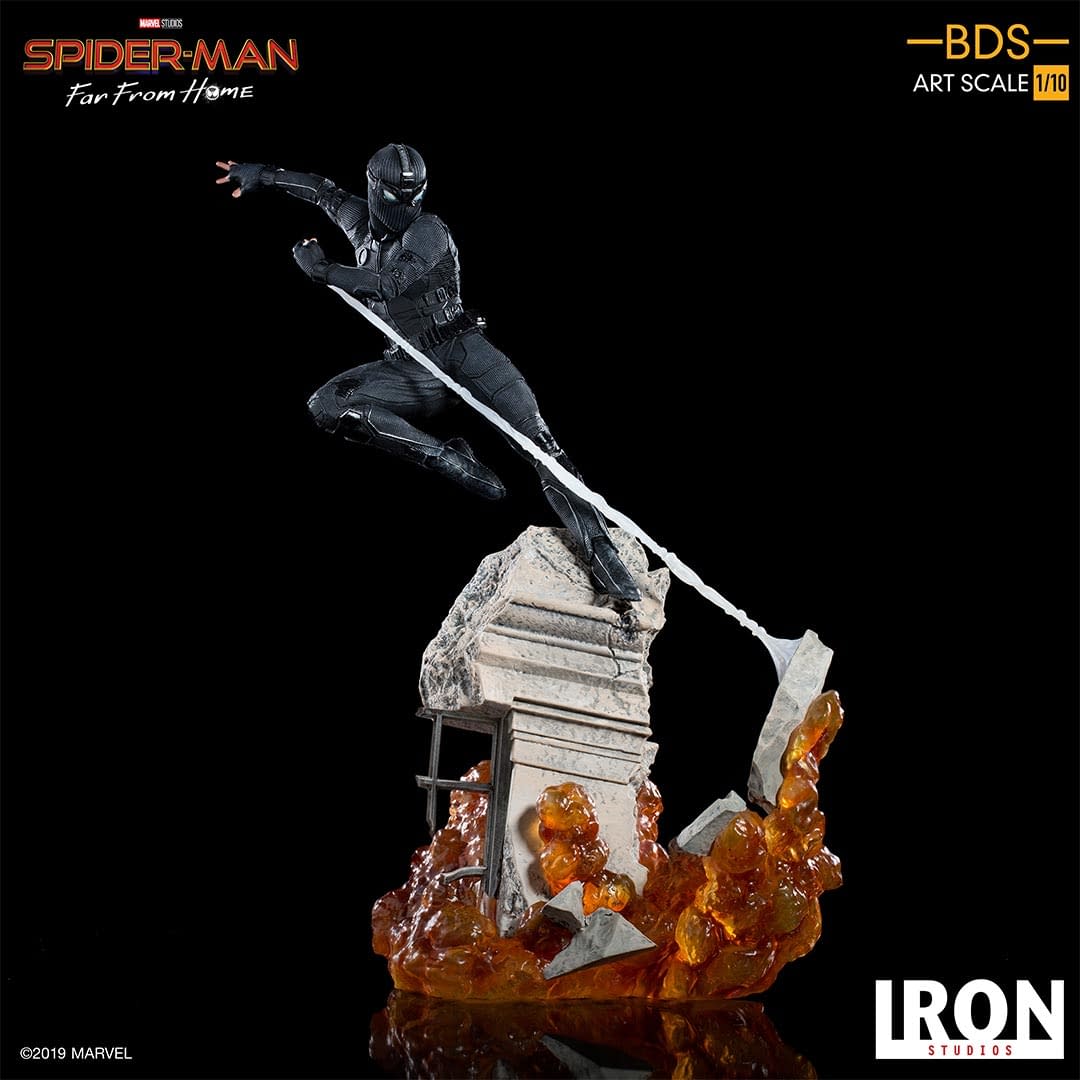 Night-Monkey BDS Art Scale 1/10 Spider-Man: Far From Home
Scale: Art Scale 1/10
Limited edition
Based on original movie references
Made in polystone
Hand-painted
Product dimensions: 10.2 in (H) x 6.6 in (W) x 7 in (L)
Product Weight: 1.6 lbs