Get ready to set sail once again as the hit anime series Once Piece returns. Fans will be able to watch English dubbed episodes once again with new episodes starting June 2nd. Funimation has a great way to celebrate our return of a pirate's life with a new limited edition statue. This statue is of Luffy's brother Portgas D Ace. This Neo-Maximum Ver Portrait of Pirates statue comes in at 8.5 inches tall and features him in a very dynamic pose. The Megahouse statue is sculpted and crafted with great skill and will come of life on any fans shelf.
The added flame effect really takes the Once Piece Portgas D Ace statue to new levels. The texture and the body structure are nicely sculpted and defiantly pop no matter what side you view. Fans of One Piece will want to bring home this hot piece and you can today. The Portgas D Ace Neo-Maximum Ver Portrait of Pirates statue from MegaHouse statue is priced at $249.99. You can buy him today and you'll be able to find him here with Funimation. Don't forget to check out new English dubbed episodes of One Piece starting June 2nd.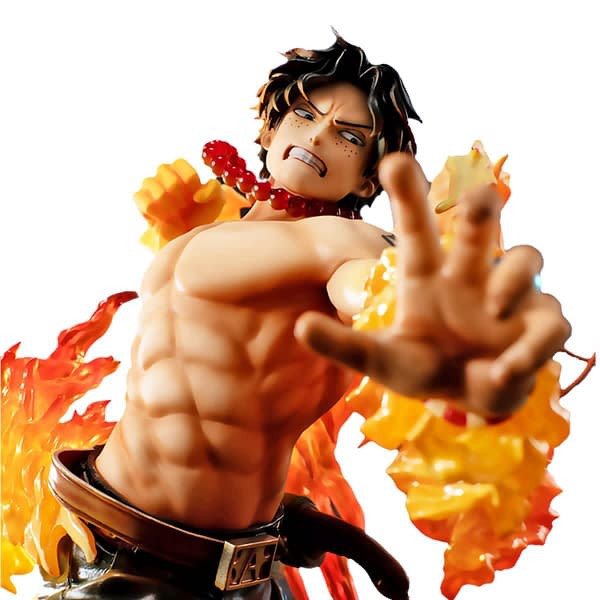 "This summer, Funimation set sail in celebration of One Piece with the return of new One Piece English dubbed episodes to digital storefronts; a limited release of Toei Animation's One Piece: Stampede; new dubbed episodes of One Piece coming to Funimation's streaming service starting June 2nd; and the next home video release available on June 9th."
"With this P.O.P MegaHouse figure on your shelf, playing with fire has never been a better idea. Caught in the heat of the moment, this charismatic Ace figure will be your collection's claim to FLAME. "
Product Features
8.86 inches (22.5cm)
Made of PVC and ABS
From the Portrait.Of.Pirates series
15th Limited Version
Enjoyed this article? Share it!