Pennywise is Ready for Georgie with New Nendoroid Figure
Pennywise is back and cuter than ever. This time Good Smile Company has announced its own Pennywise from IT Chapter One Nendoroid Figure. This figure is packed with cute little details and interchangeable pieces. First, he will get a secondary head swap that shows a more little demonic look with Pennywise. You also get four interchangeable hands and two little accessories from Georgie's boat and the iconic red balloon. What is one of the coolest additions to this figure is that it comes with a little covering case to showcase Pennywise as if he was in the sewer. It's a pretty interesting little display that not a lot of figures add getting a little more dynamic feel to it and it creates a whole extra set of display options. This cute little Pennywise would be perfect for any whore fans collection or any fans of the IT series.
The IT Pennywise Nendoroid from Good Smile Company will be priced at roughly $50. He is set to appear in the sewers June 2020 and floater links are already available and located here. Don't forget to check out the massive line of Nendoroid figure already available now.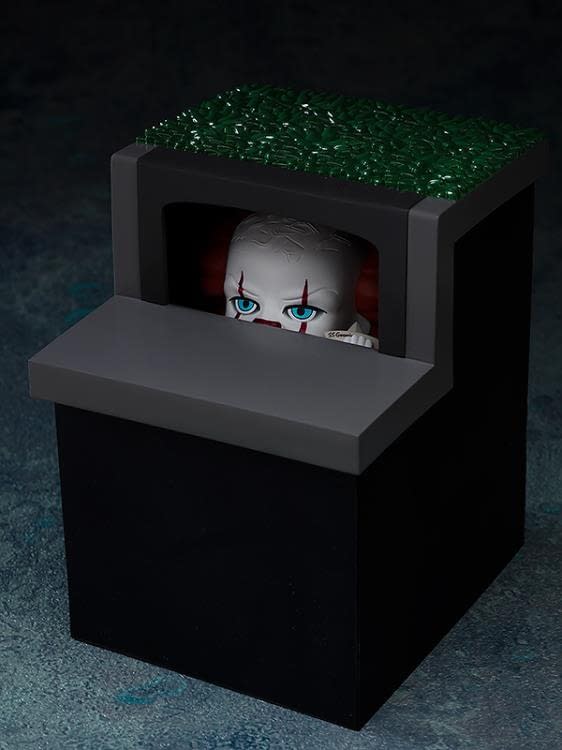 "Hiya Georgie!"
Both adorable and creepy all at the same time is Pennywise from "It" in Nendoroid form! You can pose him with the red balloon and even recreate the storm drain scene from the first film!
From the widely acclaimed 2017 horror film "IT" comes a Nendoroid of Pennywise the Dancing Clown. Even in adorable Nendoroid style, Pennywise's ominous appearance from the film has been carefully preserved. The figure comes with two interchangeable face plates: a face with blue eyes from the film's first scene when Pennywise appears in the storm drain and an attacking face.
The Nendoroid is fully articulated, making it easy to recreate a wide variety of terrifying scenes from the film. It can be posed holding a balloon, allowing you to display Pennywise in his simple yet eerie standing pose. Additionally, a recreation of the storm drain from the film's first scene and Georgie's paper boat are included. Be sure to add Nendoroid Pennywise to your collection.