EXCLUSIVE: Entertainment Earth Pinky and the Brain Kidrobot Figure for SDCC 2019!
Pinky and the Brain are coming to SDCC this year, in the form of a Kidrobot vinyl figure that can be found exclusively at the Entertainment Earth booth. Entertainment Earth always has one of the coolest booths on the show floor, packed to the gills with all sorts of exclusive merch. This year will be no different! This awesome vinyl figure stands at eight inches tall and glows in the dark. It one captures the pair perfectly, and comes in full window box packaging. Best part? You have a chance at this even if you do not attend the show. You can order directly from Entertainment Earth and after the show if any remain they will ship it to you a month later!
Pinky and the Brain, Brain, Brain, Brain, Brain…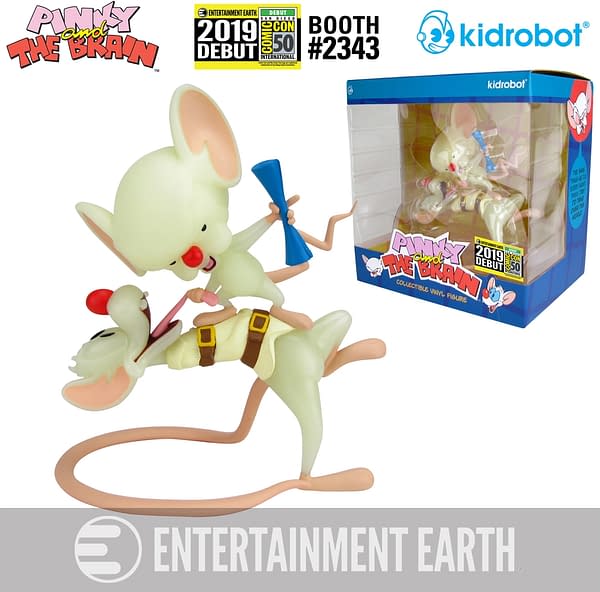 Entertainment Earth Convention Exclusive! It's Pinky, yes Pinky and the Brain, Brain, Brain, Brain, BRAIN! Kidrobot presents the Pinky and the Brain Radioactive Glow-in-the-Dark Vinyl Figure – Convention Exclusive, ready to take over your collection and then the world. Standing roughly 8-inches tall, the scheming duo is caught in a perfect moment of madness as Brain explains the plan on how the world will be theirs by morning if Pinky follows along. As lab mice, they've been exposed to who-knows-what, so both have taken on a cool "radioactive" glow in this Entertainment Earth Exclusive. Show your own genius and join in the quest for world domination by ordering this amazing figure today!
One is a genius, and one is insane.

Pinky and the Brain glow in the dark!

Exclusive 8-inch tall figure based on the animated TV series.

Order today and join in the quest for world domination!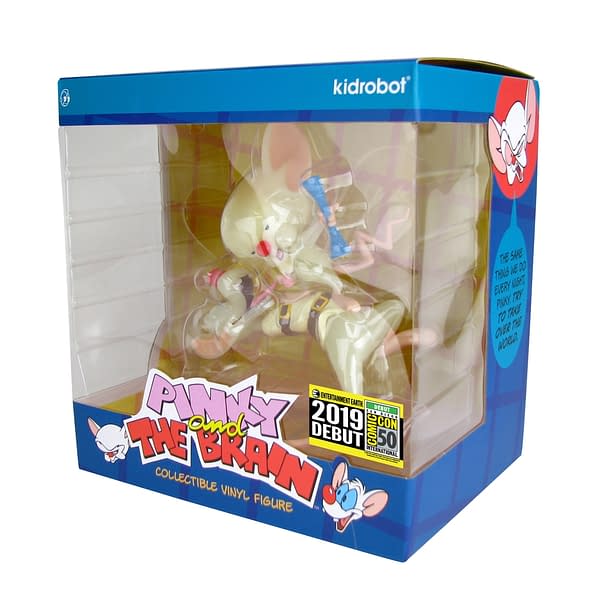 PLEASE NOTE: This item will first be sold at San Diego Comic-Con 2019 at the Entertainment Earth Booth #2343. If supplies remain after the show, your order will be filled and shipped to you then, in August 2019.
We reserve the right to limit quantities ordered.
Entertainment Earth was cool enough to send one of these over to show you as well! The figure could not look more perfect in hand. Pinky's tail keeps the figure perfectly upright and posed, and as with all Kidrobot vinyl figures, the detail work is fantastic. The glow is great, I barely had to hold a light to it at all to get it charged up and it kept glowing for well over an hour strong. As a Pinky and the Brain fan, it is really awesome to have a nice sized collectible for my shelf, and especially one that captures the essence of the show so well.
Make sure to go here and order one for yourself, unless you are at SDCC this year, in which case you need to swing by the Entertainment Earth booth and pick it up!
Keep it locked here as we may have more Entertainment Earth SDCC exclusives to reveal before the show!