Predator must be making a comeback, as I have seen almost as many Predator collectibles lately as Batman, and that is a lot. So something must be brewing behind the scenes to get the alien bounty hunter back on the market. This time is with Infinity Studio and their newest Predator 2 statue of our hunter on the hunt in the concrete jungle. they are dropping two special edition statue that will be limited to only 500 pieces each! The Elite version showcases an unmasked hunter with a spear in hand. The statue and display base is very detailed and carefully examined. The crumbing base is a very nice touch and you can even see a dead hand hidden behind it. The Ultimate version features a secondary head sway to the masked Predator and a throwing weapon attachment for his left hand. I honestly love the masked version a lot more than the unmasked version. The unmasked version has more detail but we have seen a big chunk of unmasked versions lately. When he is masked it gives that mysterious and compelling aspect to this statue that really brings it together. This is a must-have statue for any Predator fan!
The Predator 2 Elite and Ultimate City Hunter Predator 1/4 Scale Limited Edition Statues are set to ship out by the end of 2020. The Elite version is priced at $1,099 and pre-orders are live and located here and the Ultimate version is priced at $1,199 and you can find him located here.
"You are one big ugly motherfu…"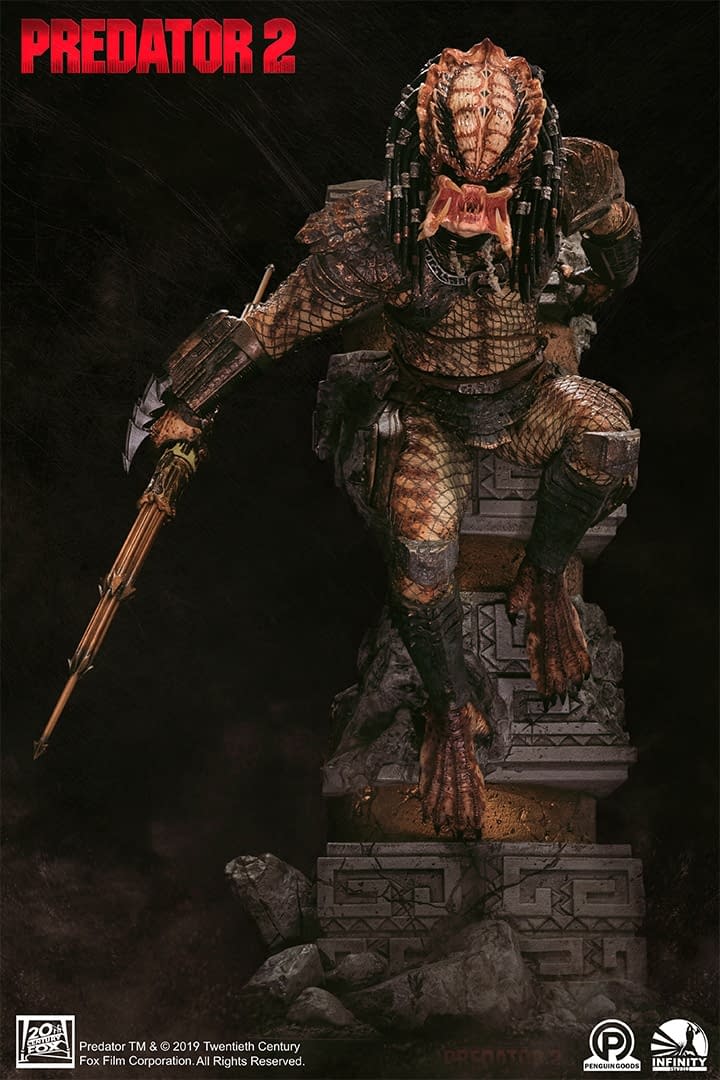 Predator 2 Elite and Ultimate City Hunter Predator 1/4 Scale Limited Edition Statues
Predator Series is one of the desirable collections for pop culture collectors. As a collector of over a decade, we are honored to have the opportunity to turn this Classic IP (Predator trilogy) to statue to the fans that love it.
City hunter comes in Ultimate and Elite version. The ultimate version comes with interchangeable Smart disc Weapon and Bio- Mask Interchangeable portrait. Pre-order to begins at 12.12.19 Beijing time and ETA release 2020 Q4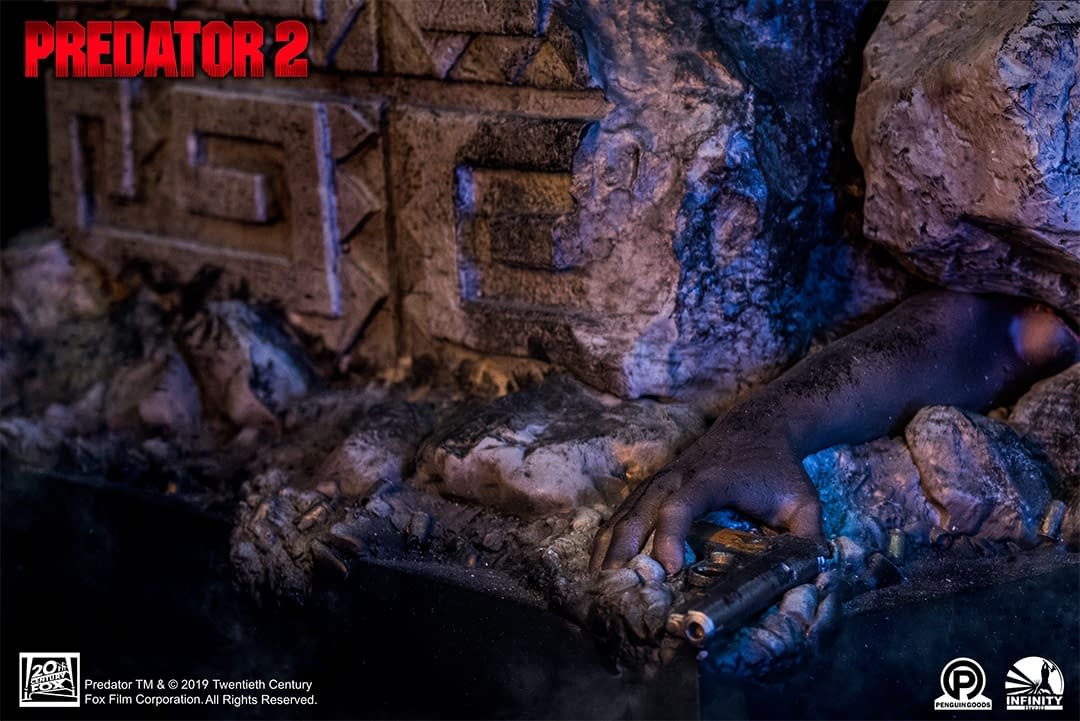 Product Description
From the classic sequel Predator 2, Infinity Studio has recreated the City Hunter Predator in 1/4 scale. Standing over 25 inches tall, the City Hunter Predator is perched on a column ready to strike its next victim.
The Ultimate edition can be armed with a spear or smart disk and also includes a mask.
Product Features
25.60 inches (65cm)
Made of polystone
Limited edition of 500 pieces
From the film Predator 2
Enjoyed this article? Share it!