MCU Fans- You Can Now Own Proof Tony Stark Has a Heart
Tony Stark fans, you can now honor your favorite fallen hero with a pretty darn sweet collectible. Hot Toys have revealed a new Arc Reactor life size replica, the same one Pepper Potts gave Tony in the first Iron Man film. As one of the most iconic items in the MCU, this reactor has two different LED modes, and is made of die cast and copper parts. Etched onto the edge is the phrase "Proof That Tony Stark Has A Heart". This will be available for preorder soon, and will ship in 2020. Look for it to possibly be on display at SDCC this week. Check it out below!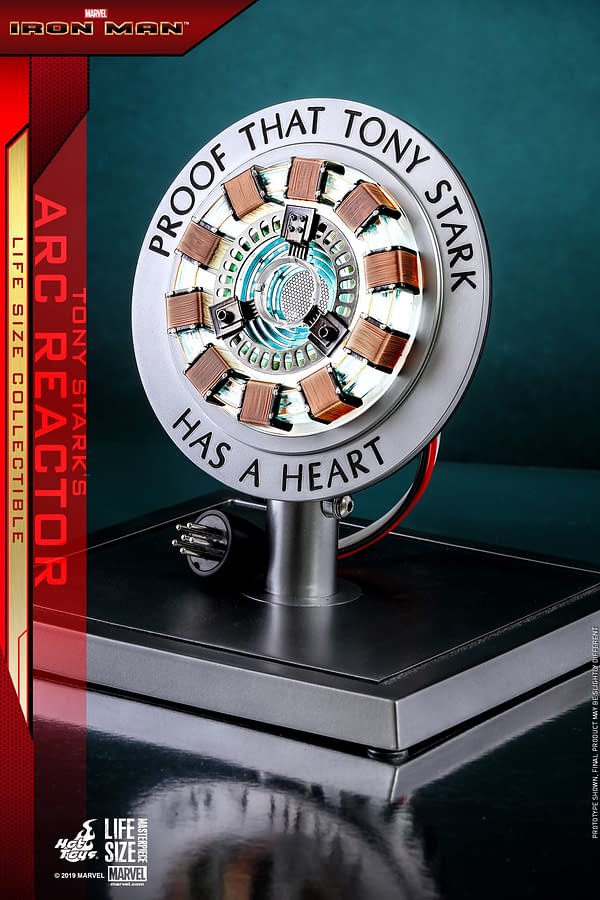 "Proof That Tony Stark Has a Heart"
Tony Stark has created the very first Arc Reactor to keep him alive and power his first suit of armor in 'Iron Man'. The arc reactor supplies energy to an electromagnet, which prevents embedded shrapnel from reaching his heart. Based on the first Marvel Studio production – Iron Man, Hot Toys is thrilled to expend on the Life-Size Masterpiece Series with Tony Stark's Arc Reactor given by Tony's personal assistant Pepper as a desktop ornament!
Masterfully crafted with authentic and screen-accurate details, the Arc Reactor in actual size stands approximately 16cm in height. Recreated with diecast and copper wire material, it features two LED lighting modes which include light-on effect and breathing light effect, phenomenal multi-layered metallic painting highlighting its fantastic aesthetics, ring engraved with the words "Proof That Tony Stark Has A Heart" as seen in the movie, completed with a specially designed custom base and display case.
This one-of-a-kind collectible is a perfect way to show love for your favorite MCU characters!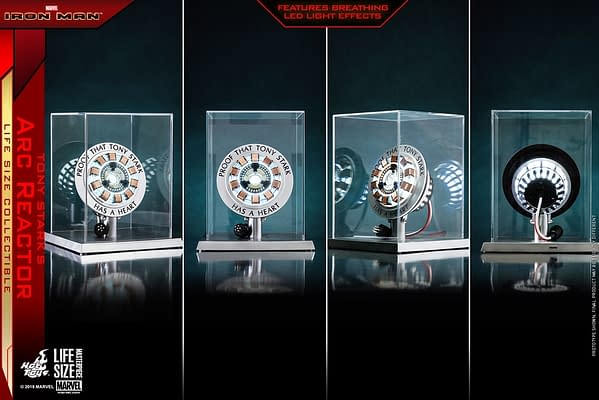 Specifications
– Product Code: LMS012
– Product Name: Tony Stark's Arc Reactor
– Height: Approximately 16 cm tall (base included)
– Points of Articulations: 0
– Special Features: Contains diecast and copper wire material, Engraved ring with "Proof That – Tony Stark Has a Heart"
The Tony Stark's Arc Reactor Life-Size Collectible specially features:
– Beautifully crafted with authentic and fine details of the Arc Reactor in Iron Man
– Movie-accurate size and proportion
– Approximately 16 cm tall (base included)
– Contains diecast and copper wire material
– Engraved ring with "Proof That Tony Stark Has a Heart"
– LED light up function features 2 lighting modes including general light effect and breathing light effect (white light, battery or USB operated)
– Specially applied multi-layered metallic painting