Let's Take a Look at the Real Ghostbusters Figures From Diamond Select Toys
Diamond Select Toys have been releasing Ghostbusters figures for awhile now, from both of the original films from the 80's. They are some of the best and most-loved figures the company has ever put on the pegs. However, there is one set of figures form the franchise that fans have been waiting for, and that is figures based on the popular cartoon The Real Ghostbusters. Running from 1986 to 1991, the cartoon is well loved by fans and the old Kenner line of figures is one of the best of all-time. Fans have been drooling over the possibility of DST doing these, and we are getting our wish. This first wave of three figures is in stores now, and we got our hands on a set to show to you.
Each of the three- Egon, Winston, and Slimer are in the familiar packaging you will find DST figures in, and while usually I think their packaging is a tad excessive, it is warranted here. These not only come with a plethora of accessories, but also with pieces to build the door to the Ghostbusters firehouse. There is not a lot of wasted space, which is a nice change of pace. Each has the show logo on the side flap, with a nice window box showing off the contents.
First looking at Slimer, he comes with a flight stand and three different face portraits that are extremely simple to change in and out. Grumpy Slimer is my least favorite, the other two are absolutely perfect. His arms are easy to maneuver around, and all in all, this is a great stab at the Ghostbusters unofficial mascot. I have no complaints.
Next, only one thing prevents this WInston figure from being my favorite of all-time. The proton pack stream sucks. There is a little plastic attachment that goes on the end of the gun, and the stream is held in by a tiny peg. It snapped off instantly, rendering it useless. That was a huge bummer. The same thing happened to the Egon one. Other than that, no complaints. Winston comes with multiple interchangeable pairs of hands, all of which are easy to get on. The PKE meter hangs from his belt, and proton pack does not limit his movement at all. The details on the sculpts on these figures are so well-done as well, some of the nicer sculpts DST has done in awhile.
That is not more evident than with their take on Egon. Right from the get go, they nailed the hair. That is the most important thing, everything after that is easy. Like Winston, Egon comes with multiple sets of hands that are super simple to change up. I prefer the gloved hands, they look best with the Ghostbusters uniforms. Since Egon is the more gadget-oriented of the group, I made sure to have him hold the PKE meter and trap. He was always my favorite on the show and in the movies, so I am glad he is out in this first wave and I didn't have to wait. My example is a little tough to keep upright, the ankle joints are a little loose, but YMMV as with any other figure.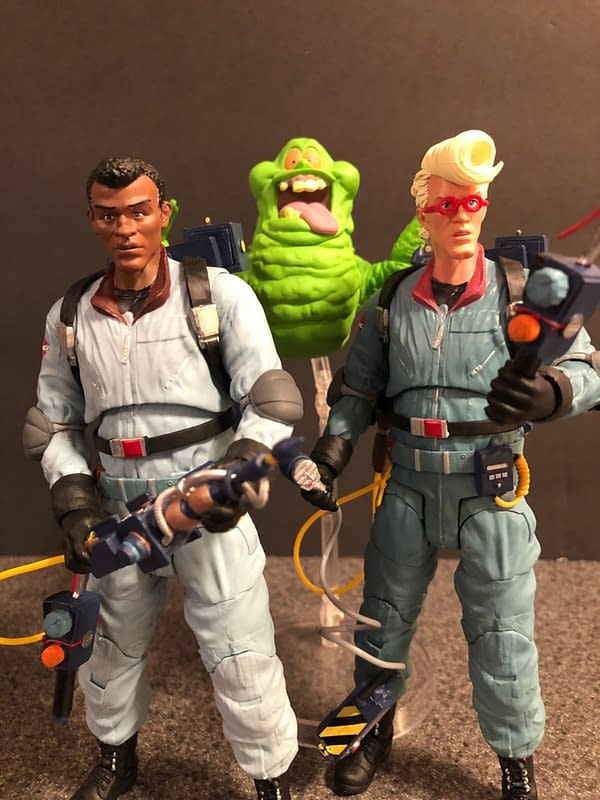 I can't wait to complete the Ghostbusters when wave 2 comes out in 2019. That wave will finish the fab four and includes Stay Puft. Until then, these three are great figures to start with, and I could not be happier with them.
Do yourself a favor: if you are a fan of the show, get yourself a set of these right now here.