RoboCop Glows in the Dark with Hiya Toys Halloweenfest Exclusive
It is always interesting to see what Hiya Toys reveals next for their 1/18 scale figure lines. Specifically RoboCop, there are only so many variants of the iconic science fiction Detroit cop that you can make. We have already got all three original RoboCop film figures and we even got to see some from the 2014 RoboCop film. However, that is not stopping them as the fun continues with this line as Hiya Toys has announced an exclusive figure for the 2020 Halloweenfest. This time RoboCop is ready to light up the night with this exclusive glow in the dark figure. Limited to only 3,000 pieces, it is the trick or treat for this sweet treat of a collectible. It is quite similar to the original mold but he is tricked out in a ghost white color on his body. Whether the glow function was included or not he is a great Halloween themed figure that Hiya Toys has revealed that fans will not want to miss.
This 4.5 inch figure is ready to trick or treat and light up the night as he goes. This is a great Halloweenfest exclusive and the limited edition factor is a huge plus. The Glow in the Dark RoboCop from Hiya Toys will be available on Halloween 2020 (October 31, 2020). He will most likely be priced at the usual $19.99 Hiya Toys price. You will be able to get your at your local comic shop for Halloweenfest so be on the look out or ask for them to order you one. Don't forget to check out some of the other RoboCop figures also coming soon from Hiya Toys here.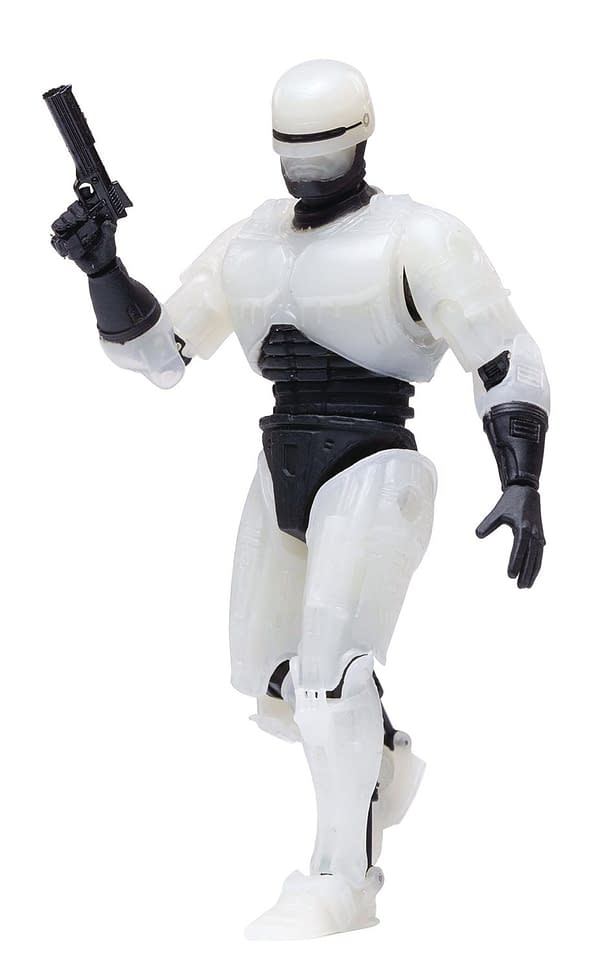 "A PREVIEWS Exclusive! Available in comic shops on Saturday, October 31st, Robocop is getting into the Halloween spirit with a special release for Halloween ComicFest 2020! Hiya Toys presents this 1/18-scale action figure of Robocop in his classic armor from the original film but with a glow-in-the-dark twist. Whether he's protecting trick-or-treaters or out hunting ghosts on the mean streets of Detroit, this 4 1/2″ tall action figure brings an eerie Halloween glow to law enforcement! Limited to 3,000 pieces. Allocations may occur."